We asked eBay sellers about:
Their sales metrics
Main challenges
Goals for 2018
Today we're publishing the results – how to sell on eBay successfully in 2018 !
There are millions of eBay businesses out there, but from the perspective of an individual business – it can feel very lonely and isolated.
It's very common to hear sellers ask things like:
"Is it just me – or have others been experiencing a decrease in eBay sales lately?" or

"What's the right way to expand my business beyond eBay?"
Not having the ability to benchmark your performance, compare your challenges and learn from each other cripples your ability to make educated decisions and usually leads businesses to focus on the wrong areas, ones which don't yield growth.
But! You're not alone! There are plenty of eBay businesses around the world, sharing the exact same pains and struggles as you, having the same doubts, dreams and goals. Wouldn't it be helpful for you if you knew what other businesses just like yours are going through? What they plan on doing?
We shared many ways to increase eBay sales in past articles:
How to increase sales on ebay with the perfect eBay listing
Top eBay hacks we used to grow sales
The ultimate guide to create eBay titles that sell
Customer Service Email Templates that increased our sales dramatically
What to do when your eBay sales are down
And many more…you can find actionable eBay selling advice on every post.
Today, we're taking another step towards solving some of the biggest problems for eBay businesses.
We conducted a survey among the 60,000 CrazyLister users and blog readers (today there are over 100,000). In this post, we're publishing the top-level results of that survey.

The Survey Results – How to Sell on eBay Successfully in 2018
What is your monthly online business revenue?
Asking this question helps put the other answers into perspective. We wanted to see how the challenges and goals of smaller businesses compared to those of the bigger ones. And of course, this will also help you benchmark yourself to other businesses in terms of monthly revenue.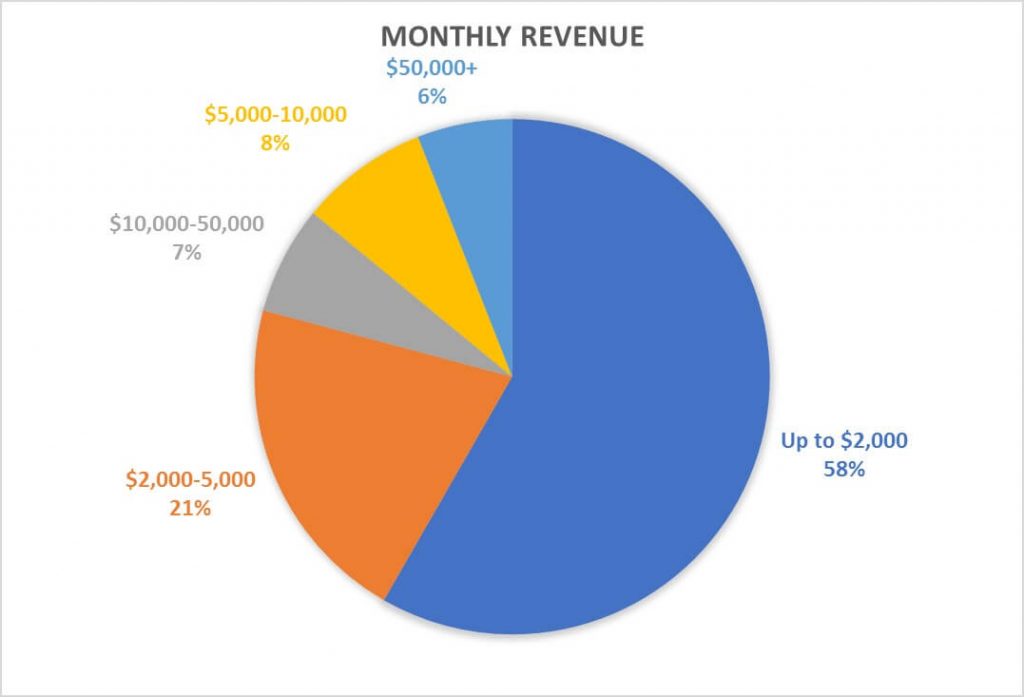 The results show that 79% (58%+21%) of businesses generate a revenue of up to $5,000 / month.
8% generate $5,000-10,000 a month
7% generate $10,000-50,000 a month
6% generate $50,000+ a month
Naturally, the hardest jump is going from a side business / hobby to a full-time business.
It's safe to say that the universal 80-20 Pareto principle  is valid for eBay businesses as well –
80% of the revenue on eBay is generated by 20% of sellers.
The results suggest that the 20% club starts at about $5,000+ a month as 79% of sellers reported generating less than that.
So if you're generating up to $5,000 a month – you're in a good company with almost 80% of all other sellers. Your next step is growing beyond $5k to enter the "full-timers" businesses club.
What are the main challenges you face in your business?

#1: Products
With 79% of respondents being growing businesses, with monthly revenues of up to $5,000 – it's no surprise that the #1 challenge is products sourcing.
34% of the sellers reported their main challenge being on the lines of:
"What should I sell?"

"Where do I source products to sell?"

"Where do I find reliable suppliers?"
Based on this insight, we have worked on creating dedicated content and resources to help you source the right products:
#2: Marketing
Those who have products to sell report "Marketing" related challenges –
26% of the sellers said they need more traffic!
Interestingly, the marketing / relevant traffic generation pain was common to sellers of all sizes. Even sellers generating $50,000+ /month mentioned marketing and traffic generation was the #1 challenge for them going forward.
From my own recent experience –
I make it a habit to work closely and consult 1-2 businesses, to "keep my hands dirty" with selling on eBay and stay in sync with the exact pains CrazyLister users are going through.
I work with an awesome eBay business from LA – TheSampleSaleGuy.
Together we go through the challenges of methodically increasing the eBay conversion rate and sales. We do so by trial and error, giving every idea a try – embracing those that work and passing those that don't.
I feel first hand why sellers of all sizes complain about not getting enough traffic. It's because, even with a decent conversion rate of 2%, it still means you need 50 visitors to your listing to generate one sale.
And getting 50 (highly relevant) visitors to your eBay listing is not an easy task.
We're now looking at driving additional relevant traffic outside of eBay into eBay to solve this pain, more on that will be coming soon.
eBay itself published that traffic generation is indeed a major pain for sellers on the marketplace, and therefore they created the eBay promoted listings program, which I covered in an earlier post.
#3: Competition
Only 8% are concerned about competition, which indicates that eBay is "big enough" for everybody, and competition is not what keeps most businesses from growing.
#4: Time
10% of the sellers don't have the time to grow their business – this is exactly the pain of doing the jump from a half-time to a full-time business. You still have your day job, and eBay is still a side thing – but it's starting to suck you in, taking more and more of your free time, "When is the right time to make the jump?!"
A lot of time is spent on day to day operations, things like:
Order processing
Supplier relations
Customer service
Logistics
Inventory sync
Uploading new products
Adapting prices
All the above tasks can be automated (at least to some extent) and will free a lot of your time to grow your business. We previously wrote about ways to save time on each one of those tasks, I highly recommend starting from the most time consuming task and automate it first (for us it was order processing first, then we focused on creating professional eBay listings for which you can use Crazylister).
#5: Automation
This is a direct continuation to my previous point – Seems like time and automation are the main pains for small businesses trying to make the transition to the "full-timers" league.
What are your business goals for 2017?
75% of eBay sellers mentioned they want to grow their eBay business in 2018:
"To expand my eBay store by increasing sales and widening the selection of products I'm selling."

"I want to increase eBay sales to 50k/month"

"To continue to grow eBay sales and discover a niche or two. "

"Increase eBay sales by at least 15%. "
On a side note – Numerous researches show that setting a measurable, numeric goal increases the chances of achieving it!
So, if your goal is to "Grow my eBay business" – be very specific with your target, i.e. – "I want to grow my eBay sales to $5,000/month".
25% of the sellers mentioned their goal is to expand their eCommerce business beyond eBay.
Out of those who wish to expand beyond eBay – 50% want to expand to other marketplaces while the other 50% wishes to have their own webstore.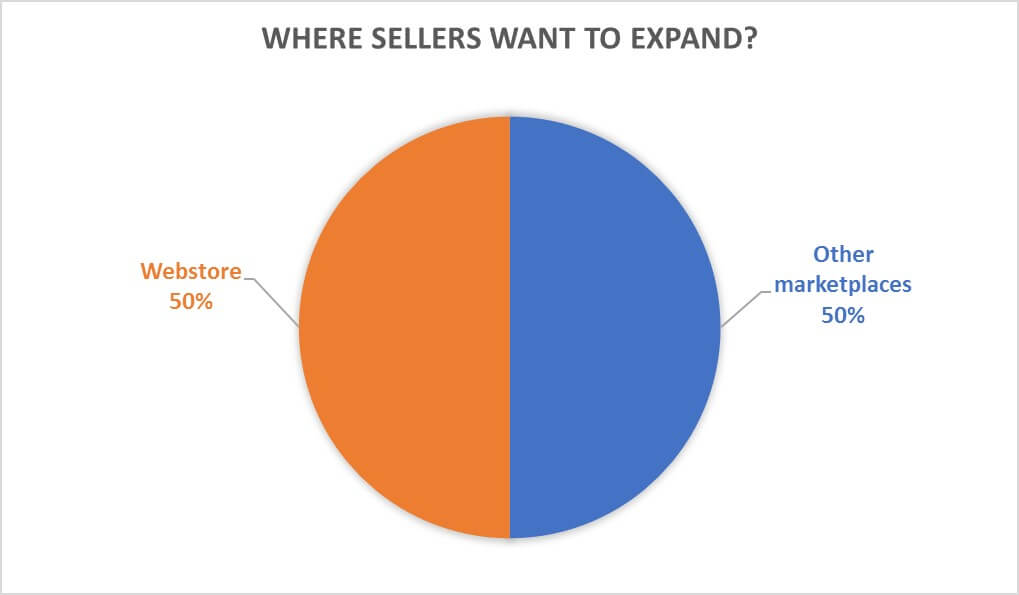 This makes a lot of sense – Looking at the future, most commodity categories will be dominated by giants like Amazon, who will offer the lowest prices and fastest shipping.
For a private eCommerce business to succeed, you will have to create a unique value that Amazon will never be able to offer – specific specialization.
For example – when you are buying a stereo system, you probably want to consult a professional to make sure you get the right system for your specific setup. Such a service can only be provided by a niche specialist, and cannot be answered by a retail giant that sells anything from socks to DVD's.
Owning a webstore would allow you to provide that special sauce of dedicated, professional service and is definitely a smart strategy looking forward.
We hear that loud and clear – and are working on a "One-click" solution for creating a webstore and expanding to Amazon.
Thanks To All Who Participated
Thanks to the CrazyLister users and Blog readers who took the time to respond to our survey!
We are thrilled about the insights you shared, I hope that this will help you sell on eBay successfully in 2018 and beyond!