CrazyLister is the best Frooition alternative.
Here's why you should consider switching…
Hi there.
So you're wondering: CrazyLister vs Frooition, right?
Here are some points to help you decide which option is best for you.
Below, you'll find information to help you compare CrazyLister and Frooition, including Features, Templates, customer experiences and thoughts from currently CrazyLister customers who have made the switch.
We hope this helps…
1) CrazyLister is faster than Frooition
Forget about weeks long process with a designer – With CrazyLister you can create professional, mobile optimized listings in minutes.
Need to make changes? You don't depend on anyone – easily do it yourself.
Don't just take our word for it, see what customers say:
---
I LOVE Crazylister. Only wish I had found it earlier. Easy to use. Excellent customer service, affordable and makes beautiful listings.
I thought I would have trouble using this but it is so simple and great tutorials on every aspect of using their product. It's amazing how much they cover. Once you get use to navigating the CL site it's a breeze.
If you have any questions they answer immediately. You could not ask for more from a company. Thank you Crazylister!
---
I have used Crazylister on and off for a year or so. It was extremely instrumental in getting my business off the ground. The templates and system are extremely easy to learn and use. The customer suport is exemplary and defines professionalism and efficiency. I have plans to use this service in the future for other aspects of my business when the time comes. I highly recommend Crazylister for ebay templates as well as other uploadable outlets.*******A+++++
2) CrazyLister is easier than Frooition
Tired of struggling with outdated, clunky software with tons of buttons, menus and all sorts of features you never use?
With CrazyLister, you'll never have to. You'll get awesome features like professional eBay templates,  drag and drop editor to customize your design and a fast and easy eBay Lister, without having to navigate a ton of features you don't really need.

 Don't just take our word for it, see what users say:
---
I started using CL about 2 years ago simply because my listings were very unprofessional and we only typed a simple text in description tab which is not appealing at all. CL made it extremely simple to create listings which are elegant and extremely beautiful. Apart from the aesthetic beauty of the listings, our conversion rates sky rocketed because we could add galleries of product images, & also embed videos from youtube in very gorgeous templates without a single line of html coding. I highly recommend CL to everyone.
We even went further & used CL on our own website's product pages which not only looks great, but also captures customer's attention very effectively.
I believe the beauty of CL is that you're only bound by your imagination & if you can imagine it, CL will make it possible. As if this is all not enough, whenever we had difficulties or things we couldn't figure out, the customer support provided answers within minutes & helped us out immensely.
Thank you Crazy Lister.
3) CrazyLister costs a fraction of a designers fee
Hiring expensive designers belongs to the past, CrazyLister disrupts the market with cutting edge technology and 20x lower costs compared to hiring a designer.
Don't just take our word for it, see what users say:
---
Honestly I'm not sure what I'm happier with, the Amazing, Friendly and Super Helpful support from Victor at CrazyLister or their BEAUTIFUL, (really stunning) templates that look amazing on mobile.
It's always kind of hard to move from a tool you're used to, and I've been with another tool for ebay for a while but I ran across CrazyLister in an article and I have to say it's a Must have for us now. This will create superior, Professional and beautiful listings that I'm sure will be high converting and increase our sales.
And honestly for what you get, the cost per month is really affordable. They play well with other tools and they're so willing to work with you for your requests that I was really shocked. They're not like other companies that basically say "too bad or no can do".
I even mentioned one thing that I felt could be improved in the tool, and Victor replied within minutes saying that it was already in the works to improve their mobile listings even futher – How great is that?
Why I love CrazyLister
1.) Easy to use – the templates are really intuitive very Drag and Drop and the result is miles ahead of what you could do with anybody else. I mean the listings look 1000 X better than we've ever seen.
2.) Again the support. Friendly, Fast, and Extremely helpful.
3.) The Price – at $7-$9 a month for their basic package it's super affordable. Even their midpackage which I think most companies would be at is very affordable at $20 for Templates that make listing a breeze and wow your customers.
4) CrazyLister is statistically proven to increase your eBay sales
A study conducted on 130,000 eBay listings from 6,000 sellers showed that CrazyLister designed listings convert an average of 10.5% higher than non-CrazyLister designed ones.
Here's a link to the full study.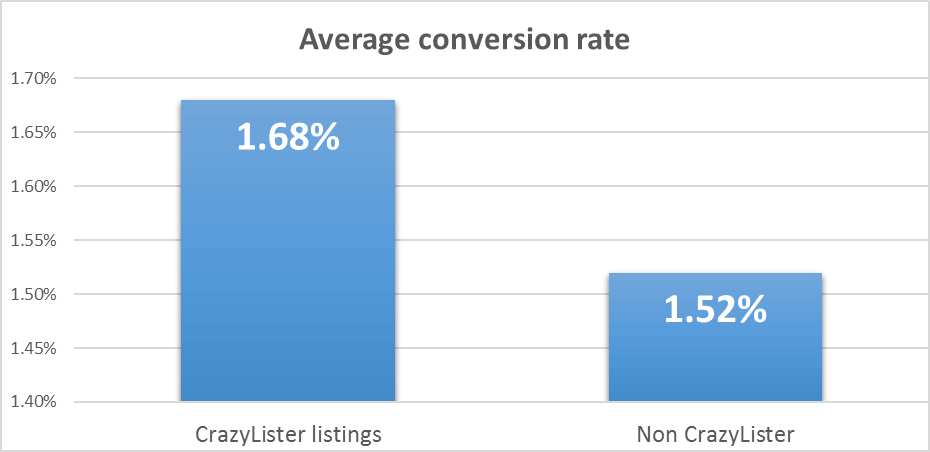 And here is a success story of a CrazyLister user –
This eBay Seller Went From Zero to $250K in Just Six Months 
Don't just take our word for it, see what customers say:
---
"Best template LOVE IT. Put my price up on ebay item and sold within 12 hours. (previously hadn't sold the item for 2 weeks at a lower price (before using your template!) Thanks heaps."
– John Brickner, eBay seller
5) CrazyLister is here to help
Starting off as eBay sellers ourselves, we know how important customer support is.
That's why you'll find our co-founders – Victor Levitin and Max Godin spending 50% of their time to personally checks in with every single customer to proactively answer any questions you may have.
We're here for you with personal support, all day, every day, via live chat, email and social media no matter what you need.
Ready to give CrazyLister a try?
Making the switch is easy!
To sign up for your free trial account (no credit card required), just click here.
Still have questions? Just click the "Contact Us" button in the bottom left corner of this page.
We hope to see you in CrazyLister.