Are you familiar with the following scenario?
You are listing your item on eBay –
You write a killer listing title
Choose the right category
Do the necessary research and put up a competitive price
Write an appealing and comprehensive description
Excitedly click on "List" and…
And then… nothing happens. You wait for days, weeks, months! – yet nothing happens, none of eBay's 150+ million buyers buys your item. None!
You gave your listing a lot of attention, put in all the details correctly – the feeling really sucks. Where are the buyers?!
In this series, I'm going to discuss the elements of your eBay listing description that might be killing your sales.
I'll also share some tools and strategies to help you resolve these issues.
Ready to increase your eBay sales?
Then let's dive in! In the first post of the series we I'll discuss – Loading speed.
Loading Speed
There's no second chance to make a first impression.
Do you know those eBay listings that take ages to load and are full of images and graphic elements?
How much time will you wait for an eBay listing to load?
Researches show that 1 in 4 visitors drop off from a webpage in 4 seconds.
Let me be clear –
If your listing takes more than 4 seconds to load, 25% of the potential buyers will simply go away without even looking at your listing!
And that's not all! The experience is so negative, that they are even likely to tell their friends to stay away from your eBay store.

Loading speed is so important for the users experience that google uses this metric to rank it's search results positions.
It's highly probable that eBay's new search algorithm "Cassini" measures loading times as well.
Just a 1 Second delay in page load time leads to 7% loss in conversion / sales!

Not only do slow loading times hurt your conversion rate and sales, but they also harm your brand and image –
44% of online shoppers will tell their friends about a bad online experience.
79% of shoppers who are dissatisfied with a website performance are less likely to buy from the same site again.
Ok, so now that you know that slow loading time is a conversion killer, what can you do about it?
First understand what is your goal –
"Great Expectations: 47% of Consumers Want a Web Page to Load in Two Seconds or Less".
So your goal is for the eBay listing to load in under two seconds. 
Let's take a look at the most common causes for slow loading times:
Heavy or tons of images – so many times I see LONG, overcrowded eBay listings that have tons of images which take AGES to load.
Sometimes I see listings with just a few images, but each of them is extremely heavy (and slow to load), sometimes even more than 1MB per image! That's Crazy! These listings take more than 10 seconds to load – who would ever wait for so long for a webpage to load?!
Don't overcrowd your listing's description with unnecessary images and graphic elements.
Would you buy from a page looking like this?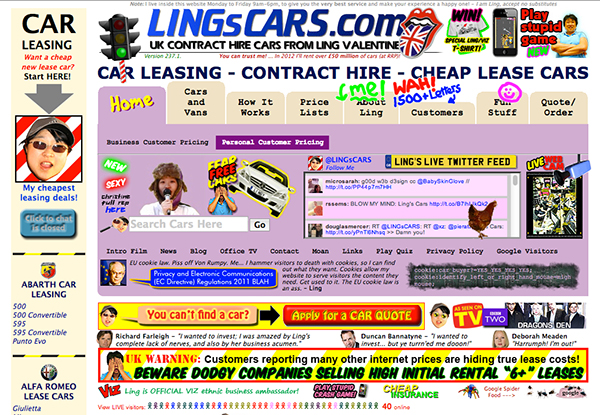 For an optimal eCommerce experience, make sure your images don't exceed 100KBs per image.
You can use free online tools, such as tinypng.com, to automatically shrink heavy images.
Don't get me wrong – An image is worth a thousand words, and a video is worth a thousand images. Including images and videos in your description is crucial for conversion! Otherwise we would have never built CrazyLister (Did you notice how subtle the self advertising was here? 😉 ).
But PLEASE! Don't get too excited and add 879 different graphic elements to your listing – it will kill your sales!
Hosting your images with a wrong service provider
Many times I see eBay sellers using hosting servers for images that are simply not designed for the large bandwidth required for eCommerce.
Services like Dropbox, for example, are great for storing your family images, but it's a bad choice for storing your eBay listing images – as these need to be loaded FAST with HIGH FREQUENCY for many users.
Make sure the hosting / listing solution you use has the required bandwidth / loading speed to support ECOMMERCE hosting.
For CrazyLister users – We host all images with Amazon AWS S3 servers.
Using heavy widgets
There are tons of widgets / scripts and add-ons for eBay listings. These are usually very "resource consuming" and take a long time to load.
Two suggestions here –
1. Don't overuse them! Too much of any good is no good!
2. Unless absolutely necessary – place the widgets at the bottom of the listing so they have time to load while the potential customer checks the top of your listing.
That's it for this week. Make sure your listings are loading fast and happy selling!