It is no secret that it is extremely important for eBay to provide the best customer experience possible. This is due to the fact that there is plenty of competition from other online marketplaces such as Amazon for example. The way in which eBay ensures a top-notch customer experience is by holding its sellers to the highest of standards. This system includes having customers give feedback on eBay to sellers based on their performance as well handing out Seller Levels which allow customers to buy with an increased sense of confidence. For many sellers on eBay this topic may be confusing which is why I decided to write a post which will cover:
What are the different eBay seller levels which exist

What are the benefits to being a Top Rated eBay seller

How to become a Top Rated Plus seller on eBay

What are the differences between Top Rated and Top Rated Plus sellers on eBay  

What is the difference between an eBay Power Seller and an eBay Top Rated seller
eBay reevaluates a seller's status on the 20th of every month mainly based on the customer service you provide shoppers as well as your sales history. Other criteria which is crucial to eBay rating sellers include:
Transaction defect rate

Amount of cases that are closed without seller resolution

Delayed shipment

Performance in terms of confirmed tracking and delivery
Based on these metrics, eBay will place you in one of three groups:
Top Rated/Top Rated Plus

– This means that you belong to an eBay elite and provide the highest of customer service when compared with your peers while meeting the minimum sales requirements.(Keep in mind that 'Power Seller' is the older version of Top Rated Plus).

Above Standard

– This means you achieve a minimum standard sales and provide good customer service

Below Standard

–  This means that you are missing the target as far as one or multiple eBay minimum requirements for customer service goes. You will be considered Below Standard when your defect rate is above 2% or your cases closed without seller resolution is above 0.3%.
Keep reading in order to find out what exactly this means.
Pro tip: Your rating appears in your Seller Dashboard. Refer to this on a monthly or even bimonthly basis. eBay will show you which listings are eligible for Top Rated benefits or if you are not doing so well, what actions you can take in order to improve your rating.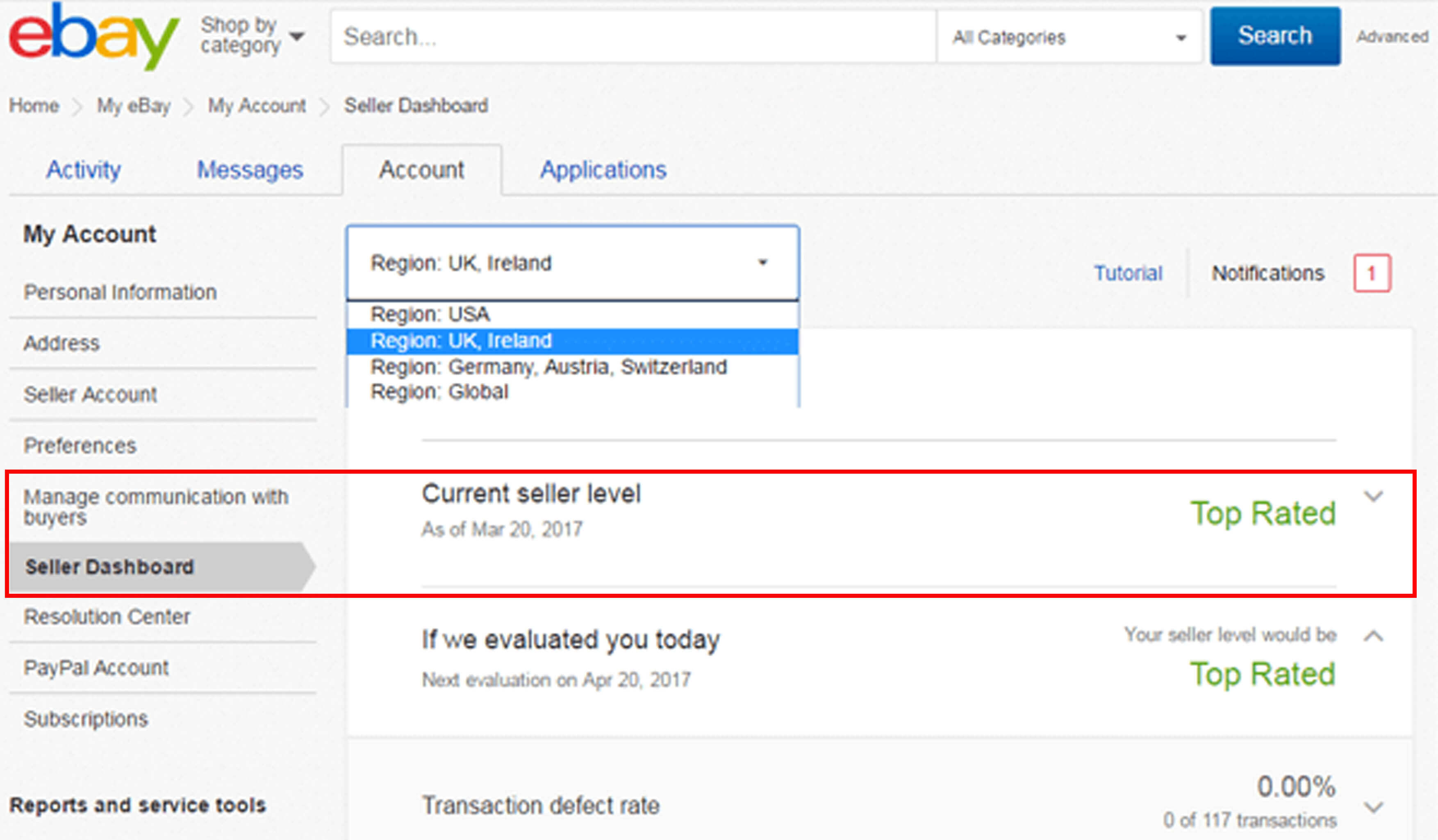 Becoming a Top Rated Seller
Once you understand the basic division on eBay, you are probably wondering – What requirements do I need to meet in order to become a Top Rated Seller ? And what are the benefits of attaining this status?
Once again I will reiterate that Top Rated Seller status is a byproduct of fantastic customer service and the benefits you will enjoy include:
Having a Top Rated Plus seal displayed on listings which meet eBay's criteria. This can help you further increase sales of said product as this seal of approval boosts buyer confidence in your credibility as a seller.

Get a $30 credit towards Promoted Listings every quarter
The criteria you need to meet in order to attain Top Rated Seller status:
Your eBay account must be active for a minimum of 90 days

You must have completed a minimum of 100 transactions worth at least $1,000 with customers located in the United States over the course of a one year period

You need to comply with eBay's 'Selling Practices Policy' which includes:

Providing an accurate product origin location (ie this product is being shipped out of New-York for example)

Be honest and clear about your terms and conditions including your shipping and returns policy

Returns – you are not obligated to accept returns but eBay recommends you do. Top Rated Seller status does not depend on this alone but I personally would recommend you accept returns

You must meet eBay's requirements in 3 key areas:

Transaction defect rate which is less or equal to 0.5% with 3 or less defects from individual shoppers

Cases closed without seller resolution which is less or equal to 0.3% and 2 or less cases with an individual shopper

Having a late shipment rate which is less or equal to 3% with 5 or less late shipments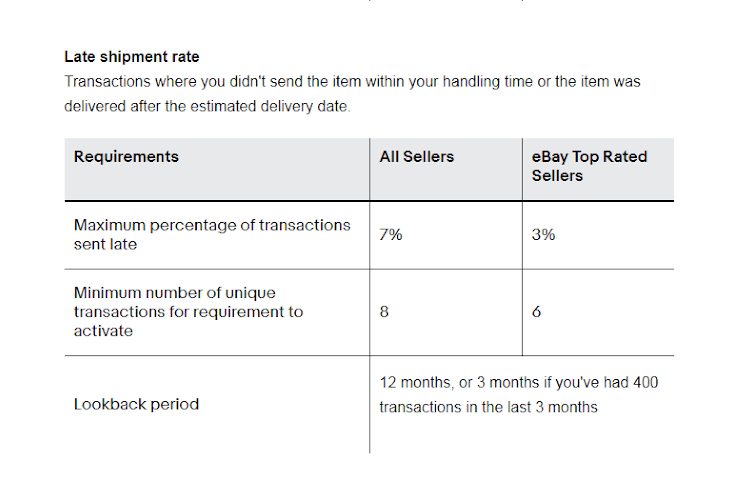 You need to make sure your packages arrive within the framework provided by the postal service's tracking services. Your carrier validation rate needs to be at 95% of your transactions as far as United States based customers go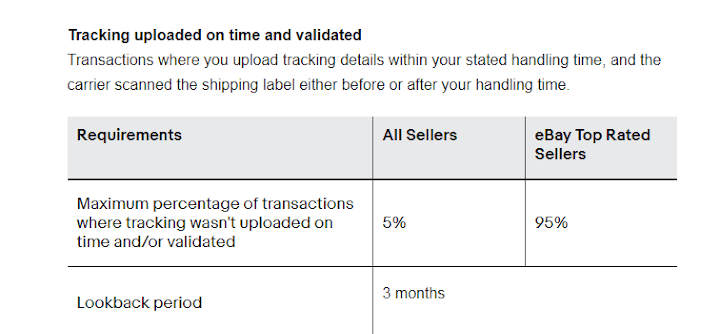 Transaction defect rates and cases closed without seller resolution
What exactly is a 'transaction defect rate' and what exactly does eBay mean when they say 'cases closed without seller resolution'? That is a very good question.
Your transaction defect rate is calculated based on the number of times you put up a listing for a product and subsequently cancel a sale due to the fact that you were out of stock or decided not to fulfill the order for no apparent reason (in this respect I recommend reading the article about

correct inventory sync

)

Cases closed without seller resolution refers to instances when a seller closes a buyer request regarding an item that was not received at all or an item that was received but was not as described on your listing. As stipulated in the title, this is only relevant for claims which have not been resolved with the seller. If however you have chosen to compensate and/or refund a seller's money, in the majority of cases this will not negatively influence your status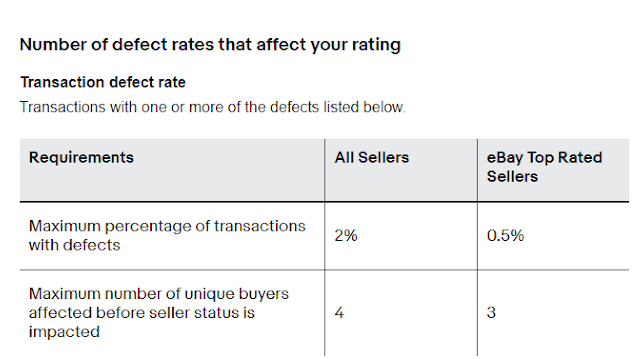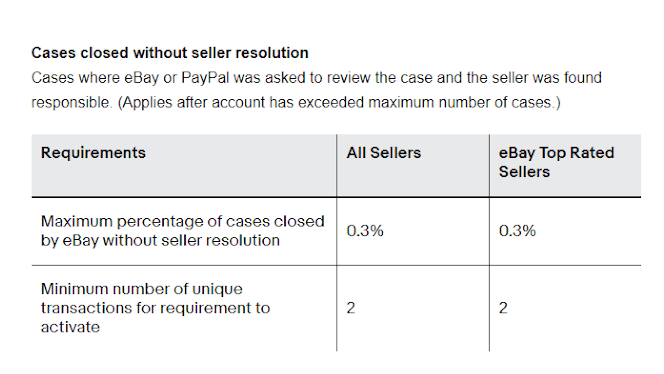 How to avoid common mistakes which lead to a decreased seller rating?
As a responsible seller who is running an online business, it is your job to be on top of your inventory. It, therefore, follows that you should always make sure that:
You maintain inventory levels and that if an item is out of stock then you take down your listing or update the quantity levels immediately

Consider using eBay's out-of-stock feature which will automatically hide listings which cannot be filled

If eBay approaches you regarding their Money Back Guarantee then I recommend you swallow the pill and accept the return or provide a refund. This will help you avoid being held responsible by eBay and damaging your rating

Provide real/clear images of your item and describe it accurately. If your product is not new and has defects, make sure to highlight this in order to avoid misunderstandings, miscommunications and ultimately an unsatisfied customer

Using tracking options and providing your customer's with a tracking number is highly recommended. This allows yourself, eBay as well as the customer to be confident as to the item's whereabouts putting everyone at ease. This is especially important when shipping high-value items so that shoppers don't steal valuable goods and claim they never arrived and ask for a refund.

When a customer contacts you with any sort of request or question, be sure to respond as soon as possible. You don't want your customer complaining to eBay that you are unresponsive. Additionally, try to keep your customer informed at every stage of the purchasing process and don't forget to ask if he or she is satisfied with the product once they have received it

Try your best to

create the perfect eBay return policy

so as to avoid unpleasantries down the line
Pro tip: If you have 400 + transactions over the last 3 months then the performance period you are judged on will be shortened to 3 months instead of 12 months. This is great news if you had some unfortunate incidents 8 months ago but are recently doing your best in order to improve your ratings.
Before I begin, I want to highlight that this eBay's outdated title for Top Rated sellers and is retained by eBay since sellers have gotten used to it over the years.
Becoming a PowerSeller is very similar to becoming a Top Rated seller. So you still need to:
Have an account that is active for at least 90 days

And follow the eBay policies and criteria I mentioned above
The additional  requirements you need to meet in order to become a PowerSeller which you do not need to meet in order to be a Top Rated seller include:
Having a positive feedback score of 98% or higher

Sell $3,000 of merchandise to the United States based buyers spanned over a minimum 100 transactions and a 12 month period
Top Rated Plus, as the name implies is a step above being Top Rated. If you are categorized as Top Rated and you offer:
Same day or one business day handling of items (meaning you ship within one day or less of purchase)
and

Free returns for 14 – 30 days (and sometimes longer) based on which category you are selling in:

If you are selling in the collectibles and Art category you only need to offer 14 day free returns

If you are selling items in the following categories you need to offer free returns for 30 days or longer in order to qualify to be Top Rated Plus:

Books

DVDs

Motors

Music

Instruments

The two categories where Top Rated Plus does not apply are:

Real Estate and Specialty Services

Products which need to be picked up locally
The key benefits for people who meet all of eBay's requirements in order to become a Top Rated Plus include:
Having the Top Rated Plus seal appear in search results and in your listing description

You will receive a 10% discount to your final value fees (not including shipping)
Though many sellers are content enough with achieving Top Rated status and are not willing to go the extra mile to attain Top Rated Plus, striving to be the best that you can be is crucial. If a client is deliberating between buying from a Top Rated Seller and a Top Rated Plus seller, he or she may very well choose to buy from the latter. The status eBay bestows upon you has far reaching consequences as to whether or not a customer feels comfortable buying from you and additionally can help save you money on eBay fees. If however you fall on the other side of the spectrum and are Below Standard, don't panic! It is never too late to improve behavioral patterns and to offer better customer service. Whatever your status is, try choosing one area to improve every week and focus on that.
I invite you to share your stories of how you attained Top Rated/Plus or PowerSeller status especially if you were once considered Below Standard. How did you dig yourself out of your mess and begin to thrive on eBay?