As newbies on eBay one of the first things we learned was the importance of the eBay feedback system to generating sales. In this post I'll share everything we did to gain new buyer feedback, revise negative feedback, improve our eBay seller feedback and keep our eBay feedback as close as possible to 100%.
eBay Feedback - Why should you care about it
There's the basic explanation which we all know and then there's the more technical explanation which many eBay sellers aren't aware of and it's equally as important (if not more important):
eBay feedback rate is an extension of your reputation
This is the obvious one, the higher your eBay feedback rate the more you are perceived as trustworthy by the buyers, the more trustworthy you seem  the more business you'll generate.
In fact, a well known rule of thumb among buyers is to buy only from sellers with feedback scores of 100 or higher and whose feedback percentage is 99 percent or higher.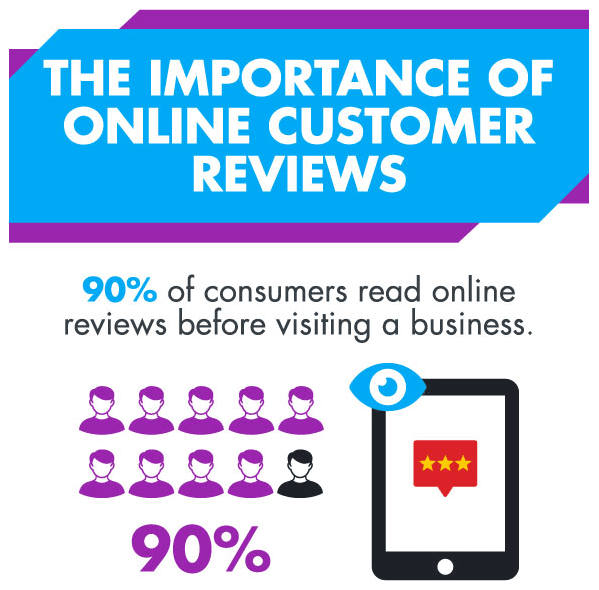 eBay feedback is crucial for search rankings
I've spoken to many eBay sellers over the years, very few pay attention to this but this is crucial to your success on eBay! Having top tier positive feedback on eBay (i.e. 99% positive feedback or higher) directly affects where your listings appear in search results. The highest rated sellers are categorized by eBay as 'top sellers' which I mentioned before puts them first in search results and therefore first in sales. These sellers eat away at 'standard seller's profit margins since appearing first means you are likely to be the one to close the sale – in actual terms this translates into top sellers garnering 30% – 50% more sales than your 'average seller'. This means huge earnings for top sellers and largely diminished earnings for the rest of sellers.
Importance of Detailed Seller Ratings to sales
Detailed seller feedback otherwise known as DSRs is a feedback system eBay uses to allow buyers to rate sellers. DSR has four categories with ratings ranging from one to five stars, one being the lowest and five being the highest. DSR ratings are crucial to your 'Top Seller' status which has a direct effect on your search results ranking. Here are the four categories sellers are rated on:
Item As Described

– This is pretty self explanatory. Accurately describe (both technically and in terms of item condition) and photograph the item with zero misrepresentations and you should be easily getting 5 stars in this category.

Communication

– Buyers want fast answers especially in an age where everything is instant from coffee to peer approval on social media. An acceptable response time is 24 hours not including weekends. But in today's competitive landscape a seller that responds after 24 hours is probably going to lose the sale because other sellers respond within 5 minutes and buyers don't want to wait a week before all their questions are answered to make a purchase. We actually stood out by proving awesome

customer service

which proved to be crucial to growing our brand. If selling is something you do full time, leave your phone number (only where eBay allows to as there are restrictions on writing your phone number in the listing description) and allow buyers to call you with any major concerns before making a purchase.If you are a small time seller do this yourself and if you have high volume then consider hiring a secretary to answer emails and phones. 5 stars here is a bit harder to get but with a bit of effort and planning it is totally doable.  

Dispatch Time

– This means how long it takes you as a seller to get an item to the post office or a delivery service such as UPS. Buyers tend to penalize sellers if an item took a long time to arrive even if the seller got the package out immediately. Buyers often don't stop and think that the inefficiency was with the postal service and not the seller and they punish sellers most often in this category. I recommend making it clear on every listing that you dispatch the item within a certain amount of time, say 24 hours but the item will only arrive within x amount of days based on experience (for example: New York: 2 days, Los Angeles: 3 days, Austin: 4 days). What worked for us extremely well is creating a sequence of

customer service email templates

that notified the customers on the progress of their order.Use your experience to make sure you and the buyer are on the same page, neutralizing unrealistic expectations. This is a tricky category to score 5 in but doable with proper communication.

Postage And Packaging Charges

– Make sure to accurately list shipping and packaging fees. Shipping fees are constantly on the rise and it is your job to accurately convey prices to buyers. This is actually relatively easy, it just requires a little extra checking on your part. If you are accurate you should generally get 5 stars here.
Here is an example of a seller who has a 98.6 % overall rating in all four categories and great written reviews:
Here is an example of a seller who is the polar opposite of the previous example (and definitely not a top rated seller):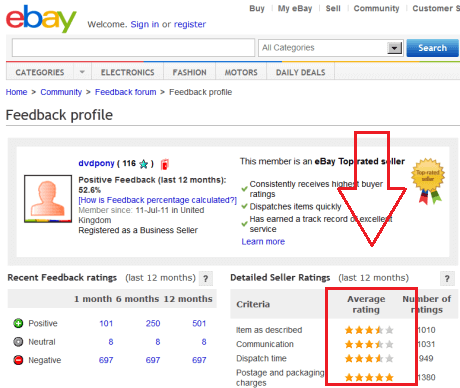 How to get more eBay feedback quicker
From my ten years of selling on eBay I noticed that around 20-40% of buyers bother to leave feedback. In some categories buyers are more inclined to leave  feedback as the product may be more technical or expensive so the risk of buying such a product is higher. In this case you would want to see other buyers' feedback before you make a purchase versus buying an iPhone case which is a straightforward and cheap product and therefore might not be inclined to rely on feedback rather than making a spontaneous purchase.
Ask for feedback (+offer value)
I recommend that you send a message to all of your buyers a week after the item's estimated arrival date. In this message you should ask if the client received the item and if so, was he or she  satisfied and if not offer to do your utmost to rectify the situation – this is part of the added value you provide as a seller who is or wants to be 'top rated'. At the end and only at the end, politely ask him or her to leave accurate feedback in order to help future customers decide whether this product is right for them.

Use eBay's automated feedback reminder
Also, keep in mind that eBay has a system which prompts the buyer automatically for feedback after 1 month, so hopefully if the buyer does not do this right away or after your letter, he or she will leave feedback a month later. Here is a screenshot of what this looks like: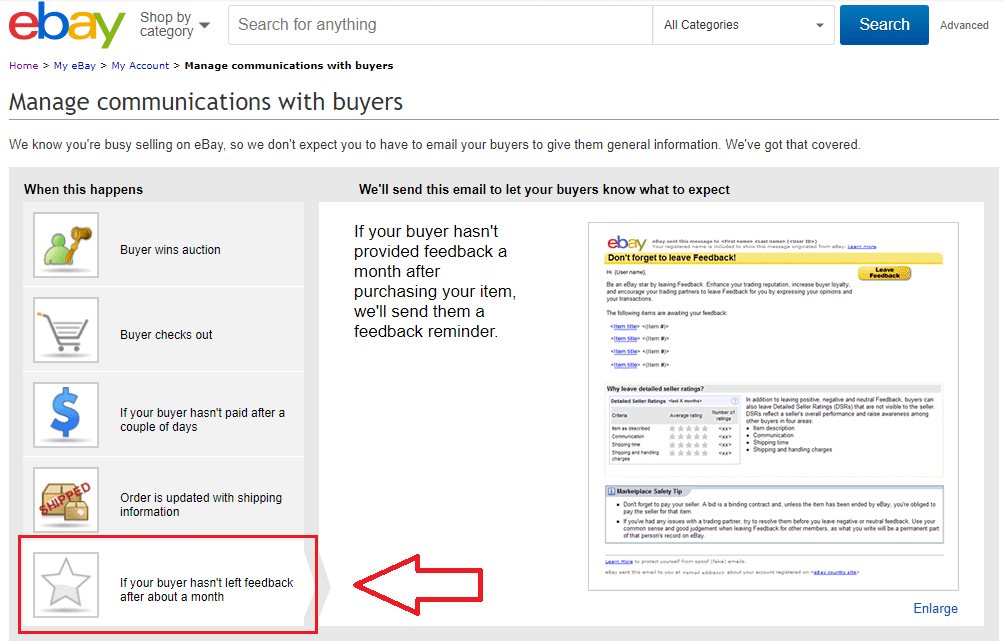 Sell $1-5 items
This is one of the "eBay hacks"  we used early on to increase our feedback rate quickly to over 100 feedback entries, but it must be executed perfectly otherwise it will do more harm than good.
Here's how we implemented this:
Find $1-5 items (talk to your suppliers to dropship them or simply buy a stock of 50 units from a wholesaler).

Create an attractive eBay listing (simply use

Crazylister

) with the lowest price (even if it means you lose up to $1 per sale.

Handle every sale with priority to make sure the customer receives the perfect experience (ship quickly, follow up, respond to every question asap).

Ask for  feedback just after the item arrives.

Once you sell the entire initial stock, got to step #1 and do it all over again until you gain 100 new eBay feedback entries.
How to improve (and revise) your eBay Feedback
#1: Have it automatically removed from eBay
You heard me, if someone leaves abusive feedback, uses foul language, reveals any personal information or references other transactions or 'investigations' into you or your product, this violates eBay protocol. See eBay's profanity policy for more.
#2: Neutralize existing negative feedback
Many sellers who sometimes receive negative feedback simply accept the situation and move on. This is a grave mistake. Every negative needs to be neutralized by you, meaning you need to respond to every negative claim against you or your business. For example if a buyer claims it took too long to send them an item, let's say seven days but in actuality  you managed to get the item out within 24 hours. A good response would be to first of all apologize, then state that you were extremely efficient getting the item out and explaining that this is a postal service issue. Your answer will not necessarily  improve your star rating but it will allow future customers to understand your side of the story when scrolling through feedback and will allow you to salvage future customers that otherwise you might have potentially lost.
#3: Request feedback revision
Be customer service oriented meaning that if someone has a legitimate claim do your best to satisfy them whether you offer to replace the item, give them a cash rebate, future credit or any other form of customer placation. Once you have done that, customers can actually automatically revise their comments from negative to positive. A lot of sellers are unaware of this! Take advantage of this feature and once you have solved the problem ask your customer to revise their feedback – more often than not you will be surprised at how willing they are to cooperate.
#4: Regain power
By offering free shipping and or using eBay's shipping labels and shipping services will automatically get you perfect scores on shipping costs and promptness taking 50 percent of your score out of  buyers' hands – this could be a big game changer for you.
#5: Reach out to future buyers
If you are experiencing an unusual amount of negative feedback then dedicate a portion of every listing and make a promise to future buyers, for example 'From now on we promise impeccable shipping times or top notch quality goods'.
#6: Keep it simple
If you are neck deep in negative feedback then put certain products on hold meaning if a certain product tends to generate more issues in terms of product condition, shipping time etc then stop selling it for awhile. Stick to your simple, lightweight, new condition items just until your ratings and feedback entries are up.
#7: Preempt negative feedback
Explicitly write that you want to avoid negative feedback and that you are asking buyers to contact you before they leave feedback so you can rectify the situation. Once you have solved a buyer's issue he or she will be more than glad to give you positive feedback. Just be sure to follow through on your promises!
#8: Get your business in shape
If you are experiencing any issues with your business such as problems with your dropshipper, accounting issues or customer service issues, it's time to make a plan of action. Write down the top ten things in order of preference you need to improve in your business and tackle them one by one.
#9: "Last resort" – Start Over
Unless you have been suspended it is never too late to start a new account. A new account will allow you to shed all of the negative feedback you have accumulated and will allow you to start over. Just keep in mind that this is an external change meaning the public will not see any previous negative feedback but eBay maintains all of your previous info, data, complaints and status so if you were previously mismanaging yourself make a concerted effort to improve so you don't get suspended in the future.
eBay "Top Rated" status and Feedback
Keep in mind that your detailed seller rating has a direct effect on your Top rated status. But what criteria does eBay expect you to meet in order to achieve such status:
Your account must be active for at least 90 days.

Sales requirements:

You must have at least 100 transactions with buyers in the United – States over the course of the last 12 months.

You must have at least $1,000 in United-States based transactions over the past 12 months.  

Tracking requirements:

For 95% of your US based buyers over the last three month period you must upload a shipping tracking number to my eBay within the handling time you advertised on your listing.

Have the shipping label scanned by the carrier i.e. UPS or Fedex

Performance standards requirements:

Up to  0.30% of your eBay Money Back Guarantee and PayPal Purchase Protection cases can be closed without seller resolution

You can have a maximum of 0.5% of your US  transactions with one or more defects (money back guarantee or PayPal purchase cases closed without seller resolution) over the most recent evaluation period.

Less than 3% of your products can qualify as not being shipped on time in other words 97% of your merchandise must be shipped on time.
Please note that eBay looks at the last 3 months of seller activity if you have had over 400 transactions over that period and if not then the evaluation is done on a 12 month basis.
eBay Feedback extortion or manipulation
Feedback extortion and manipulation is a two way street that both buyer and seller walk down. eBay has put into place policies and guidelines to prevent this from happening:
Buyers feedback rules
A buyer is not allowed to use feedback in order to force a seller to provide:
Additional goods which were not included in the original listing

A return or replacement of an item not in the original listing or not covered by the money back guarantee
Sellers feedback rules
A  seller cannot require a buyer to leave positive feedback in exchange for:  
Money

Additional goods

Services

A full or partial refund

Receiving the item itself
If you fall victim to feedback extortion or manipulation contact eBay immediately!
eBay Feedback - much more than a trust signal
Generally speaking, as buyers we care a lot about feedback (90% of us look at your eBay feedback prior to making a purchase), it's one of our main parameters to decide whether we're going to buy from you or move on to the next eBay seller.
The importance is not only in terms of  making a decision to make a purchase but also as to the amount of money we are willing to spend with you – a person is  likely to spend 31% more on a business with excellent reviews.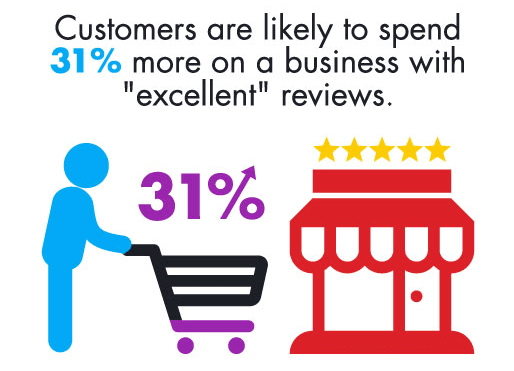 If the two reasons above don't convince you then just understand that your eBay feedback rating is crucial to your ranking in eBay's search results (see our guide about eBay seo) and is the difference between receiving lots of traffic that may end up in sales and  being hidden from plain sight.