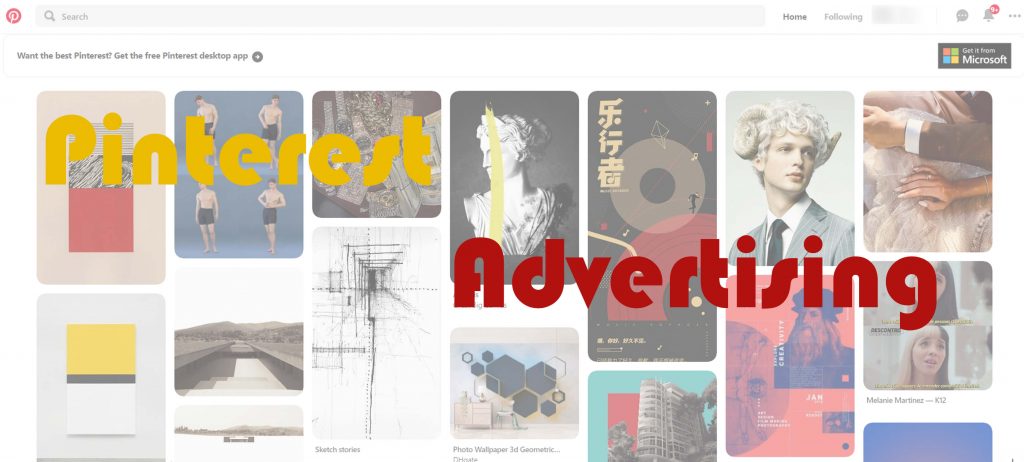 Much like advertising on Instagram, Pinterest is a very visual platform. In fact, nearly 60% of Pinterest users also use Instagram. There are many similarities between the two platforms from how visual they both are to their young demographic. I would go as far to say that they both belong to what I like to call the 'millennial advertising sphere'. In this post though we will focus on Pinterest and learn everything you need to know in order to get started with Pinterest advertising including:
How to determine if Pinterest advertising is for you.

What items to promote on Pinterest.

What advertising budget you will need. 

How to drive online sales via Pinterest. 

Selling directly via Pinterest. 

Pros and cons of Pinterest promoted sales. 

Tips and best practices for beginners.
Pinterest Advertising - Understanding the Basics
Whenever you are considering a new platform to advertise on in order to drive eCommerce traffic and sales you need to have a good understanding of the target audience. You need to ask yourself: 'Are these people who would potentially be interested in my products and make a purchase from my online store?'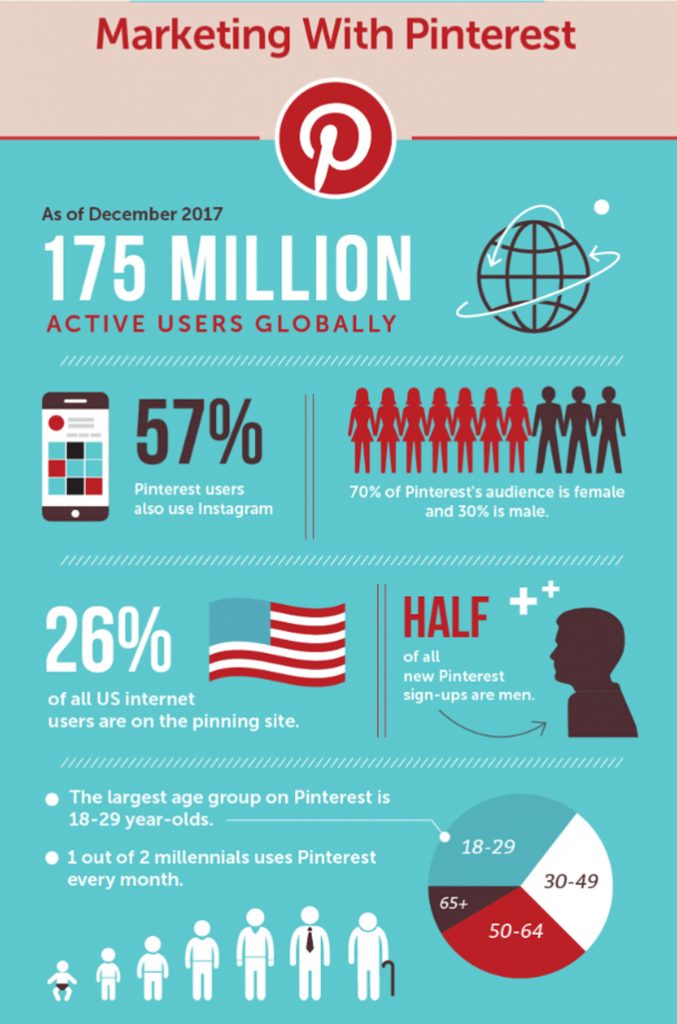 Image Source: CoSchedule
This infographic is very telling and helps you understand from the outset if advertising on pinterest is for you in terms of who you are targeting. Advertising on Pinterest could be a great idea if you:
Are marketing to women, as around 70% of Pinterest users are female. 

If you are targeting millennials and/or people in the 18-29 age range. 

If you are targeting US based customers as 25% of all internet users in the US are on Pinterest. 
Once you determine whether or not you are trying to market to a predominantly young female demographic, you need to ask yourself another question: are the product categories in which I sell popular with Pinterest users?
Image Source: CoSchedule
As you can see the three predominant product categories which are successful on pinterest are:
Of course other categories exist that are popular just on a smaller scale. You can try to promote items in other product categories but be sure to first do some research on Pinterest. Try to see what pins currently exist for your niche and see how many comments exist which can serve as an indication in terms of the quantity and quality of traffic a given pin can potentially generate.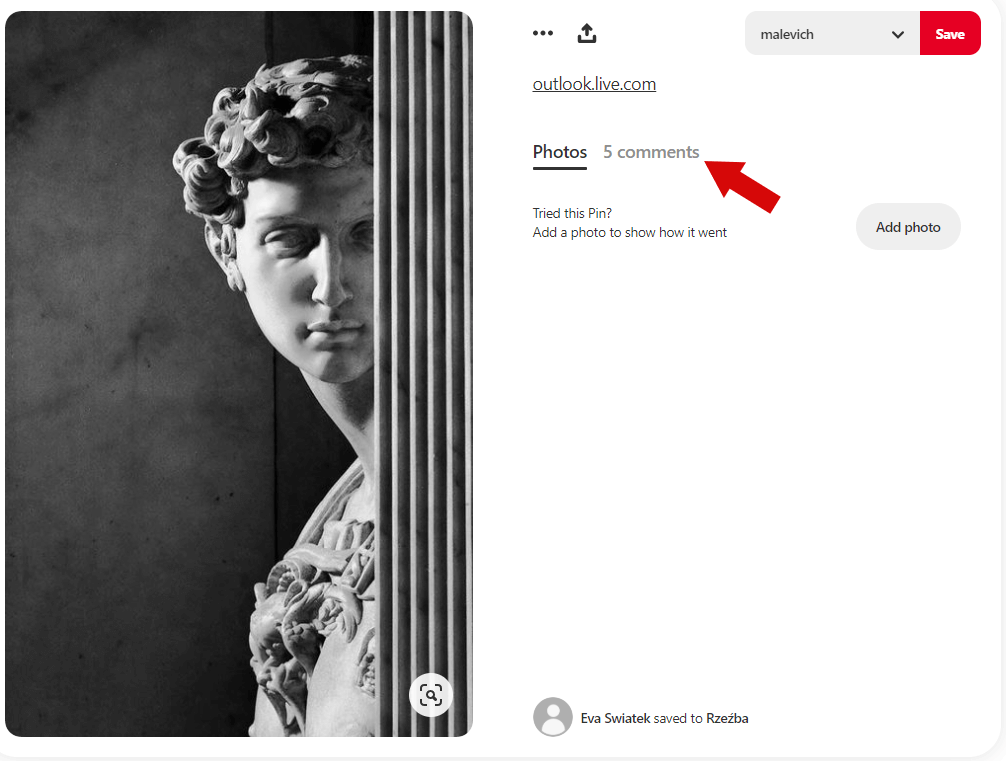 Pinterest Advertising Costs
Another key factor any eCommerce entrepreneur will want to know before starting his or her journey on Pinterest is 'What is Pinterest advertising going to cost me?' The answer to this question depends largely upon your campaign goals. Here are the 3 goals you can aim to achieve with Pinterest ads and their respective costs:
Building brand awareness – This form of advertising means you are trying to get your target audience to see your pins and visual content. You are working more on brand recognition than direct conversion rates and traffic generating.
Cost: $2-$5 for every 1k impressions [known as CPM or Cost Per Mille].
Boosting engagement – This means you want people to act and react to your pin including actions such as sharing, repinning and clicking on your pin.
Cost: 10 cents – $1.50 per engagement [known as CPE or Cost Per Engagement you pay a fee in the above range per engagement such as a repin for example].
Driving web traffic – This means you want people to come to your website through your pinterest ad and only pay Pinterest ads when this desired result occurs and not for engagement as explained previously.
Cost: 10 cents – $1.50 per click [ Known as CPC or Cost Per Click which is paid every time someone clicks on your designated URL].
Selling Directly Via Pinterest
In order to sell directly on Pinterest you will need to set up a 'shoppable pin' for your item. Pinterest now allows merchants to upload their entire product catalogs and convert them into shoppable pins. In order to do this you have to first be eligible and approved by pinterest [I will explain how to go about doing this in a bit]. Once you are approved shoppers will see a 'buy it' button next to the 'pin it' button as in this example: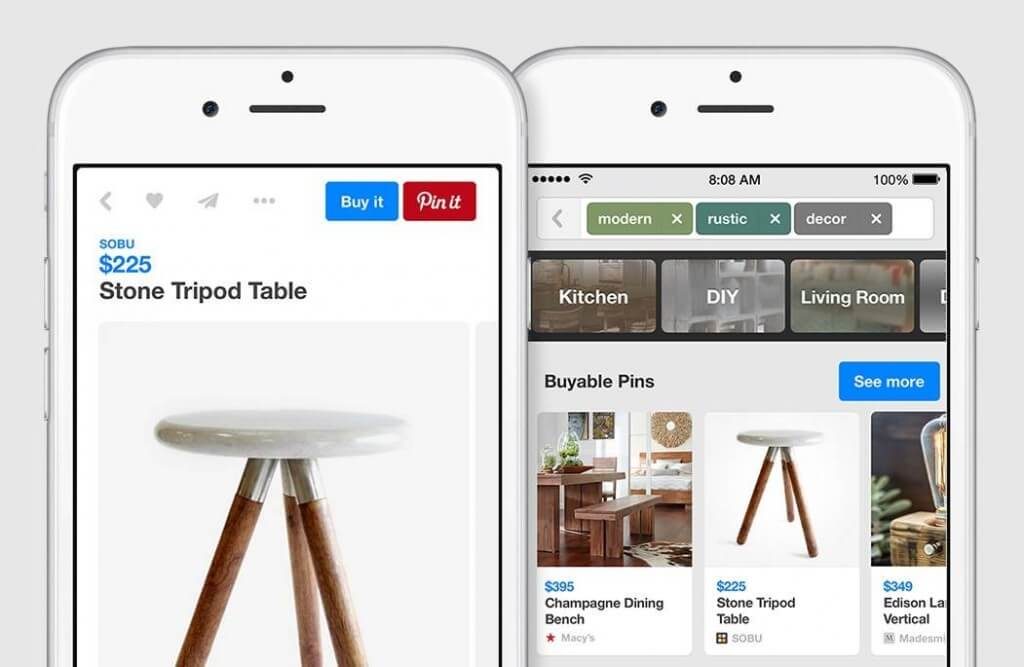 Best Practices for Shoppable Pins
Pin products directly

– Do not pin items from general product category pages rather pin them directly from product pages otherwise they will not appear as 'shoppable pins'.

Set to 'public'

– Ensure pins are set to 'public' so that potential buyers and browsers can view your pin on public boards. 

Pinterest browser button

–  Get the Pinterest add-on for your browser so that you can save best selling items from your site to your pinterest boards.
Applying to Sell on Pinterest With Shoppable Pins 
Once you have created a business account on Pinterest and filled out all your basic info they ask you, it is now time to apply to sell on Pinterest. As I mentioned earlier, selling on Pinterest directly is done through shoppable pins where a buyer can go directly to the seller's product checkout page.
Do note that shoppable pins much like with Instagram advertising and selling is only currently available to sellers who use Shopify and BigCommerce.  
The feature is also restricted to business accounts which are located in:
The US

Australia

Brazil

Canada

France

Germany 

Ireland

Japan

Mexico 

New Zealand

UK
Before applying, do go over the shoppable pin guidelines to ensure you are indeed eligible:
Pinterest requires you to have a business account with all your contact details as well as a profile photo.

Be sure you are selling items which are not prohibited by Pinterest such as animals, digital goods, adult products, weapons etc…

Be committed to sending out a confirmation for all transactions carried out on Pinterest including taxes, fees and shipping details.

Be committed to taking down out of stock items within 30 minutes of it being unavailable as well as responding to customer inquiries within 48 hours.
How to Drive Online Sales and Attract Customers Via Pinterest
There are a number of 'strategies' you can use to drive conversions via Pinterest. Some of the most effective ones include:
Make use of 'rich pins'

– Go ahead and use rich pins which have the ability to increase conversions. What makes these pins unique is that additional information on the pin is provided including real time info such as the price, whether the product is in stock and where one can go about purchasing the item. The most important aspect of rich pins in my opinion is that anyone who pinned it in the past will receive a notification when there is a price drop. You can use this tool to create marginal price drops in order to reignite interest in your product and pin. 

Contests and platform-specific promotions

– You can run a contest and award a prize or discount for the person who put together the nicest board including pins of your products. Platform specific promotions and contests have the power to create hype and interest in your product.

Cross-promote

– Consider using cross-promotion to increase traffic to and from your pinterest boards and pins. Facebook allows you to add a Pinterest tab to your page for example. When it comes to your website consider sharing entire boards especially for a special sale or holiday season – this can give your campaign the visual boost it needs in order to succeed.  

'Pin it' widget – Use the 'pin it' widget to product pages in order to increase referral traffic. The pin to repin ratio is 1:11 on average meaning you are looking at a high return on the time you invest in 'widgeting' your product pages.
Pros and Cons of Promotion Via Pinterest
As with everything in life, advertising on Pinterest has its advantages and disadvantages. Let's explore some of these here so that you can make a more even keeled decision about whether or not to use Pinterest to promote your eCommerce business. 
Advantages of Promoting Items on Pinterest 
Multi-channel Synchronization

– Pinterest integrates and syncs well with a host of other social media channels including Twitter and Facebook. You can also share your Pinterest feed on your website. The ease with which you are able to do this allows you to cross promote pinterest with other advertising channels, thereby contributing to your multi-channel marketing strategy. 

Niche Specific

– As I mentioned earlier, when you advertise and sell on Pinterest, you are doing so for a very specific target market. If this is the exact audience you are interested in then Pinterest can be a gold mine for you, especially if you are selling in the categories which are of the highest interest on Pinterest. 

Easy to drive traffic

– Each image, including ads are automatically connected to the source website with a hyperlink. This is a marketer's dream, especially if you are doing some new testing with product specific landing pages for example. This structure ensures higher amounts of referral traffic when compared with other channels such as Twitter and YouTube. 

Higher conversions, higher spending

– People come to Pinterest with higher buying intent than on Facebook or Twitter. They typically come to 'visually research' an item they are interested in, which explains why they convert better. The cherry on top is that they spend two and a half times more per conversion when compared with Facebook and Twitter. 
Disadvantages of Promoting Items on Pinterest 
Very specific and demanding

– Running Pinterest ads and marketing campaigns can be very tough as all images need to be your own in terms of copyright infringement. Additionally, Pinterest has very specific size and quality standards which you need to meet. You may need to pay someone to create all these images in order to actually have visual content on which to base your Pinterest marketing campaign. This can be a serious impediment for sellers who don't have the time or capital to deal with this. 

Niche specific

– The very thing that is an advantage for some may be a disadvantage for others. If you are looking to market to men or people over the age of 30 or not in the home, food or lifestyle categories, you can find yourself wasting tons of marketing funds on campaigns with a very low ROI [Return on Investment].

Not eCommerce Specific

– Though many sellers find value in advertising on Pinterest, one has to remember that Pinterest is predominantly a 'lifestyle' site and not an eCommerce platform. As such, sales and selling on Pinterest really take a back seat on the platform. Many people did not know and still don't know that it is even possible to make purchases via Pinterest. 

Marketplace-specific – Pinterest is really only an option for you to sell on if you are using Shopify or BigCommerce. Technically you could advertise items from eBay and Amazon though you would not be able to turn these into 'shoppable pins' which means you would be increasing the number of conversion barriers which would make Pinterest a less profitable and therefore less viable option for you and your business.
3 Tips and Best Practices for Beginners
Being new to advertising on a platform is always a bit challenging. That is why I decided to get you started with three tips and best practices which you can reference for guidance when first dabling in Pinterest Advertising:
Timing and messaging are crucial

– 

Most of the people who use Pinterest work and as such do not look at Pinterest                               during working hours. You are best uploading pins and ads on pinterest between 8 and 11 pm, especially on a Saturday or Sunday when people have off. Messaging is also crucial so be sure to have a clear and strong CTA or Call to Action.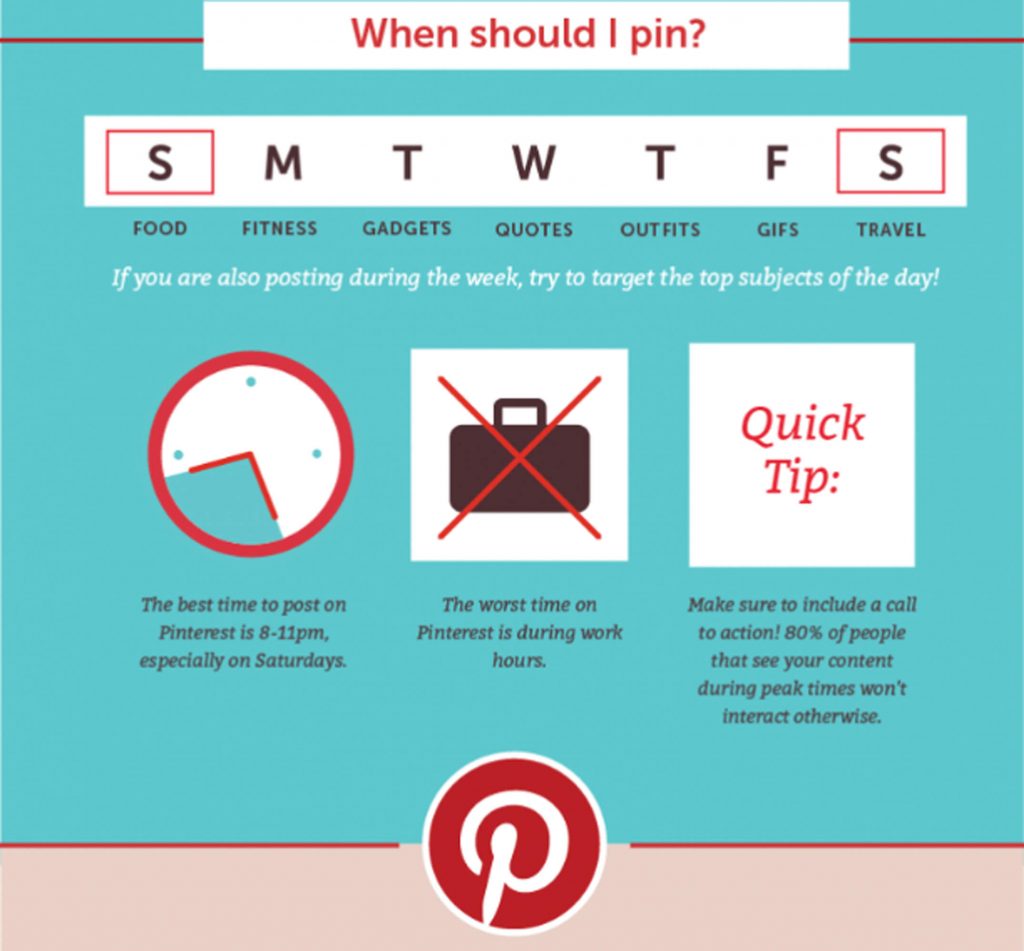 Image Source: CoSchedule
2. Use Pinterest Analytics – Using Pinterest Analytics can help you gain insights into your target audience as well as discern which ad campaigns are working and which need to be gotten rid of or optimized. Use analytics to make informed decisions about where to invest your time, effort and money for future pins and ad campaigns.
3. Pin text – Pin text though very often overlooked is super important. Follow the following guidelines when preparing your pin text especially for promoted pins:
Keep your text in the 300 word range.

Be sure to include a link as well as the item's price. Ambiguity in terms of the price can be construed as trying to 'hide' the price. And not knowing where to go in terms of purchasing the item can be frustrating at best and in a worst case scenario will lead to the loss of a sale. 

Have a clear call to action such as 'buy this scarf today and be ready for another hard yet fashionable winter!'. 

Be sure to see what keywords your competitors are using and try to incorporate those in your listing.

Always try to mention, thank and tag others which will give your pin more street cred as well as increase the chances of a repin and increased exposure.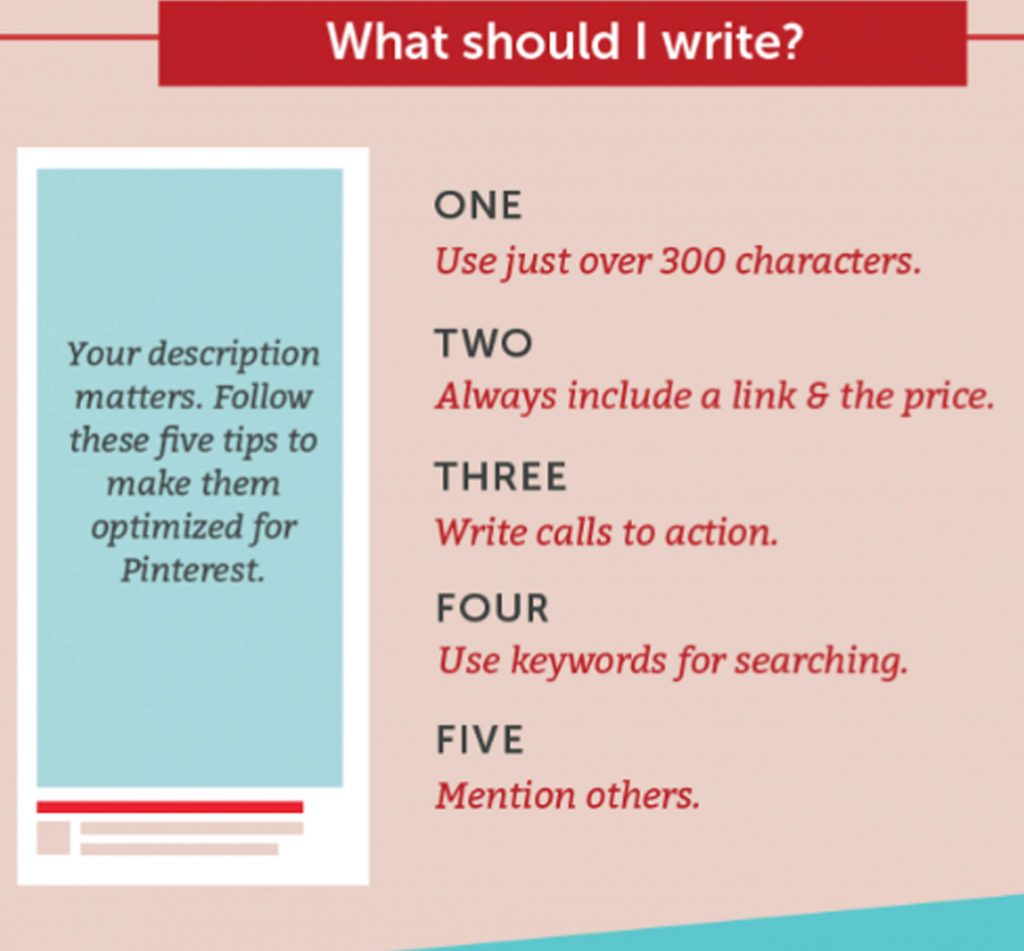 Image Source: CoSchedule
Summing It Up
As we have seen, Pinterest in general and Pinterest advertising in particular is meant for a very specific target audience as well as very specific niche categories. Before investing money here, be sure that you are positioned to succeed on Pinterest and that you have the resources to create the visual content necessary in terms of quality and quantity. Otherwise start cranking out the high quality images and start pinning them as fast as humanly possible. 
Let me know below in the comments section what your experience has been with Pinterest advertising.