Social media has long been the go-to for eCommerce sellers who are looking to generate more traffic to their listings and ultimately gain more sales. Facebook has been very popular but is actually becoming a much too crowded, much too competitive space, which is why I wanted to introduce you to a very attractive alternative: Instagram. Thanks to eCommerceCEO I can now explain why you are better off focusing your energy on Instagram advertising:
Marketing is all about engagement and sales and on Instagram, the average order value per engaged follower is worth $10 more per customer. This may seem negligible but when you are selling to tens or even hundreds of buyers it makes a big difference.
#1: Who should consider Instagram ads?
Literally, anyone who wants to generate more sales and is willing to explore new social media horizons should consider Instagram ads as an option for themselves. This includes people who sell on eBay and Amazon though these marketplaces do not appear to have rolled out any features to make Instagram advertising more accessible. Audrey_Gertz put out a complete guide to marketing your eBay items on Instagram via the eBay Community which is super informative but is more general and not 'eBay specific'.  
#2: Which marketplaces integrate best with Instagram? 
But in all honesty, the very best candidates for selling on Instagram are those people who either have a Shopify or BigCommerce store or people who are already selling on Facebook and who maintain a product catalog there. I will get into more detail a bit later on but Instagram has simply chosen to partner with Shopify and BigCommerce and they are owned by Facebook which explains why integrating your Facebook product catalog is integral to selling on Instagram (more on this in a bit). 
BigCommerce

– This platform does not appear to have any special Instagram integrations and yet Instagram has designated them as one of their two official eCommerce partners after Shopify. If you are looking to sell on Instagram it is definitely easier if you already have a BigCommerce account.
[/vc_column_text]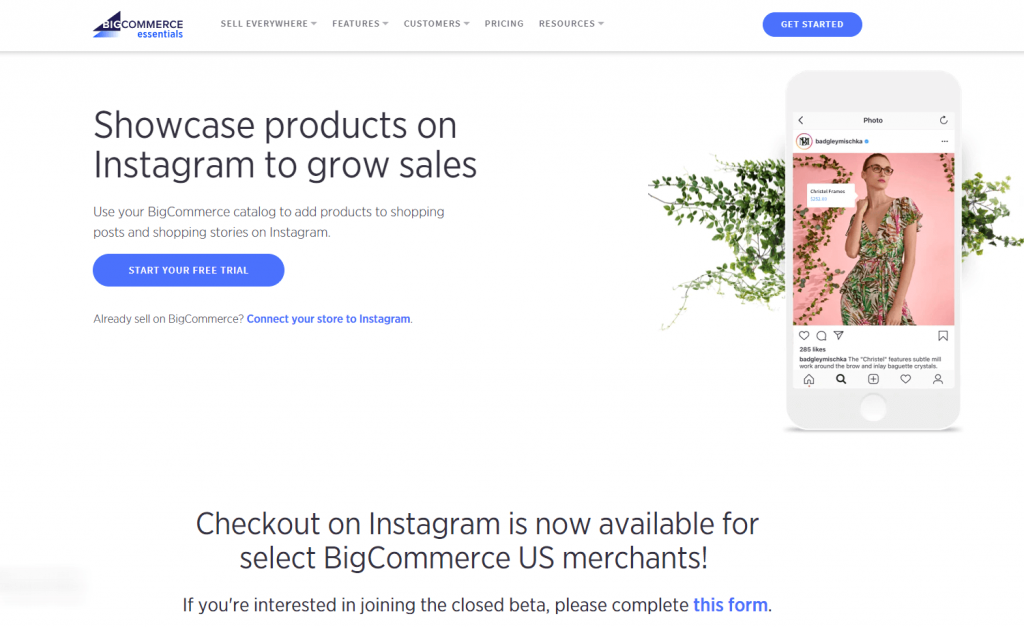 #2: How does pricing work on Instagram?
Similar to Facebook, on Instagram, you will need to choose between CPC or Cost Per Click advertising and CPM which stands for cost per thousand impressions. According to Forbes the average CPM on Instagram is in the $5-$6 range and the average CPC is in the $0.56-0.72 range. 
There are a few factors that influence Instagram ad costs and these should be taken into consideration. These factors are very similar to the way Facebook prices ads as they are 'sister companies'. Here is what to be aware of:
Bidding

– You need to choose a bid price that tells Instagram how much you are willing to pay to have your ad placed.

Competition and target audience

–  When your specific category and target market have a lot of competition this will naturally increase the price of the Instagram ads you are bidding for. 

Timing

– The time you decide to advertise will also influence ad prices. So if you decide to place an Instagram ad during high season, say Christmas time then you are in for higher costs.

Placement

– Having ads on more than one Facebook-owned platform will help reduce the price per ad.
On Instagram, your ad budget is calculated on a daily basis. Only you know your own budget but here are some basic indications for the most simplistic Instagram ad campaigns:
You should be spending $1 a day if you are using ads based on impressions. 

You are looking at a daily budget of $5  if you choose to pay for likes, clicks or video views.

If you are specifically interested in impressions, set aside 50 cents per day.
Instagram also allows you to choose a 'lifetime' budget for a specific campaign. You can let Instagram know how much you want to spend on a specific campaign as well as the duration of said campaign and Instagram will help you figure out what your daily budget should be. It is also important to understand that ad performance on Instagram will influence pricing – the better and add does the more it will cost you and vice versa. 
What do you get for your money ?
Based on research carried out by Marketing Land and an article in Marketing Hub here is what you can expect to get in return for your marketing dollars on Instagram:
For those of you who chose the CPM option you can expect to pay $5 for every 

1, 000 visitors.
For those of you chose CPC you can expect to pay between 20 cents and $2 for every click. 
According to a different study by AdEspresso:
CPC will run you 70-80 cents per click on average.

If you are targeting people ages 25-34 you are looking at a premium of $1.23 per click. 

Whereas younger age groups who tend to not have cash (ages 13-17) will cost you 37 cents per click. 

The study also noted that the cost of advertising on Instagram ($0.70) was double the costs on Facebook ($0.35) when looking strictly at CPC campaigns though they did note that Instagram tends to have 10 times the amount of Facebook when it comes to promotional posts and content.
Connect one of your eCommerce accounts

, Specifically, if you are using Shopify or BigCommerce you can connect these accounts directly with Instagram.

Use the catalog manager

– You can connect Instagram to an already existing

Facebook business product catalog

or create a new catalog under 'catalog manager'. Just remember that since Instagram is owned by Facebook a lot of their infrastructure is based on the latter.  
Have Instagram

approve you as a business profile

.
Shoppable Instagram posts

–  

First, upload an image.

Add a caption and tag your products. This will appear under 'Tag people'.

Start typing the name of the product in the tag and Instagram will instantly pull up existing options in the catalog you previously connected. 

Then all you need to do is share your post and it will appear in your Instagram feed.
Shoppable Instagram Stories

–

Upload your story which can be a video or picture.

Click the sticker icon and select 'product'.
You can now add one item per story and add any item from your catalog as with a shoppable Instagram post. This is what the final product will look like:
#1: Having Retargeting Campaigns
Retargeting is a really simple yet effective marketing tactic originally employed by Facebook starting in 2015 and then introduced to Instagram in 2016. The way retargeting works is when someone visits your website or shop, Facebook and now Instagram takes note of this and  'hits' (metaphorically) that person with a bunch of ads related to your service or in this case, most likely, product. Many times people find it creepy that payid pokies aus Instagram or Facebook knows where they previously have been and it is a bit unnerving but to tell you the truth, retargeting campaigns actually work on Instagram and have been shown to be very effective. Here is an example of what a retargeting  campaign looks like on Instagram:
#2: Find Influencers to Promote Your Brand
Influencers are individuals who have a strong following. I am sure you have heard the term 'influencer marketing', the reason why influencers are so, well, influential is because people 'follow' them since they admire that person, think they are sexy or have a great sense of style. On the other hand, people today don't trust brand's to tell them about themselves and their product but when it comes from someone they like and appreciate, that recommendation goes a long way towards making a positive purchase decision. There are all kinds of deals you can offer influencers from a cut of the sales vis-a-vis an affiliate link, a flat fee, a fee per likes, engagements or comments and if a campaign is successful you can even entertain the idea of turning one of your influencers into a brand ambassador. Check out Jessica Lesaca promoting dieting pills for 3BPlus