In this post I will discuss the exponential growth of mobile e-commerce and why this is a trend online sellers cannot afford to miss. I will also give you a rundown of the best practices to adopt when optimizing your eBay listings for mobile e-commerce or m-commerce as it is now commonly known.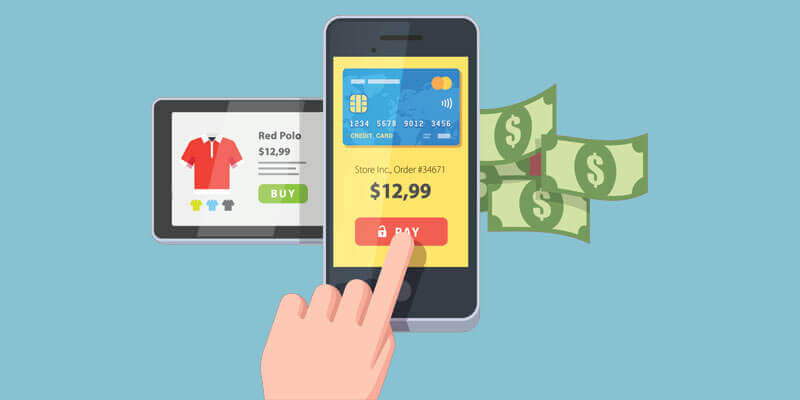 2018 trends - Mobile Commerce by numbers
Currently 1.6 billion people use their mobile devices to make purchases over the internet meaning soon, 25% of the world's population will become m-commerce clients. That is quite a customer base and sellers who don't get on the bandwagon are going to miss out on a large portion of the market.  
Another statistic to consider is that in 2017, 19% of all e-commerce on US soil was done via mobile and that number is due to rise to a staggering 27% in 2018.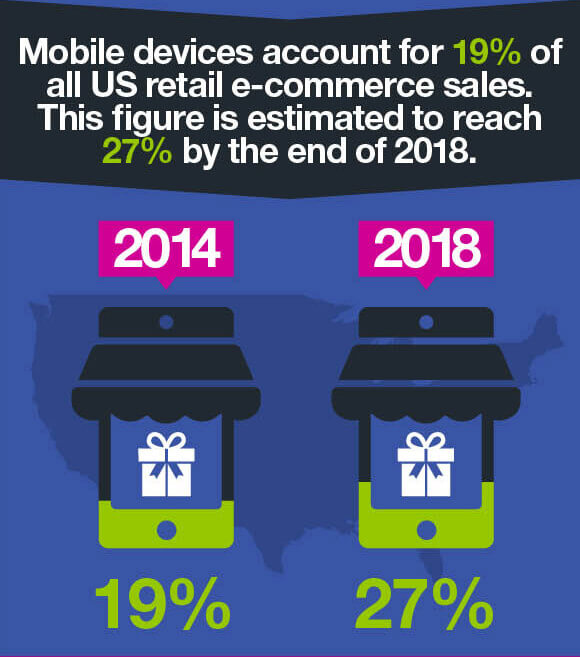 Let's have a look at what devices people are using more of and which ones people are using less of. Not all that surprisingly, it turns out that desktop usage is a dwindling trend while  mobile and tablet usage is on the rise.
Stores, especially e-stores need to be where the eyeballs are and mobile is steadily gaining importance in the e-commerce landscape.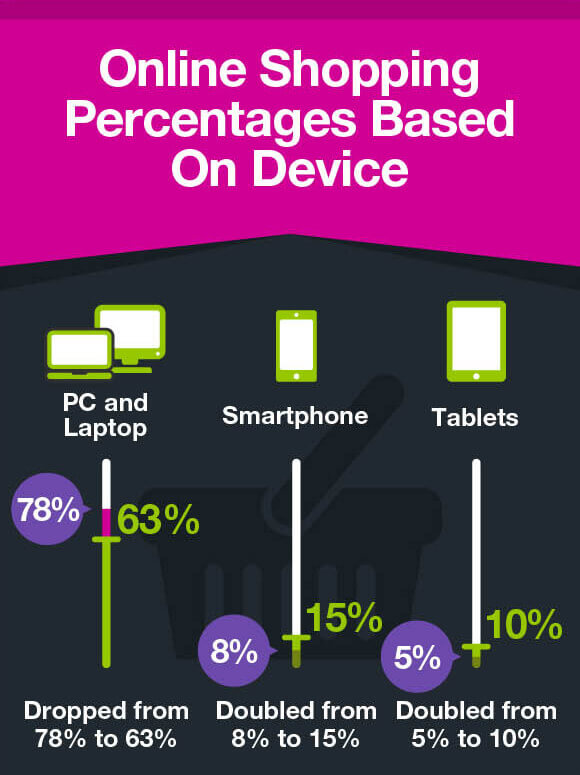 What items are people spending money on via mobile
Well people are spending the most amount of money on computers, books and music as well as accessories for their homes but the least amount of money on children's items, groceries as well as gifts and flowers.
Sellers should be investing more time, effort and money in optimizing their listings for mobile users especially those selling on eBay.
eBay is one of the most competitive marketplaces in the world and as such sellers should strive to have any possible advantage over their competition. Being mobile optimized affords you that edge and makes your products more accessible to millenials and other younger demographics who are also bigger spenders. This could be a big source of revenue that you are not currently tapping or not sufficiently tapping.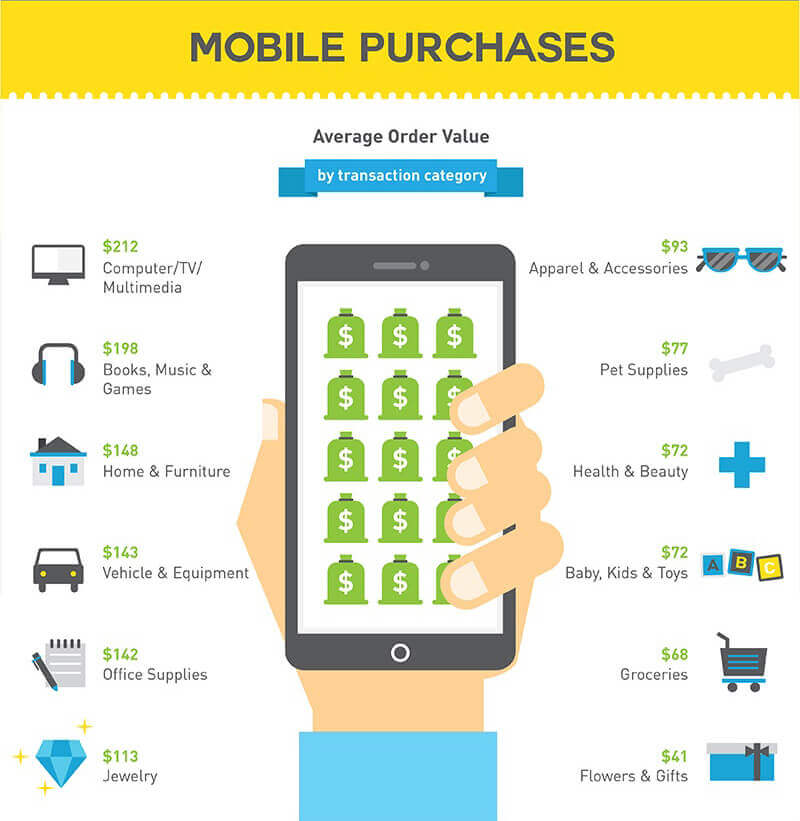 How does eBay view the future of mobile e-commerce?
Our success depends to a large degree on our ability to successfully address the rapidly evolving market for transactions on mobile devices.
Mobile devices are increasingly used for ecommerce transactions. A significant and growing portion of our users access our platforms through mobile devices. We may lose users if we are not able to continue to meet our users' mobile and multi-screen experience expectations. The variety of technical and other configurations across different mobile devices and platforms increases the challenges associated with this environment.
In addition, a number of other companies with significant resources and a number of innovative startups have introduced products and services focusing on mobile markets.
eBay sees mobile as an integral part of its future strategy and is saying that if eBay doesn't grow with the mobile trend, it will die on the desktop. The same thinking should follow for eBay sellers – trends are rapidly changing and keeping up is essential in order to survive and thrive in e-commerce.
Now that you understand that it's either going mobile or die, let me explain how to make your eBay listings mobile optimized.
How do I optimize my eBay listings for mobile shoppers?
Now that we have taken a few moments to appreciate the huge driving force that is mobile commerce, you are probably eager to optimize your listings for mobile use. But before we get into detail about how to do this, let us first discuss responsiveness.
Your eBay listing must be responsive meaning it must be able to automatically adjust when viewed on different platforms such as:
Smartphones

Tablets

Desktops
The two main tools used to achieve the almost magical effect of resizing and reconfiguring are CSS and HTML. Now I know the average seller on eBay does not know these coding languages and just hearing the word HTML can be a nuisance for some but please bear with me.
You have two main options:
If you are one of the few sellers on eBay who knows how to dabble in CSS and/or HTML, Customize

a code sequence which eBay has provided

and insert it into the item description.

But if you are like most sellers, you may want to consider a platform which automatically optimizes all of your eBay listings at the click of a button (we explained in detail how it works in our post about eBay mobile friendly solutions). Using CrazyLister's mobile view editor allows you to keep your original desktop listings unchanged while customizing the mobile listing view, for example showing less text on mobile devices and more text on desktops.
The editor has a built-in ability to recognize and present content based on the device from which it is being viewed: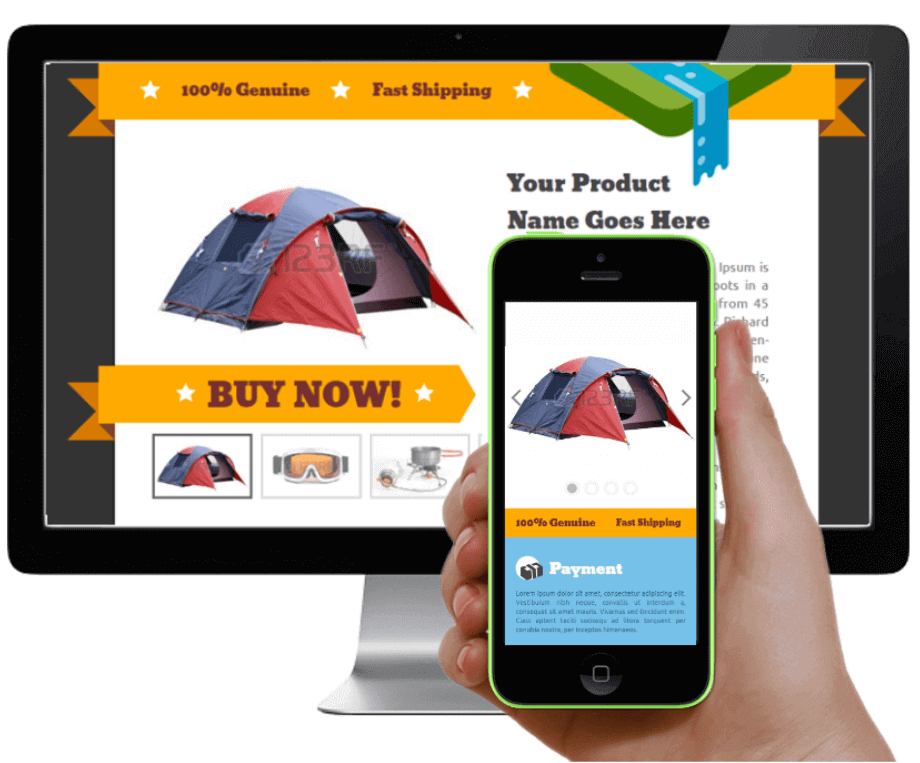 When you want to make changes you can login to your account and edit mobile and desktop versions of the same listing without one disrupting the other: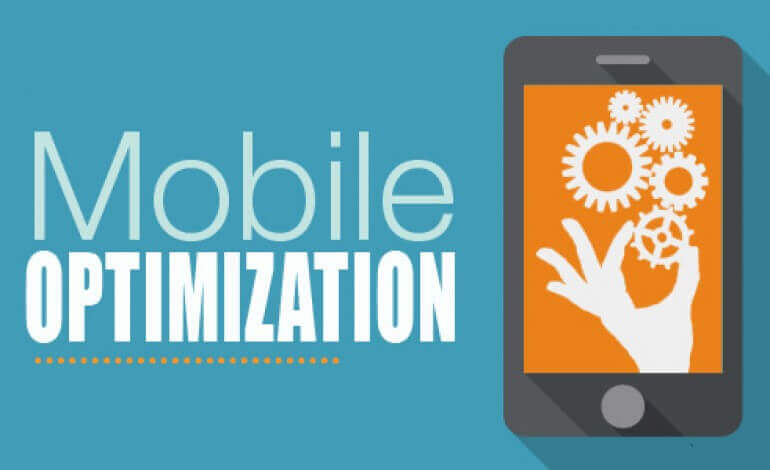 Beyond choosing what platform  you will use in order to best help you optimize for mobile commerce, you still have some gardening to attend to. Think of mobile as you would a table-top Japanese garden – everything needs to be smaller and more precise, weeded and perfected.
Best practices when optimizing your eBay listings:
Be concise

– keep your descriptions short and to the point. Cell screens as we all know, are much smaller than desktops and as such space is more limited and generally people have less patience to read lengthy descriptions. Customers looking at your listing are already interested and just need to be nudged towards taking a desired action ie purchasing from you. Highlight your product's best and most important features in your description.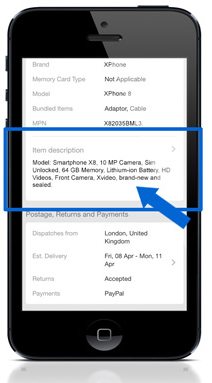 2. Set yourself apart – People these days, especially shoppers, go through a huge amount of content and in a seller's case, product listings. You need to make your listing stand out and leave an impression on shoppers. Consider creating a logo and using bright colors like yellow and orange and/or using filters on your images. It is very important to create the perception of a brand, this gives your product perceived added value and a hint of pizazz.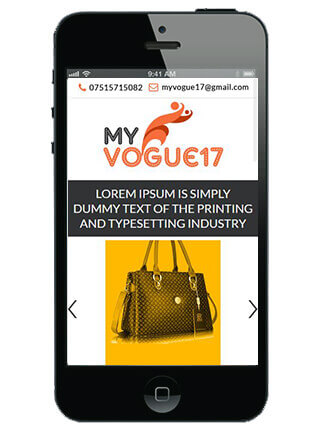 3. Legibility – As we all know and as I have already mentioned, phone screens are smaller than desktops. Make sure your listings are legible. A quick search for eBay community answers told me that 14 parts was the best font size for mobile and as far as clear, easily readable fonts go, try: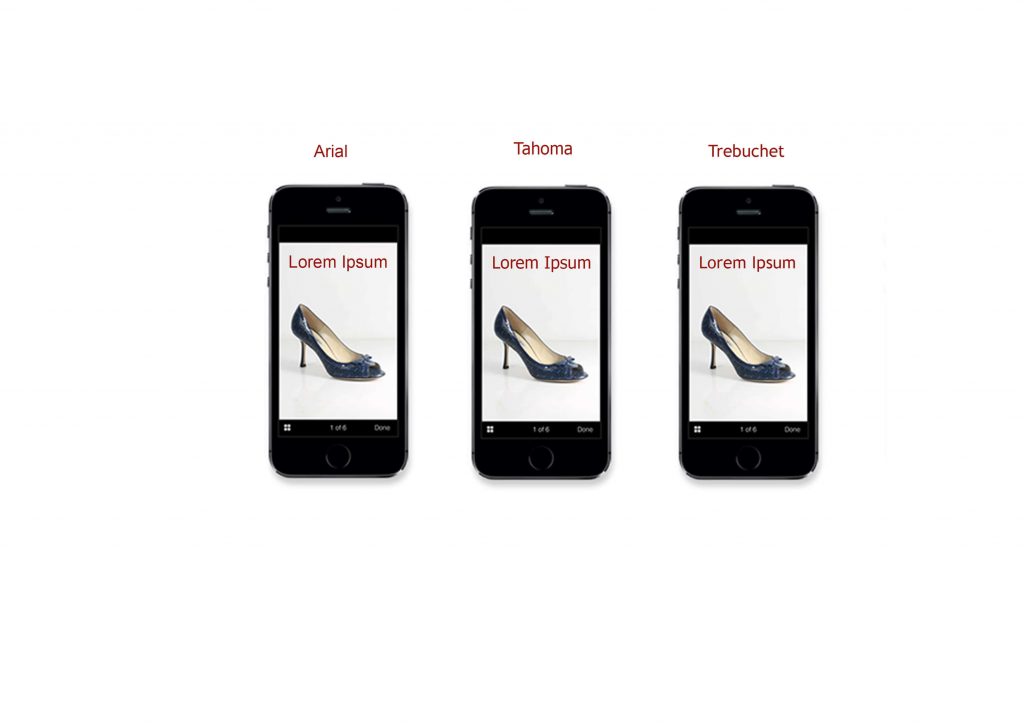 but by all means try out different font/size  combinations and ask your friends and family members what is most legible.
4. Tabs – This is not a must but consider using tabs which make your listing more navigable. Tabs keep text to a minimum, allow you to highlight areas which are crucial to your sales pitch and allow the viewer to expand a section should they be interested in a specific category.
Photos – Keep photos under 100kb both on mobile and desktop platforms and don't embed pictures in the item description. Try uploading your photos first to eBay picture services to make sure they render properly.
Note for CrazyLister users – CrazyLister automatically optimizes your images for mobile shoppers, so you don't need to worry about your image size.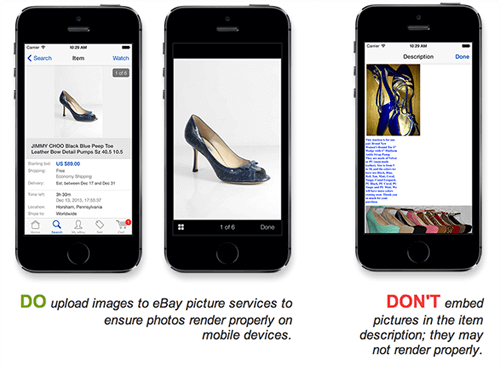 How to check if your eBay listing is currently mobile-friendly?
A great online service that I came across which makes this process easy and user-friendly is i-ways. This platform will show you exactly which aspects of your listing are mobile optimized and which ones aren't. I-ways takes into consideration:
Font size

Content width

Links

Plugins
Among other things and allows you to put your finger on where the issue is and then you can turn around, fix the issue and finish up your mobile optimized listing.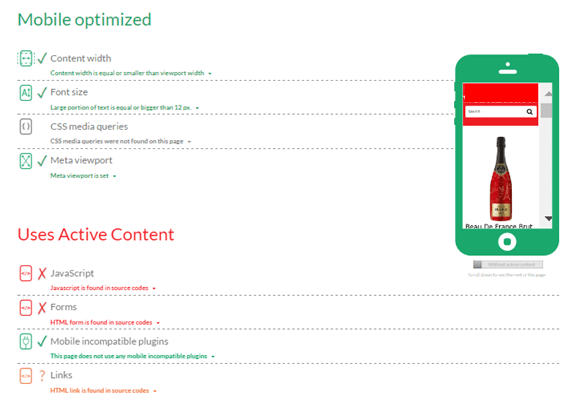 So what trends should we expect in m-commerce in 2018-2020 ?
#1: Advertising
Advertising will become more mobile-centric and more creative as less and less people pay attention to traditional methods such as email advertising or even newer methods such as mobile banners. Simply enough, companies or individuals who aim to capture the mobile-commerce market will invest in mobile advertising.
Social media in general and Facebook specifically is heavily dominated by mobile users. Facebook is leading the trend with 1.74 billion active monthly mobile users which is a major contributor to the fact that 88% of Facebook's advertising revenue is mobile based.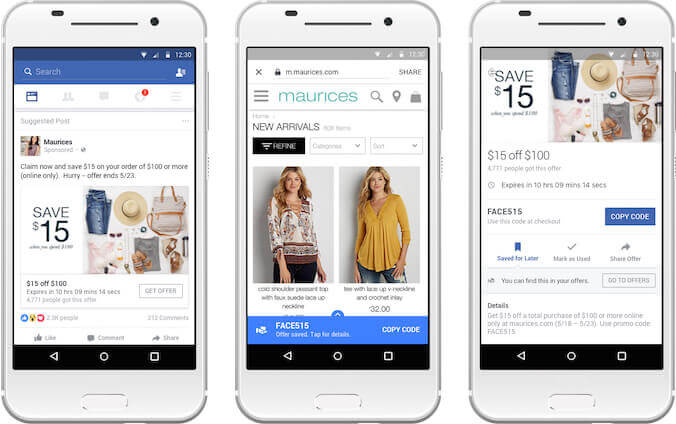 Social media will continue to dominate mobile advertising including mobile exclusive platforms such as Instagram which is currently at 800+ million monthly active users and Snapchat which is at 301+ million.
Another big mobile advertising trend to keep your eyes open for is mobile video advertising which is sharply on the rise and due to reach $9.90B in 2018: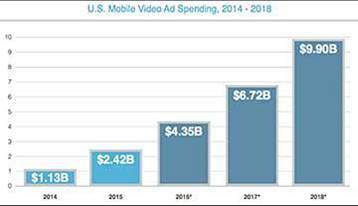 #2: Method of payment
Cash is ancient and credit cards are passe – today people use PayPal, ApplePay, AndroidPay, Bitcoin and all other sorts of modern currencies. We will definitely see an increase in the use of these new methods of payment and the retailers who accept them. Those who don't may face the same fate as fiat currency and believe you me, it is not a pretty one.
Going into 2018, consider offering your customers the option of paying with at least one or two new methods of payment – this may have a positive affect and encourage mobile users who use ApplePay exclusively for example to complete a purchase with you over a competing listing.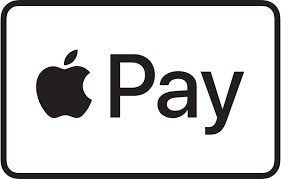 #3: Customer retention
Will be taken to the next level with reviews, returns and customer loyalty leading the charge. Customer-care will need to adopt to a mobile-first approach which may include the likes of live-chat customer service as well as video reviews of products.
Consider being ahead of the curve and offer your mobile based customers the ability to give your product video reviews. Millennials connect much better to video content over written content and they comprise a large portion of the m-commerce customer base.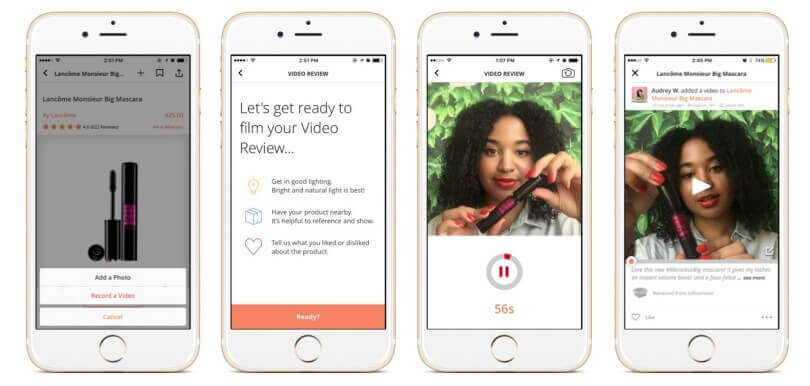 In 2018, e-commerce will need to pick up the pace to catch up with m-commerce. Sellers who are exclusively desktop based will fall behind those who invest in mobile listings.
As you move on after reading this blog and consider all of the statistics and trends I have cited you, the fact is cellphones are going to be king of the road and you need to ask yourself the following questions :
How can I best prepare for the market shift towards cellular based commerce ?

Which platform suits my needs best in order to achieve this change ?

And what are my concrete goals in terms of quantity and pace ?
I wish you all good luck in the trials and tribulations but also in the successes and triumphs that await those who choose to be early trend adopters.