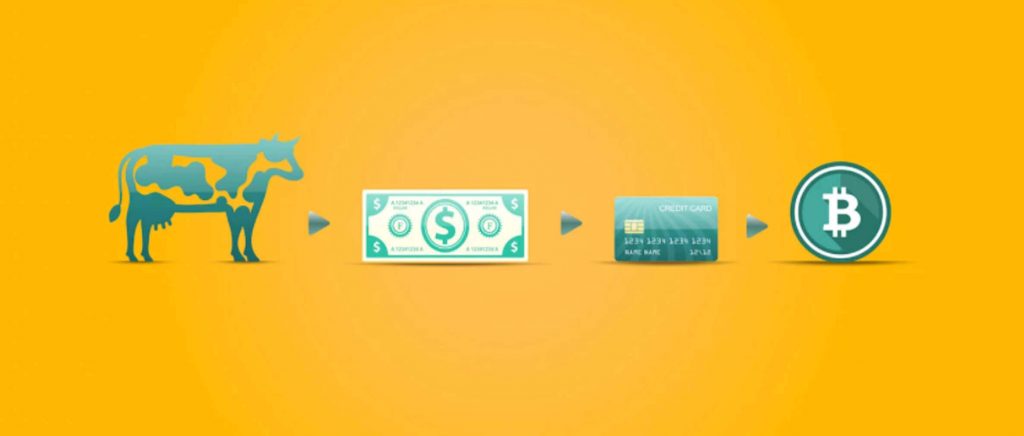 It seems like Bitcoin is everywhere these days, the virtual currency that didn't exist just few years ago is threatening to change the way we buy and sell online, in this post I'm going to explain everything we as online sellers need to know about bitcoin, blockchain and cryptocurrencies.
Bitcoin and Cryptocurrency - A short history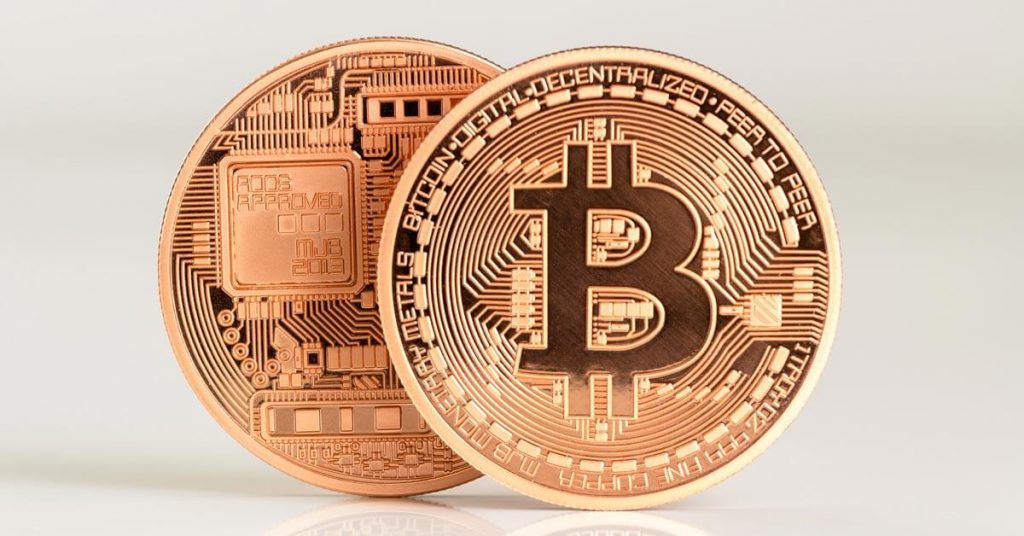 Bitcoin which is a non government backed open source currency officially came into circulation in 2009.

'Mining' is the process through which new bitcoins are generated, in 2010 the first bitcoin transaction took place – 10,000 Bitcoin ($100 million in today's terms)  were traded for two pizzas.

In 2011 rival cryptocurrencies emerged offering improvements on speed of transaction and privacy – these included 'Namecoin' and 'Litecoin' and there are currently over 1,000 such currencies out there.

In 2013 Bitcoin prices plummeted from $1,000 to $300 and it takes two years for the currency to reach the $1,000 mark again

In 2014 the real advantage or disadvantage (depending on which way you are looking at it) really hit home when the world's largest Bitcoin exchange Mt. Gox went offline and stole 850,000 Bitcoin which then were valued at $450 million and today are worth $4.4 billion – investigators have yet to find the perpetrator

In 2016 the Ethereum platform using the Ether currency threatened to steal the spotlight from Bitcoin and ICOs (Initial Coin Offerings) were introduced – the SEC warned against investing in theses offerings and the Chinese government outright banned them.

In 2017 the market cap of cryptocoins rose from $11 billion to $300 billion as bitcoin soared above the long anticipated $10,000 mark. Banks such as Barclays, Citi Bank as well as Deutsche Bank have announce that they are searching for ways to cooperate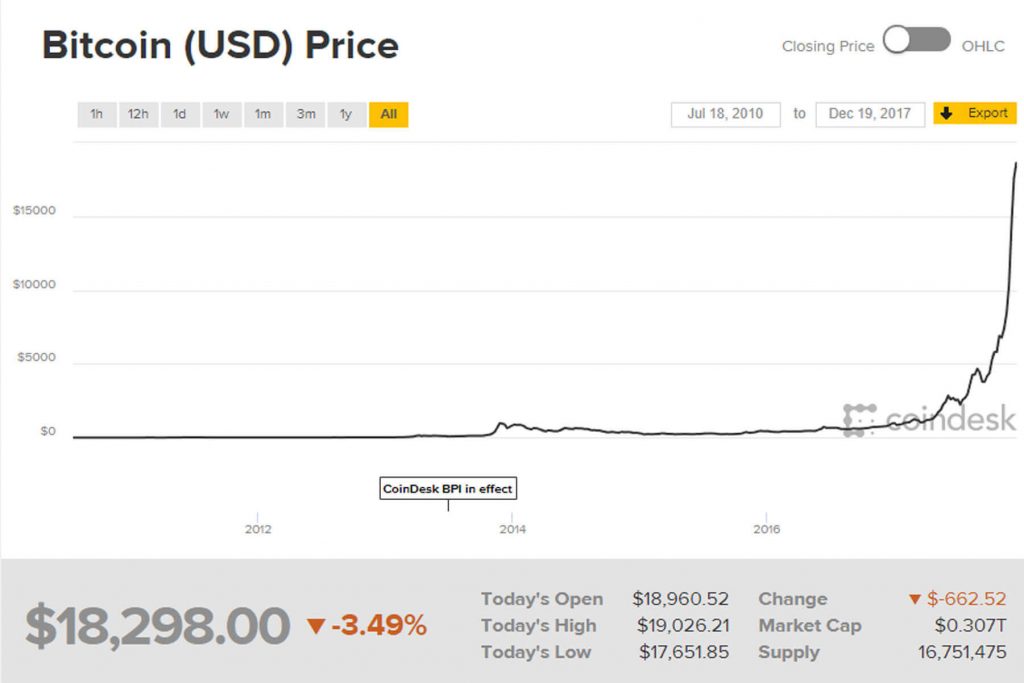 Bitcoin and e-commerce - early adopters and late bloomers
The real issue with cryptocurrencies such as Bitcoin which most people are concerned with  is who accepts it ?
Well for starters, in September of this year, the Japanese government decided to accept Bitcoin as legal tender. This fact along with the fact that many banks and other players in the financial industry are beginning to support bitcoin is spilling over into the field of ecommerce. It is really a chicken and egg situation since the more and larger the marketplace that uses Bitcoin the more the financial industry views it as safe and stable and vice-versa. Bitcoin is already accepted and used on an ecommerce platform called Newegg which is actually the largest online platform using the cryptocurrency.
But the biggest news in terms of the developing relationship between e-commerce and cryptocurrencies is eBay senior vice president, Scott Cutler  went on record this year saying "This is a trend that everybody is talking about, but sadly, at eBay, we don't currently accept bitcoin as a form of payment. We're seriously considering it as these cryptocurrencies become more of a mainstream payment instrument…". eBay is a global marketplace with over 170 million users – should this come to fruition this could be a major game changer for both eBay as a marketplace and Bitcoin as a form of legitimate coin.   
The number of Bitcoin based transactions in general (not necessarily ecommerce) from 2009-2017: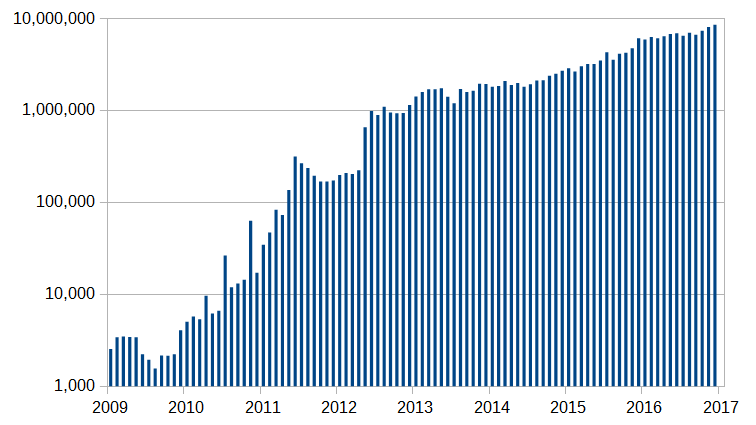 eCommerce websites that accept Bitcoin:
Here is a list of five ecommerce and ecommerce related platforms which currently accept Bitcoin:
PayPal
PayPal is a major player in e-commerce as a large portion of transactions that buyers and sellers complete are done via the platform. In 2014 when PayPal merged with Braintree it announced that it would begin accepting Bitcoin. In the same breath PayPal also announced that they would cooperate with cryptocurrency platforms including CoinBase, GoCoin, and BitPay. Paypal here acts as the intermediary with transaction fees being determined by the merchant and payment processor.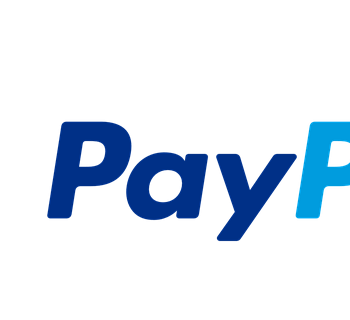 Expedia
As one of the leading online marketplaces for online travel booking platforms, the fact that Expedia adopted Bitcoin as a form of payment in June, 2014 was a major gain for the currency's expansion. In order to implement this, Expedia worked with Coinbase which a secure online platform for buying, selling and trading digital currency. The catch is that at present Expedia only accepts Bitcoin transactions for accommodations but may introduce this option for purchasing flights in the future.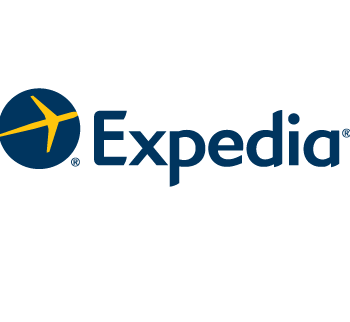 eGifter
eGifter actually helped open the greater retail market (mainly in America – both on and offline). As of now you can't spend Bitcoin at many sores or on many e-commerce websites but eGifter allows you to circumvent this by buying a gift card with Bitcoin and then completing the transaction at your retailer of choice. It is a bit of a hassle but still accounts for solid progress
as far as Bitcoin goes. You can purchase giftcards on egifter for place such as Amazon, Home Depot, Sephora and JCPenny to name a few.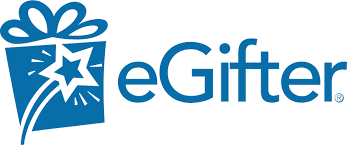 Shopify stores
Similar to eBay in a sense, Shopify is a relatively new albeit very successful platform which allows individuals to set up online stores vis-a-vis their platform. As of November, 2013 all shopify stores were given the option to start accepting Bitcoin if they so desired using a digital currency platform called BitPay. Back then Shopify had 75,000+ merchants and today the number is closer to 400,000.

Etsy Vendors
For those of you who are not yet familiar, Etsy is an e-commerce platform founded in 2005 for individuals to buy and sell collectibles and handmade arts and crafts. It does not currently offer an automated system to accept Bitcoin payments but it does allow you to choose the 'other' payment category so buyers and sellers can exchange Bitcoin payment addresses and complete the purchase. This system is not as intricate or embracing as other platforms of digital currency but serves as a step in the Bitcoin direction.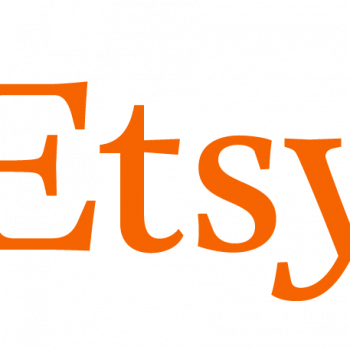 The Evolution of Bitcoin Marketplaces
Bitcoin started as a marginalized project of someone using the pseudonym Satoshi Nakamoto.
It was not the first cryptocurrency, there were other failed attempts in the late '90s and early 2000s. The people who used Bitcoin at first were gamers, hackers and coders but slowly but surely different sectors started seeing the benefits Bitcoin had to offer them. Terrorists used it to fund their activities without leaving a trace and money launderers used it to move large amounts of cash around the world flying under the taxation radar.
But from the pockets of computer nerds, crooks and terrorists emerged a currency which the greater public desired. Evangelists and many Republicans in America loved the idea of a market driven currency out of the hands of uncle sam and people having a romantic affair loved the the idea of booking a hotel room on Expedia with their lover and not having it appear on their credit card statement. Governments, banks and even eBay all see the potential of cryptocurrency in general and Bitcoin in particular and my guess is that in the not so far off future you will be able to buy anything from gas to food with Bitcoin.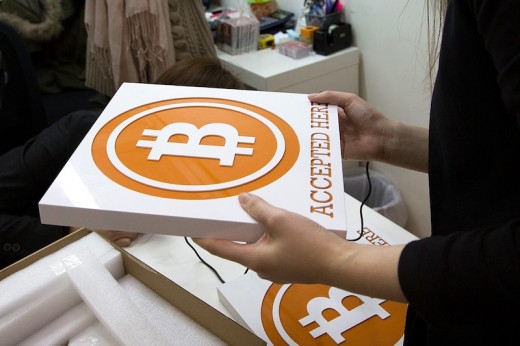 Overstock.com – The first major online retailer to adopt Bitcoin
In January 2014, Overstock.com partnered with the bitcoin exchange platform, Coinbase, effectively allowing thousands of online consumers purchase items with Bitcoin. Overstock CEO Patrick Byrne announced that his company would retain 5-10% of Bitcoin transactions in reserves which in hindsight has turned out to be a very profitable move for the company.
The company's association with Bitcoin as an early adopter of the currency has led to major hikes in Overstock's market valuation in tandem with Bitcoin. Overstock market value has skyrocketed in recent months including a 50% hike in recent days and Bitcoin has reached an all time high of $18,000.
The company actually plans to sell of its retail branch and use the blockchain system ( the digital decentralized ledger which serves as the basis for most digital currencies) in order to build a global property registry service for the over 5 billion people who currently lack access.
All in all Overstock's willingness to embrace cryptocurrency specifically and the blockchain model as a whole may very well motivate other corporations (e-commerce or otherwise) to follow suit.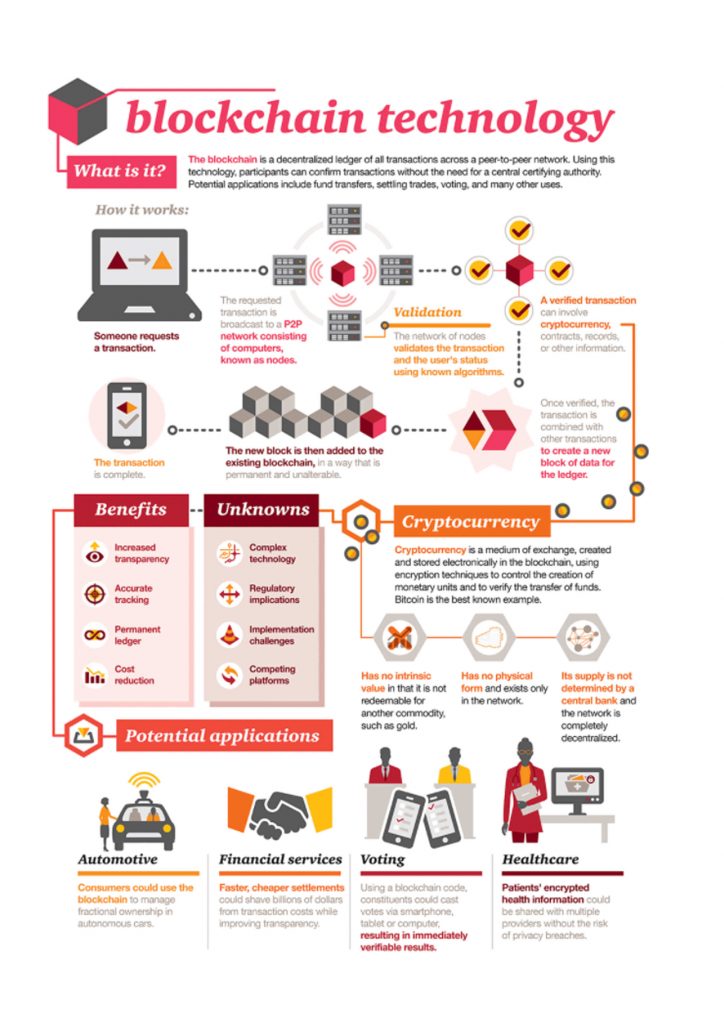 Newegg – A Bitcoin early adopter
Another marketplace that accepted bitcoin from an early stage (July,2014) as I mentioned before is Newegg which is a fairly large electronics e-commerce marketplace. Back then newegg had 10.5 million products and 25 million registered users. Their announcement coincide with the governor of California legalizing the use of cryptocurrency and happened mainly as a result of consumer demand.  According to federal law the only form of legal tender is the US dollar but the internet has no geographical domain leaving it open to the interpretation of individual states unless the supreme court decrees or federal legislation decrees otherwise.
Adopting bitcoin as a payment method is another way we're responding to our customers' diverse needs. Working with BitPay to implement a bitcoin payment option at Newegg was a seamless process and our partnership gives us the capabilities we require for high-volume e-commerce.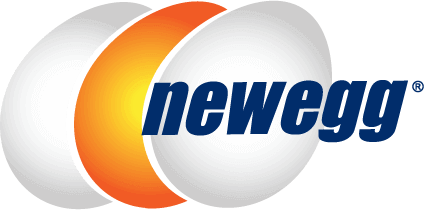 Fiverr swims against the current
Fiver is a marketplace which is a platform for freelancers to offer their services in exchange for $5 – this can range anywhere from creating a log, a press release or any other task. They started accepting bitcoin in 2014 but stopped in January 2017. There are several speculations as to the reason why fiverr took such a sharp turn essentially going against current market trends.
There is no 'real' answer as fiverr simply stopped accepting Bitcoin overnight with no explanation. Their customer support says that this was 'purely a business decision' which may very well be true. Many people say that fiverr was under pressure from both the US and Israeli (fiverr was founded in Israel) tax authorities – the IRS is scrutinizing Bitcoin friendly businesses and the Israeli government changed its tax laws in regard to Bitcoin. Additionally fiverr wasn't really circulating Bitcoin by paying freelancers directly in digital currency rather they would convert all cryptocurrency into fiat currency (government regulated currency like USD or Euro) and then pay freelancers. On top of all this there were fees involved both on fiverr's end and the consumer's end. All in all Bitcoin became a major headache for fiverr especially since they were rumored to be in bed with one of Bitcoin's cryptocurrency rivals.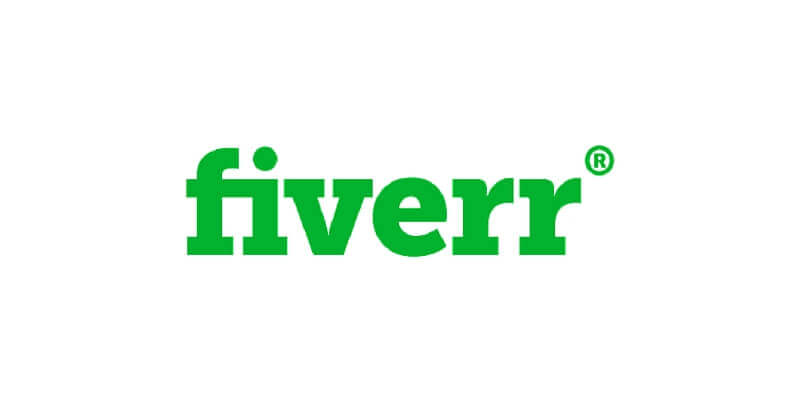 Does eBay accept Bitcoin?
The short answer is no – eBay does not accept Bitcoin. Though as I mentioned earlier, since Bitcoin has skyrocketed recently, eBay executives, chiefly  eBay senior vice president, Scott Cutler has expressed a desire to offer Bitcoin as a payment method on the platform in the near future. This isn't especially shocking as  eBay most likely wants to profit from the cryptocurrency trend.
As a pure marketplace, eBay would not be affected by Bitcoin valuation fluctuations  since eBay users (ie buyers and sellers) would buy and sell in Bitcoin but eBay would collect fees in fiat currency (ie USD for example). For sellers on eBay this means that they will be bearing the most of the risk as they would be the ones receiving a volatile currency in exchange for their products.
Potential problems eBay will face by accepting bitcoin
Future eBay issues beyond currency fluctuations with cryptocurrencies include returns or Money Back Guarantee issues. Cryptocurrencies are just that, 'crypto' and transactions are virtually irreversible and untraceable:
how will eBay 'force' returns when they have a dissatisfied buyer ?

Will sellers need to have a credit card on file just in case ?

Or will eBay not offer Money Back Guarantees when it comes to digital currencies?
All these questions have yet to be determined but will play a big role in the eBay Bitcoin romance. One thing is for certain – if eBay does adopt Bitcoin this will be a major step for the normalization of the currency in the mainstream global economy.
Can you make purchases on eBay with Bitcoin ?
As of now you can not officially buy products on eBay with Bitcoin. eBay does not offer this as a payment method. In terms of buying Bitcoin itself as a 'commodity' you can do this directly on eBay buy transferring money on PayPal for example and receiving Bitcoin in exchange.
I have to say though that if one were interested in getting exposure to Bitcoin, I don't think that this would be the best option.
Here are three ways you can buy Bitcoin:
A digital bitcoin wallet

used exclusively for Bitcoins –  The most popular today is Coinbase, which allows you to  link existing bank accounts to deposit and withdraw funds in order to buy and sell Bitcoin. Another such wallet is Wirex, which provides a payment card and converts bitcoin into usable currency when you buy something.

Bitcoin Depot

allows people to make cash deposits at specific ATMs. Minutes after depositing cash, Bitcoin is deposited in the user's Airbitz wallet.

For investors, the best way to gain exposure to bitcoin is through funds or ETFs like the

Bitcoin Investment Trust

(

NASDAQOTH:GBTC

) but keep in mind that these often trade above market value
Here is a printscreen of Bitcoin for sale on eBay: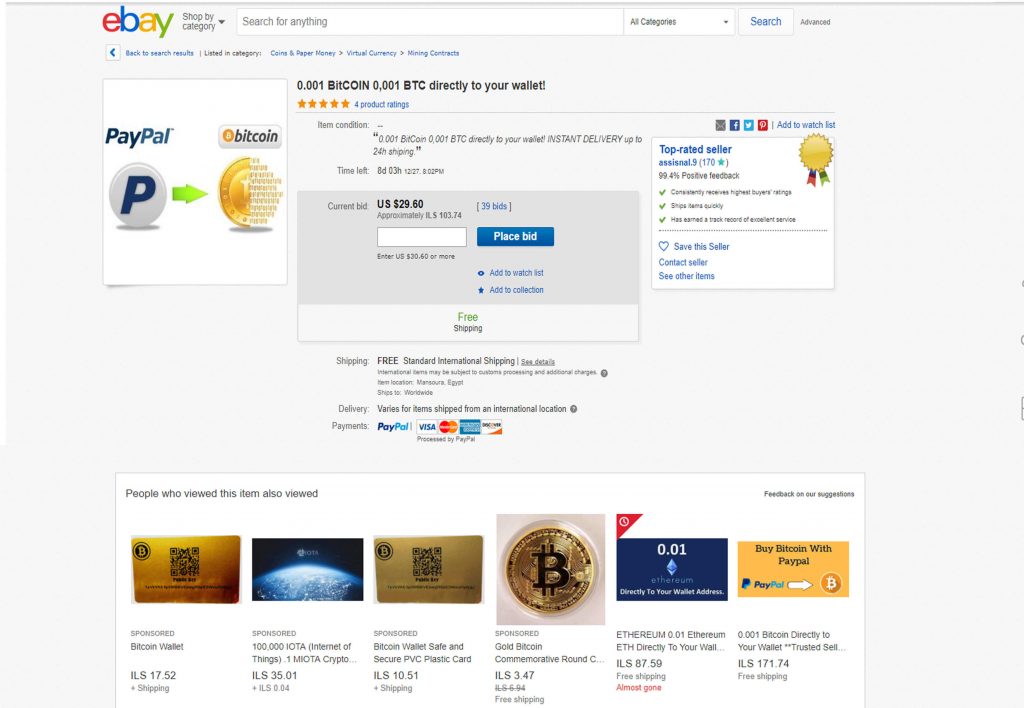 Will eBay accept Bitcoin in 2018?
Beyond the Yahoo interview with Scott Cutler which I quoted earlier,  there are no  'reliable sources' that talk about or elaborate whether or not eBay will accept Bitcoin in 2018. As of now it is just  a matter of rumor and speculation being circulated  on blogs and news sites and even high level eBay executives aren't sure about eBay's 2018 cryptocurrency policy. One thing is for certain though – cryptocurrencies with Bitcoin at their helm are on the rise and if and when eBay opts in it will be a game changer for both digital currency and marketplace alike.
Please share your opinions below about your experiences and opinions about Bitcoin, eBay, digital currencies and any other related topics 🙂