Until recently I thought that it was common knowledge that you can sell on eBay without creating an eBay store.
Then I started reading some posts from eBay newbies and realized that the "eBay store" feature is seen by many newbies as a must rather than an optional feature that is relevant only to some eBay sellers depending on various parameters.
So for this post I decided to create the ultimate guide on how to start an eBay store:
When is the right time to open an eBay store

What store subscription type to choose

Step by step guide to setting up your eBay store

The 3 most valuable features to implement in your store

Which 3rd party tools are recommended, if any?
When is the right time to open an eBay store
For most entrepreneurs, a store is a natural step in the growth of your online business. As you know, I was able to kickstart my online business with no money by choosing eBay as my first sales channel because it already had the community of buyers to gain sufficient product exposure. Once I established my eBay business I was able to hire people to help me expand into additional sales channels which included other eBay sites, Amazon sites as well as my own webstore.
Some would argue that setting up an eBay store instead of your own webstore is a mistake (I refer to this subject in my post about top eBay selling advice), the main reason being that when you sell on a marketplace where you are a guest, you are essentially on someone else's platform and must abide by their rules or else you run the risk of being suspended and losing your livelihood.
Going back to talking about the right time to open an eBay store, to me this is equally a cost based question as it is a branding issue, here are a few points to consider before setting up shop on eBay:
Building your brand name

– having a strong brand is a key factor when selling products. Even mega brands like Coca-Cola spend tens of millions of dollars a year in brand retention. That is exactly what eBay does and that is why it attracts millions of shoppers the world over. The question you have to ask yourself is: Do I have the knowhow to build a strong enough brand to do it independently?

Cost efficiency –

eBay makes it beneficial for sellers from a certain level to pay for a store subscription versus selling without a store. It mainly depends on your monthly revenue and the number of listings you post. I wrote a complete guide explaining all types of

eBay seller fees

including how to choose the correct eBay store subscription, please read this on order to understand the whole picture.

Promotion

– Where will my products get more exposure ? eBay has millions of shoppers but also millions of sellers. But traffic is traffic and you can run relatively low cost advertising campaigns on eBay and on social media. When you have an independent web store you need to start promoting yourself from the ground up and are likely to begin with very little traffic – it will take time and money to build your customer base.

The ultimate question you ought to ask yourself though is on which platform will I be most successful and profitable?
For those of you who believe eBay is your best bet, read on and I will walk you through the process of starting your very own eBay store:
Step-by-step guide to setting up your eBay store
Keep in mind that in order to open a store on eBay, you need to first open an eBay account and it is recommended to have first sold a few items as an individual as eBay restricts new sellers, forcing them to use training wheels before they can fly.
Here is a four step guide to starting a store for the absolute newest of newbies:
Step 1: Opening an eBay business seller account
In order to sell items on eBay, you need to register for an account. At the top left hand corner click the register button: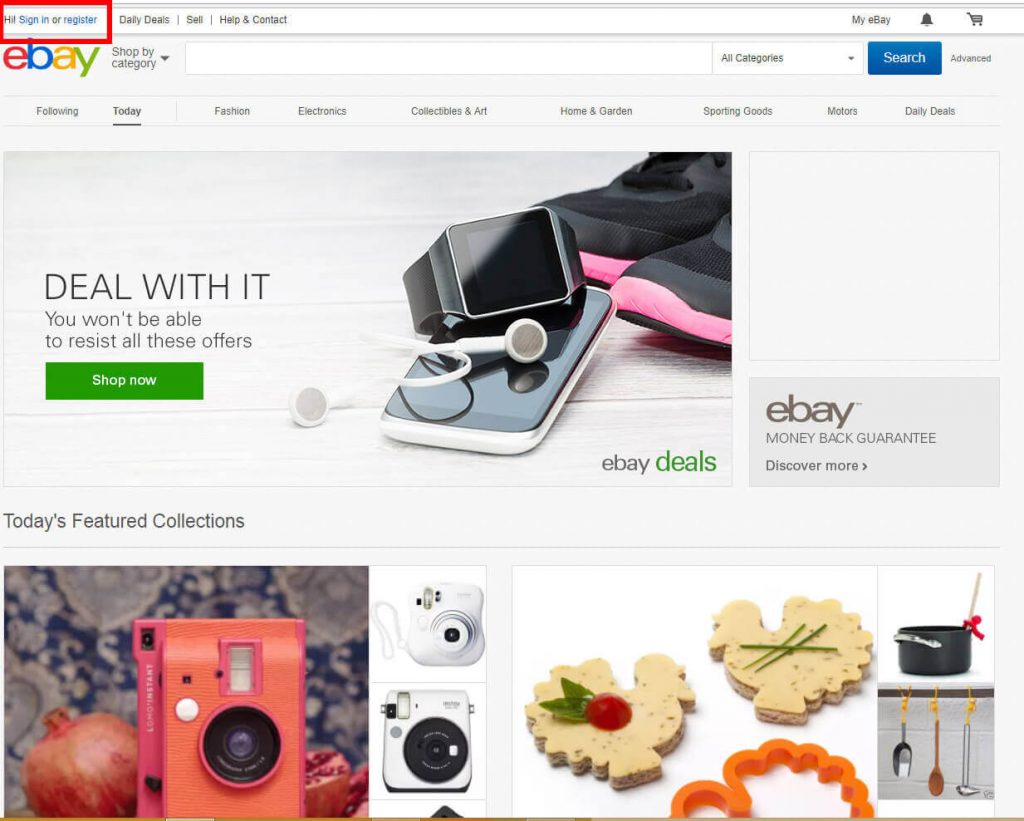 Keep in mind that you will have to accept eBay's user agreement and that:
It is totally free to sign up for eBay but when you do sell an item you will pay

eBay seller's fees

Be sure to be up to date with the latest eBay seller policies so that you don't break any rules. The most recent update is the

2017 Fall seller update

If long term you are planning on making a business out of this then opt for the business account option and not the personal account. Do keep in mind though that you have to be a legally registered business for this.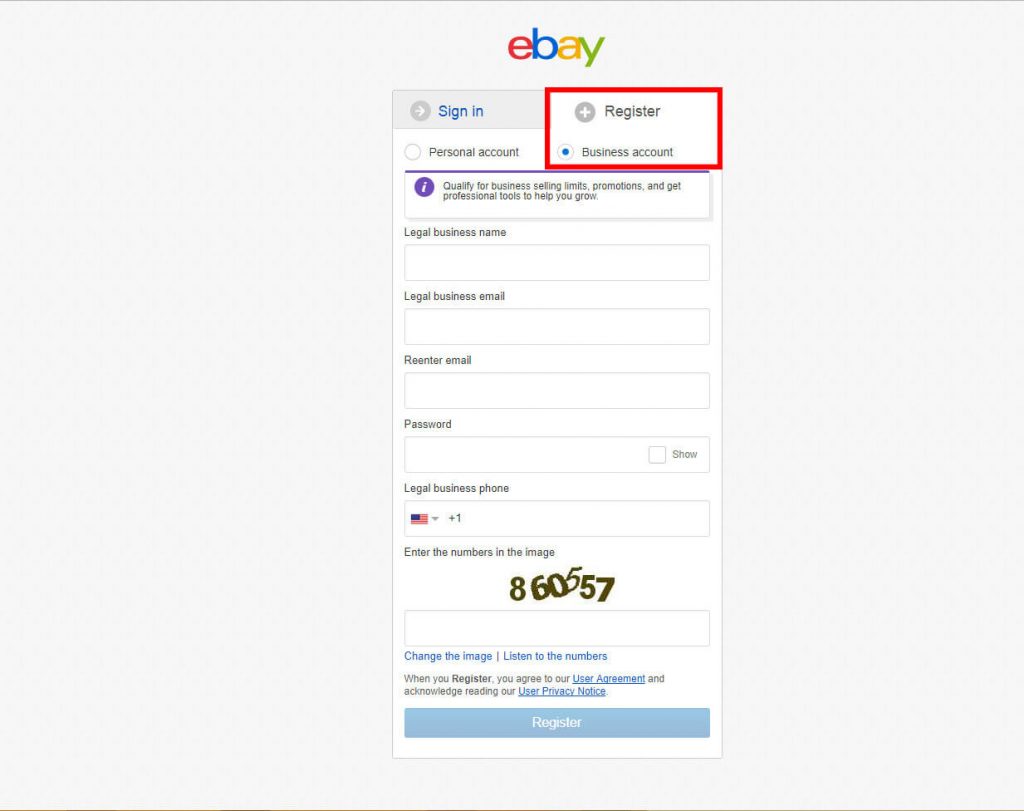 Once you have registered you will need to decide what to sell on eBay. If you already have a bricks and mortar store then you will probably want to sell those items online otherwise I would recommend focusing on selling one type of item such as men's shoes or one category type such as men's clothing. This will make you seem like an expert in your field to potential buyers. And of course you can always check out the "Trending on eBay!" page to see what is hot right now: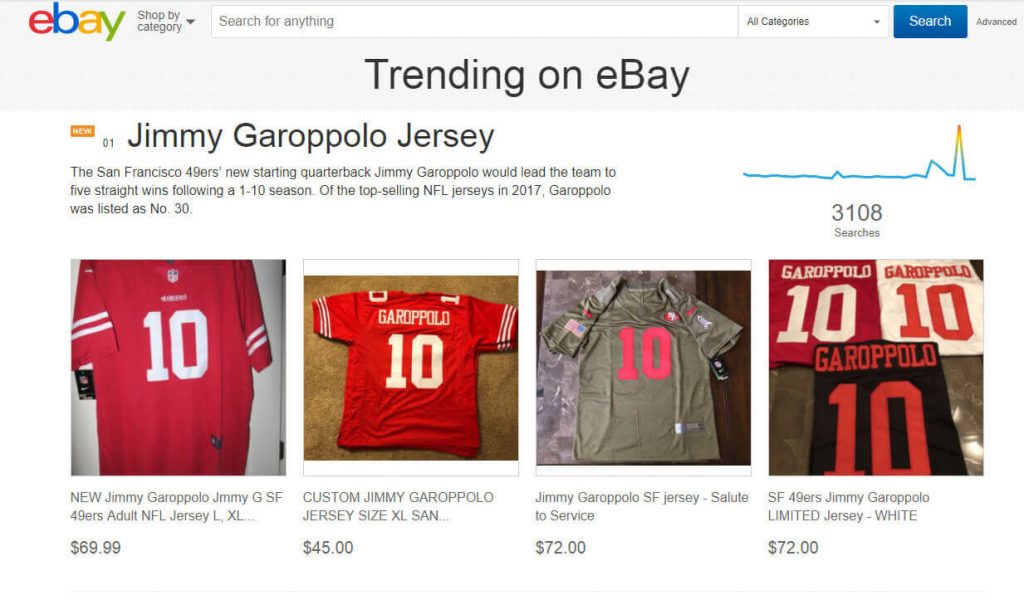 Start by listing a few individual items for sale on eBay. Remember that eBay will charge you once you have sold the item and try to:
Step 2: Qualify to open a store
I recommend you gain 3-6 months of experience before opening up your store. This will allow you to:

Learn about the buying and selling process

Allow you to hopefully receive positive buyer reviews and feedback

Do away with eBay restrictions for new sellers

Make sure you are generating enough monthly sales in order to make it worth your while to open an eBay store. I recommend you be moving $500-$1,000 a month in merchandise.
eBay recommends that sellers have at least 25 active eBay listings at a time so make sure you have that many and that you can handle that level of inventory management.

Make sure you have a payment method on file – eBay requires this so that they can automatically charge you seller fees when items are sold.

Also make sure that you have a verified PayPal account as many buyers prefer this method of payment. Typically you will need to provide:

Bank account information

Credit card information

Tax ID number such as your Social Security

Step 3: Choose the right eBay store subscription
First off you need to choose what type of subscription you want and need. Before choosing I recommend you start simple as you can upgrade at any point in time (eBay recently announced on a lower store subscription tier called 'Starter' which costs $7.95/mo so you may consider this plan at first). Choosing a plan means you will not be paying individual listing fees rather one flat fee for a specific predetermined number of listings. The more items you sell on eBay the better the offer will be. Here is the official eBay pricing chart: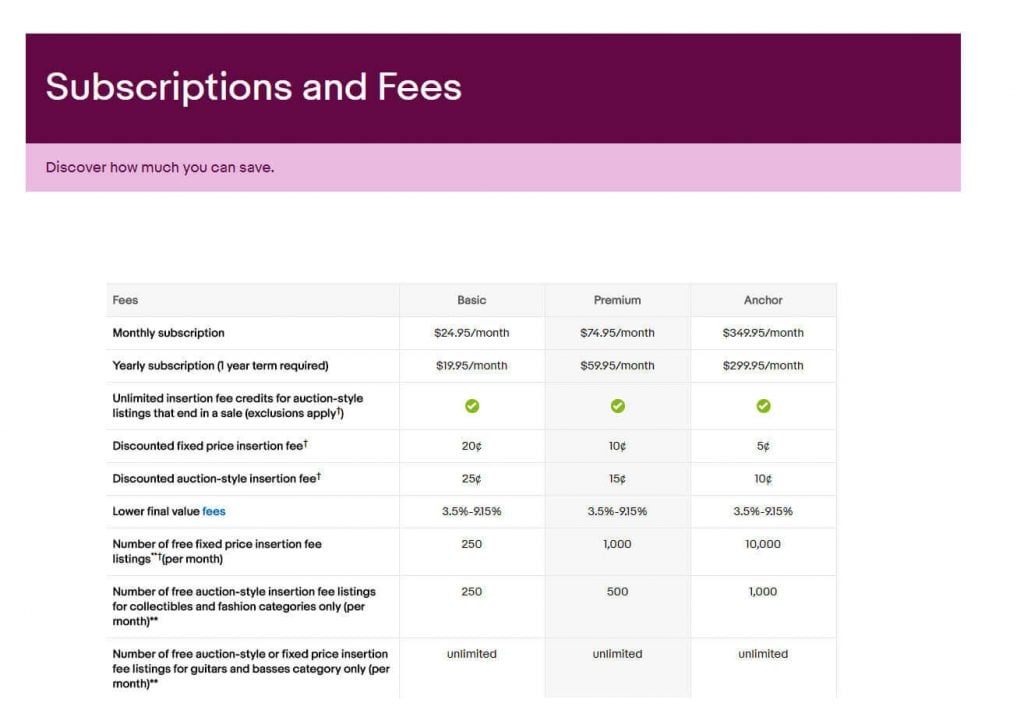 As you can see eBay has divided its store subscriptions into three simple categories (we did not include the 'starter' and 'enterprise' plans as they are not live yet):
Basic

– 250 fixed price listings per  month at a 20 cent insertion fee and 250 auction style listings per month at 25 cents as well as 5,000 off-eBay promotional emails per month  

Premium

– 1,000 fixed price listings per  month at a 10 cent insertion fee and 500 auction style listings per month at 15 cents as well as 7,500 off-eBay promotional emails per month

Anchor

– 10,000 fixed price listings per month at a 5 cent insertion fee and 1,000 auction style listings per month at 10 cents as well as 10,000 off-eBay promotional emails per month
Choose your store name
Next, Choose a name for your store – this name will ultimately become your store's URL so make sure to choose wisely and think about how real people will be able to find you or more accurately your product on a search engine. Try to be precise over being cool or humorous: try 'Men's Clothing & Accessories' over 'Mike's Shoes & Belts', for example.

Once you have chosen your subscription type and your store name you simply have to agree to eBay's terms and conditions and officially subscribe.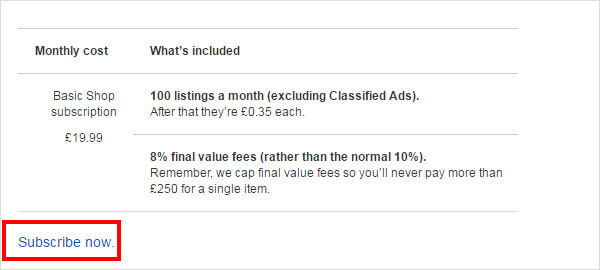 Now your store is active you can start selling like a pro and you can work on other aspects of your business such as:
Marketing

Design

Branding
Just to name a few.
Step 4: Design your eBay store
I've dedicated an entire article to this issue and will discuss this in my upcoming post so stay tuned.
By now you are well on your way to becoming a successful eBay shop owner. Don't forget to:
Constantly add new items to your store

Offer promotions

Pay attention to which products are selling and which aren't – ditch the ones that aren't profitable and increase the variety of your top sellers

Don't forget to try out both 'auctions' and 'buy it now' and see which one works best for you

Oh ya, don't forget to have fun – shopping should always be fun and believe it or not shoppers can sense sellers who are positive and believe in their product, your shop window (or homepage in this case) is your facial expression and smiles sell more than frowns 🙂
Setting up the 2 most valuable eBay store features
#2: Creating store categories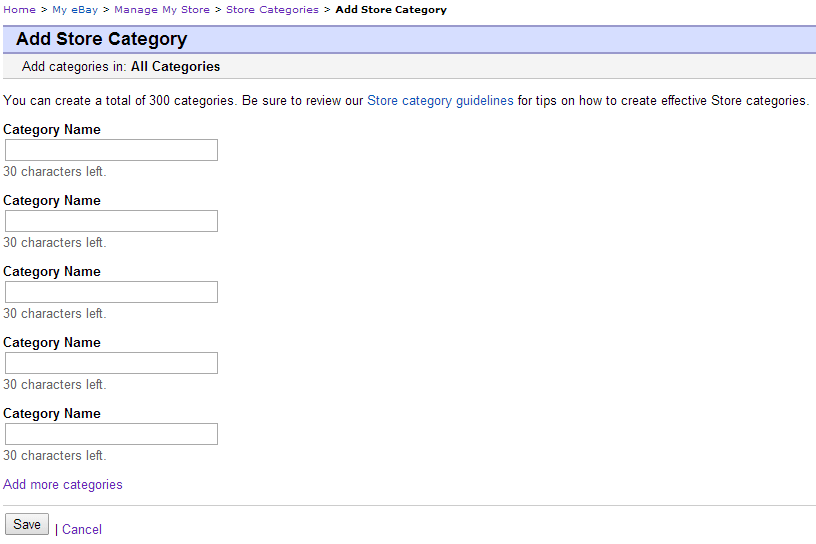 Be sure to create categories for your store. eBay gives you the option to divide your products into categories as a store owner and this makes it untellingly easier for customers to find your items which ultimately makes it easier for you to move your merchandise. If you are selling men's clothing consider putting each item in its proper category such as:
'Shoes'

'Belts'

'watches'

'Shirts'

'Sunglasses'

'Scarfs'

'Gloves'

'Hats'

'Boots'

'Wallets'

'Aftershave'
#2: Building an email list for newsletters
Building an email list of your shoppers is critical for repeat business. Over time it's one of the most effective tactics to generate more sales. The idea behind this is very simple: think about it from a shopper's view, if you bought something and you're happy with the experience, would you buy from the same retailer again?
eBay allows its store owners to dabble in email marketing via newsletter and shoppers can sign up by:
adding you to their list of saved sellers

or clicking 'sign up for store newsletter' which appears on your store homepage
Sellers typically create these messages in order to:
Promote their store

Update customers regarding sales

Inform shoppers when new items are added to your store

And to generally touch base with customers and remind them that your store is there for them whenever they should need to make their next purchase
eBay provides ready made templates under 'marketing tools' > 'email marketing' (I also recommend reading X-cart's expert guide about email marketing templates).
Your email will be comprised of:
Subject

– This appears in people's inbox and is the first thing they see assuming your email hopefully did not end up in their spam box. Try and make this short, catchy and simple, for example: 'Hot new men's outfits' or 'winter sale: 20%off all items'

Header

– This will appear at the top of the message and might be something catchy like '50% off all electronics' or 'buy one get one free'

Personal message

– You want to keep this message professional but friendly and let people briefly know what you are selling and why they should buy from your store today

Items to showcas

e – here you can highlight items that you want to push or that are particularly popular, on special offer or new arrivals. These items appear as large images at the top of the message

Item list

– eBay allows you to display a list of up to 50 items so that shoppers can browse your wares without leaving the comfort of their inbox

Seller feedback – you have the option to link to your feedback. Positive peer feedback and high ratings consistently account for consumers choosing whether or not to buy from one seller or another so make sure to include this line if you have great ratings. If your feedback or ratings are not so high maybe avoid displaying this link altogether.
Having a store on eBay is definitely not a must, it should be a financial decision first and a branding decision next.
I've explained how to calculate your eBay fees and decide whether you'll be better off with a store format.
In my upcoming post I'll explain how to optimize your eBay store design and why it's crucial to pay attention to the eBay spring 2018 update regarding store design.