When we just started selling online we were mostly concerned with finding the best products to sell, then finding amazing suppliers to work with.
The competition was down the list of our priorities at first, but as the business grew we realized the importance of understanding our competition and it quickly became one of our main priorities.
After reading this post, you too will understand why researching your competitors is crucial to your business viability.
Why is it important to know your competition
Many eCommerce business owners believe that their online store or product is unique and stands out when compared with their competition. But very few people actually try to validate their business intuitions based on clear metrics such as:
Customer experience

Customer Service

Customer satisfaction

Added product value

Returns policies
There are many modes of action one can take in order to approach this systemically. For one, you can use online PPC (Pay Per Click) campaigns to understand the scope of your competition and on the other, you can see which keywords are most commonly associated with your competition's products.
But wait a second, you are probably asking yourself why it is so important to know your competition – the main reason is that you cannot beat your 'enemy' if you do not know and understand how they operate and you cannot make your product stand out if you do not know what differentiates you from your competitors.
Performing a market analysis for your eCommerce business which specifically focuses on your competition can help you:  
Build smarter marketing strategies

Understand the current trends in your niche market

Create comparative goals for your business

Constantly reprice items in order to maintain an edge

Find new customers or platforms which can lead to new customers

Learn from both your competition's mistakes and successes

Discover new niches and untapped markets

Formulate your competitive advantage
This analysis can constantly change and be updated as markets evolve, trends change and as one competitor replaces the other. Consider using an Excel sheet or a Google document which you consistently update information on. This document will help you cut out clear business goals and strategies based on what is actually going on in the market and not based on 'randomly intuitive business decisions'.
How to Identify your Competitors
When first approaching this issue, you want to differentiate between the two main types of competition:
Direct competition

– 

A good example which helps illustrate direct competition, is a retailer selling watches. If you sell watches by Swatch and someone else sells watches manufactured by Tissot you are in direct competition with one another even if the watches you sell may be in slightly different price categories.
Indirect competition

– 

A good example of indirect competition could be Jewelry with a built-in timepiece or other wearables with time telling capabilities such as an Apple watch.
First and foremostly you want to focus on researching your direct competition and then on your indirect competition. The best way to identify your competitors is to directly search for the items you sell on eBay for example. In this instance, you should search for watches and compile a list of the top 5 competitors in your price range. If your watches sell for $100, I would look in the $70- $130 price range, otherwise these are not direct competitors since customers will usually not step so far out of their budget. Below is a step-by-step example of how to search eBay for your direct competition.
How to find your competitors on eBay
Step #1: Depending on what you are selling, navigate to that category on eBay. In this case I will use watches as an example by clicking on 'Jewelry & Watches'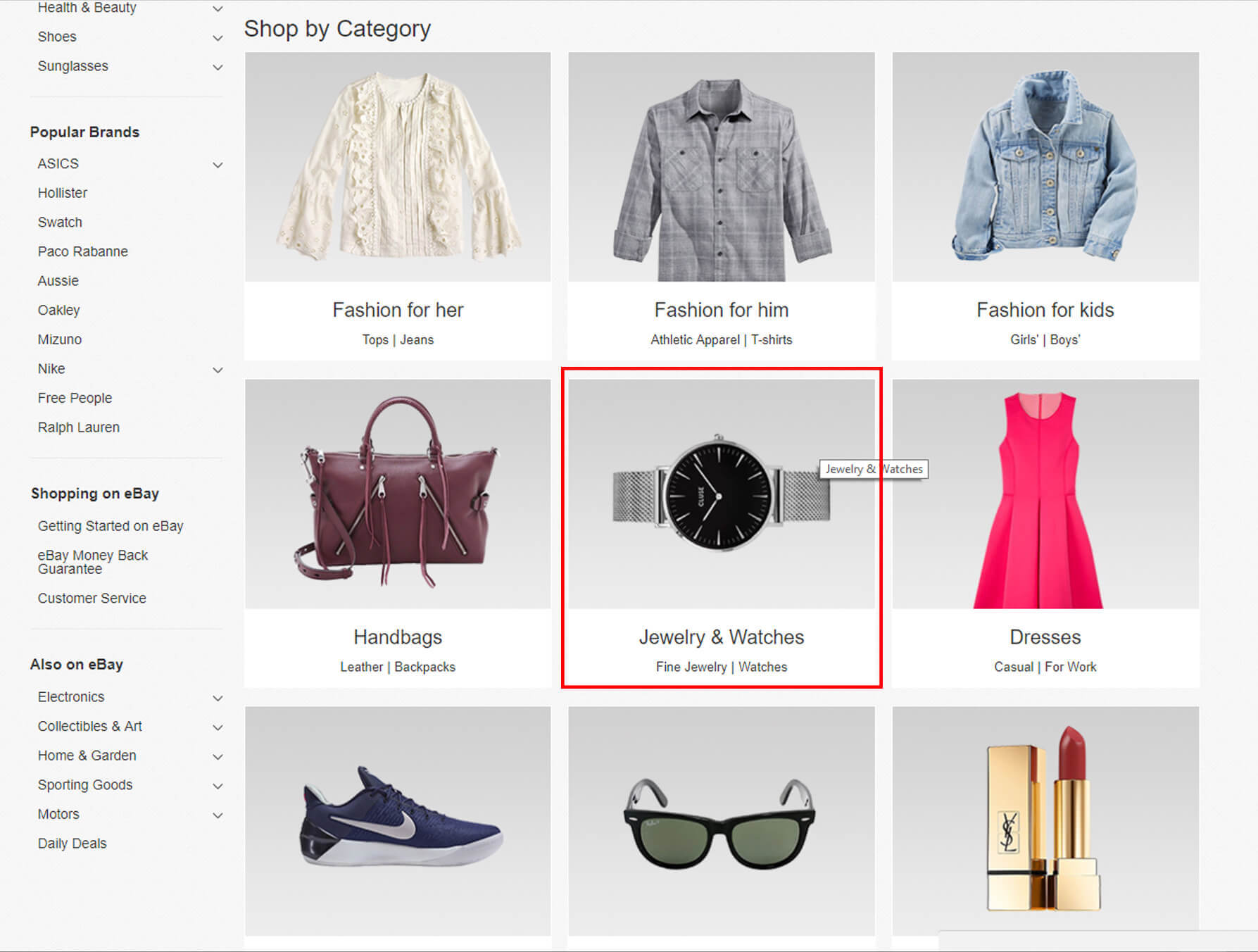 Step #2: Go over to the watches category and in this case I am going to choose 'wristwatches'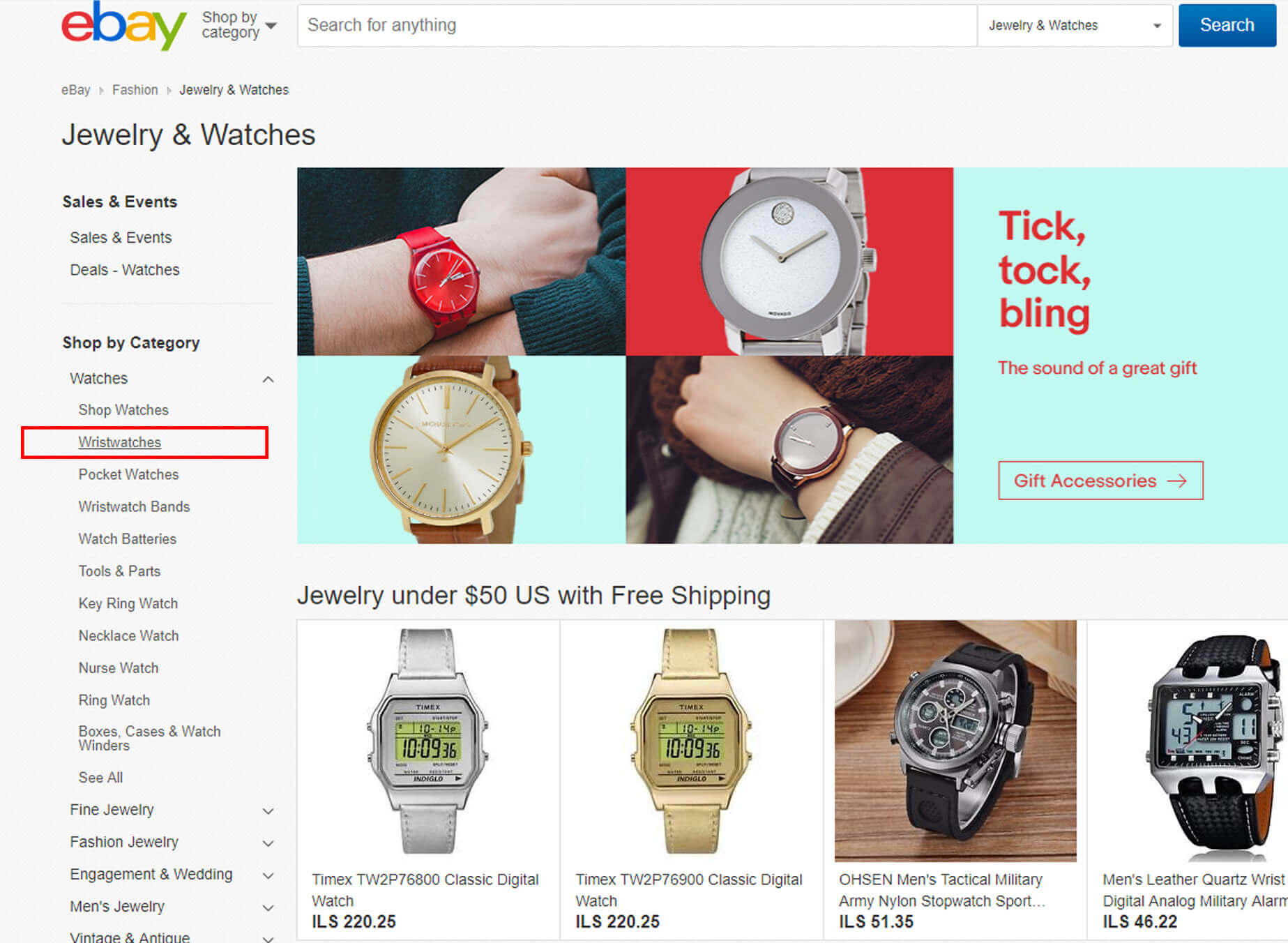 Step #3: At this point you are going to want to use some specific filters to narrow down results to suppliers that sell products most similar to what you carry. Here I filtered based on:
Condition – New with tags

Price – I would choose a range of $70-$130 so as to get a wider array of search results

Item location – North America

Delivery options – Free international shipping

Show only – Free returns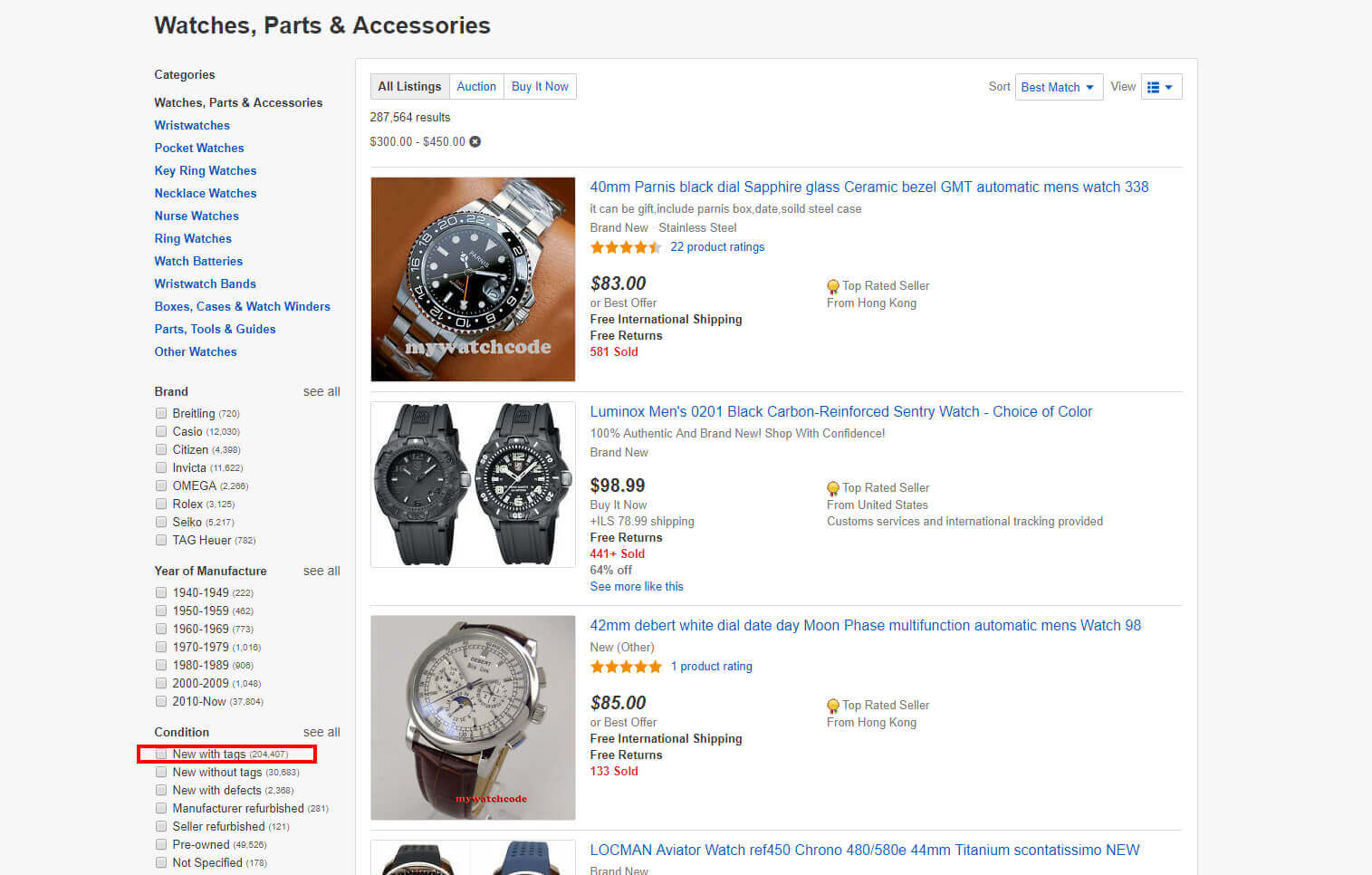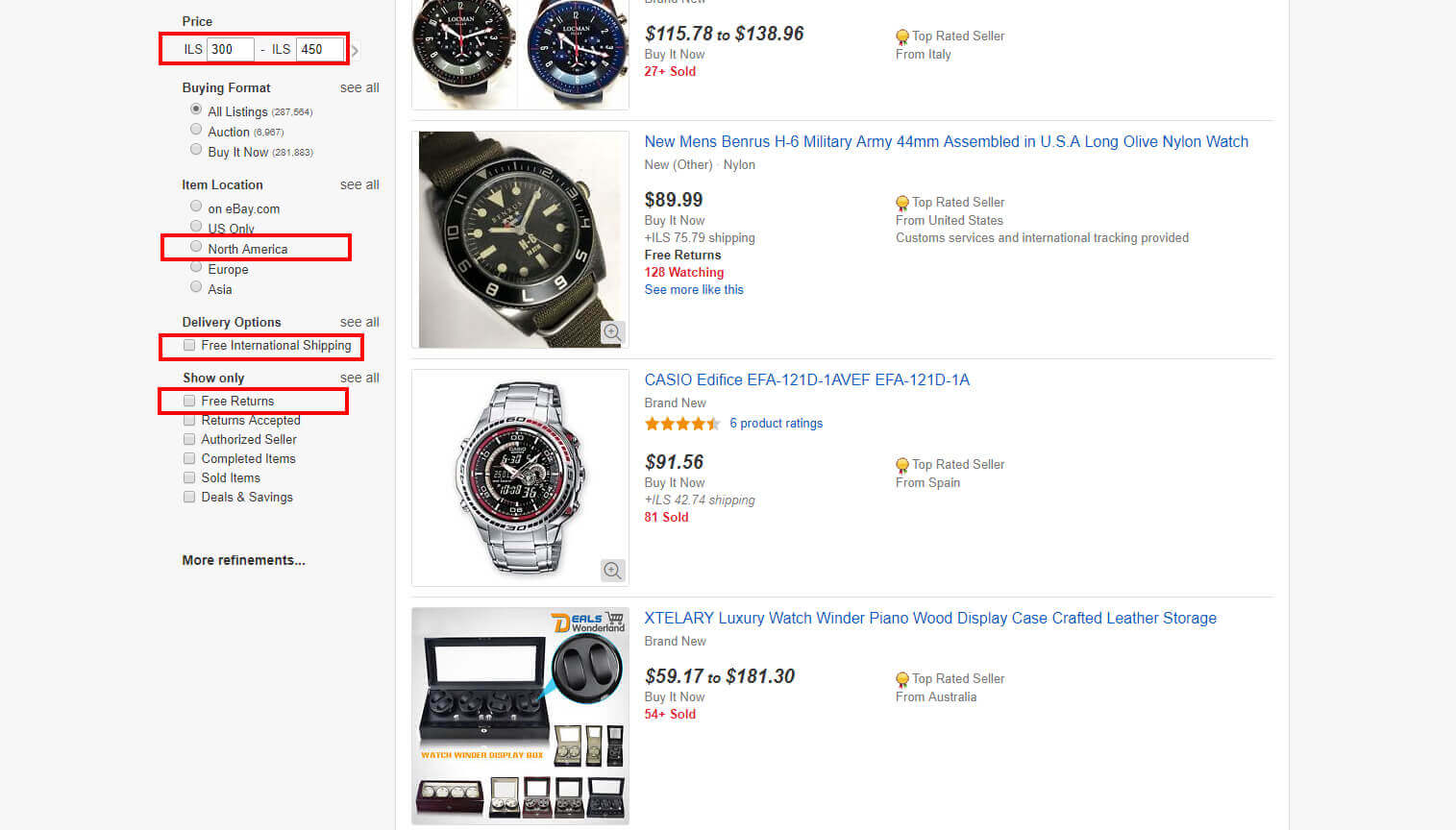 Step #4: Once I have done that you can click 'Price + Shipping lowest first'
Step #5: Now look for sellers who have:
A few hundred feedback

A high number of recent sales indicating that the seller is "still relevant"

Sellers with 99% feedback ratings

Sellers who have been on eBay for at least a year
I recommend you find 5 sellers who meet this criteria – click on the chosen seller's username and then:
Research their prices

Look at their other products

Go over their reviews
How to discover your competitors tactics
Once you have identified your competition, now is the time to learn from them and leverage this information to your advantage:
Analyze their reviews
One of the single best ways to learn what a seller is doing right and which mistakes to avoid is by combing through their comments and feedback. You would be surprised at the amounts of useful information you can garner from these reviews.
For example, maybe many customers are asking whether or not the watches for sale are waterproof. This may indicate that their is high demand for and interest in this type of product. You may want to take this information and leverage it to your advantage by either starting to sell waterproof watches or if you already sell them then you need to make this more apparent to potential buyers. Consider:
Putting a waterproof watch related picture as your main image on eBay

Using the word waterproof in your title and writing a highlighted sentence about the product's water resistance capabilities in the product description  
Another good real-life example of negative feedback that a customer gave to a merchant who sells watches pertains to the quality of the watch and the seller's willingness to stand behind the quality of his product. In the image below, the customer writes:
"Watch broke within days of receiving it & I emailed the seller but no response!"
This is a major concern for people buying wrist watches as you can see from other comments as well. Durability and having some sort of guarantee that the watch will work for a certain period of time is crucial to people investing $100 in a new watch. A great way for you to leverage this, especially if you believe in your product is by offering a one year guarantee or your money back. This will increase your credibility when customers compare your product with other sellers' products and may be the difference between you converting a shopper into a customer and a shopper choosing your competition over you.
Research their Client communications
Today, many savvy eCommerce businesses like to keep in touch with their existing/potential clients. These may include:
Emails with all kinds of special offers

Newsletters

A Facebook or instagInstagramnt which is constantly updated with new products

An external website which helps capture the brand's identity and convey the brand narrative
Consider signing up for their newsletter, following them on social media or looking at their website. You can obtain a profusion of information regarding said brand from their client communication which can help you:
Identify current product trends

Understand the brand's identity and which clientele they are geared towards – are they trying to sell their watches to retired 60 year olds or 20 something millennials ?

Whatever the answer is, you can ask yourself if you are doing enough to appeal to an entire target audience which you may have overlooked

Analyze products on special offer. Try to ascertain if these products are on sale because they are not selling and the merchant is trying to offload them or are these new products they are trying to break into the market with. Either way, earmark the products that are of special interest to you and follow their progression – are they still on special offer one month down the line? This may indicate trouble selling a product. Have they reverted to full price? This may indicate that the product successfully entered their customer's 'retail consciousness'
Testing out the product
This option can be pricier and more demanding to follow through with and as such I recommend you only actually buy one to five products from eCommerce stores who you determine pose the fiercest competition. Additionally, if you are selling an expensive product then you can always buy a cheaper complimentary product (ie a watch case and not a watch per se) or you can buy one watch at a time and check out your competition's return policy. The metrics you should keep an eye out for:
How quickly does your product arrive and with which shipping service?

Does the seller keep you informed of the progression of your purchase from  beginning to end ?

Do they follow up on your satisfaction with the product ?

Do they include any unexpected extra goodies in the box?

What is their return policy like? And how do they handle returns ?
Whether you have an entirely positive, negative or a mixed experience will be infinitely beneficial competitive research for your own business. For example maybe you discover that with every watch they send out they include a free maintenance kit and a 20% discount on your next purchase. This can be a fantastic way to turn a one time customer into a repeat customer and maybe you can be inspired and start offering a cleaning solution as well as a free extra watch band with  your customer's next purchase.
Social media
I already mentioned this above but social media is worthy of its own section. Many eCommerce businesses understand the power of social media today as a marketing tool and use it aggressively in order to communicate with clients and market new products. Keep an eye out for your competition's social media accounts and understand exactly what content they publish and how they interact with their customers.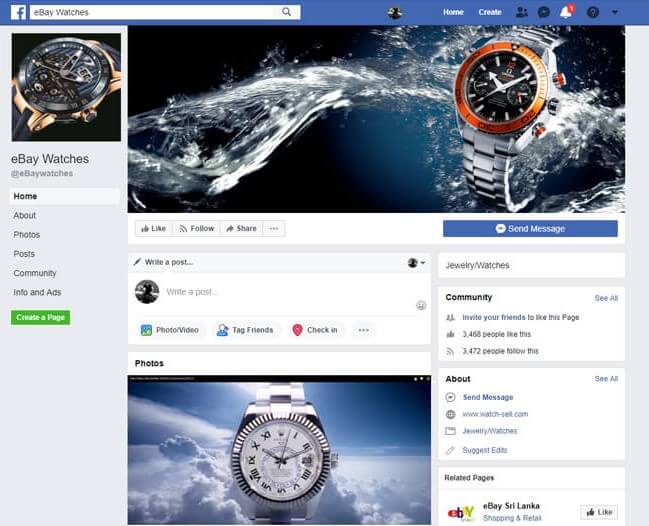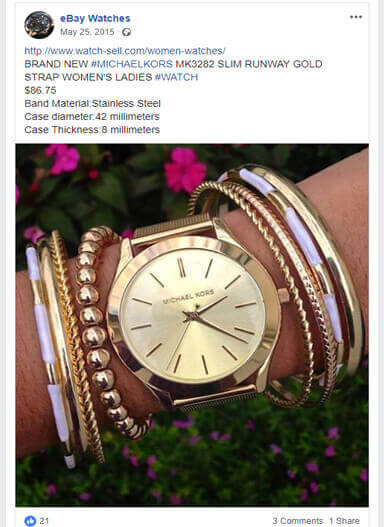 What do they publish on Instagram? Is it mostly lifestyle product placement photos? Or professionally staged product photos?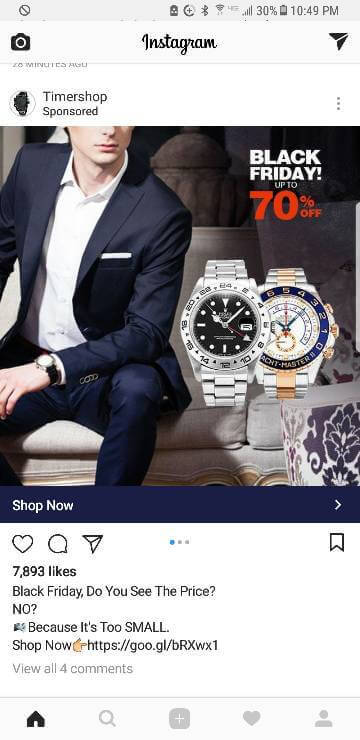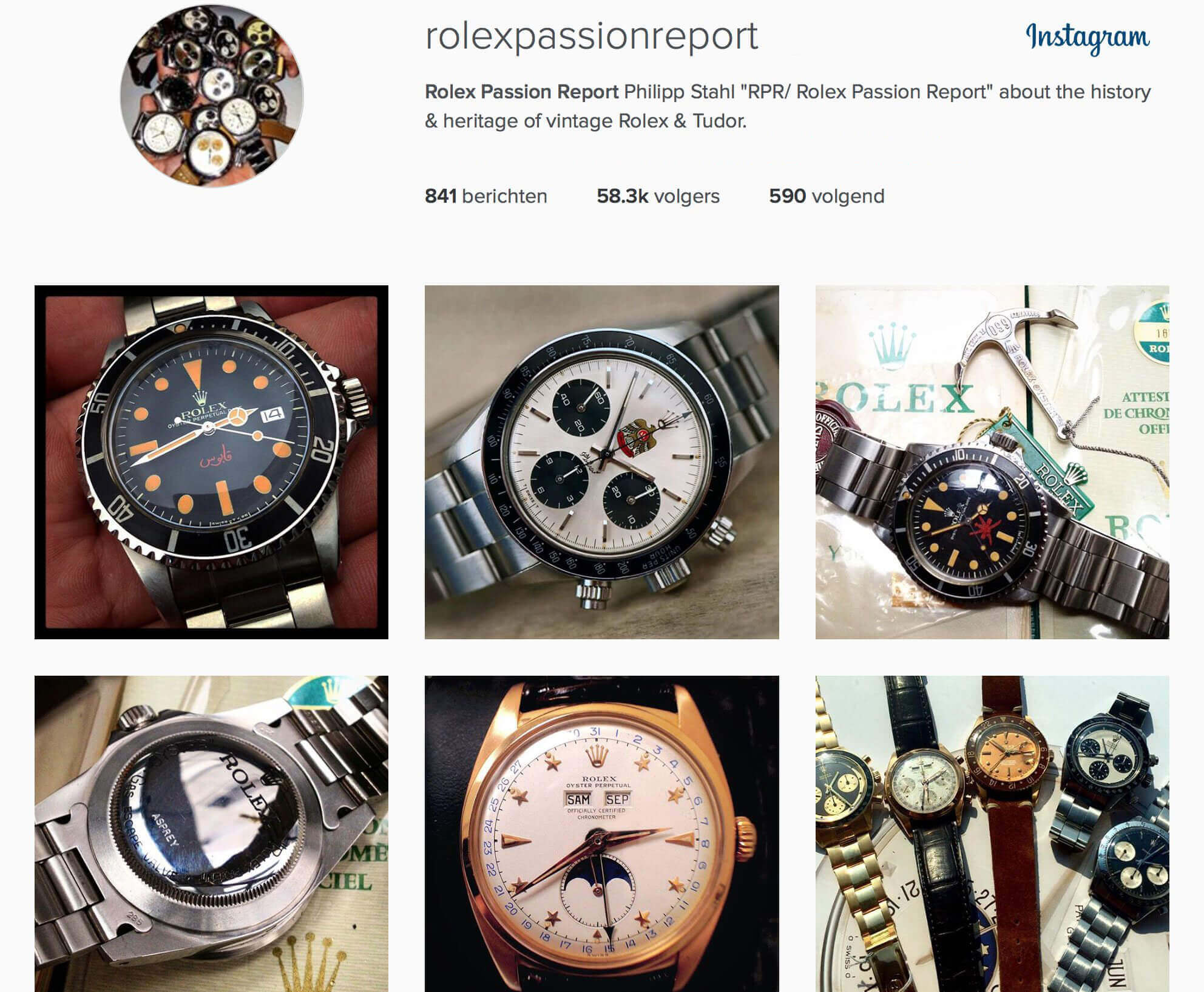 Is their Facebook account crammed with special offers and discounts or do they try to provide their customers with valuable content which draws them in and gives their brand and product an added overlay of professionalism?
The insights you have will help you understand how you can structure your own social media accounts especially when looking at particular posts which have created higher than average user engagement. For example, maybe a picture of a gorgeous woman in a bikini or a handsome man in a bathing suit wearing one of the brand's watches on Instagram got 1,000 likes compared with 100-200 likes they get on their average post. You may want to consider using this post as inspiration for your next viral Instagram post.
Once you have clearly mapped both your direct and indirect competition, enter all of the relevant information you have gathered into a 'living document' which you update on a regular basis such as a Google doc. If you see certain trends or strategies which are of particular interest to you then create a plan of action and follow up, especially if it requires multiple stages and a period of time (such as buying and returning products from your competition). It is worth reiterating that almost every market out there is ever evolving and changing and as such requires you to constantly be on the lookout for your next competitor. I understand that this can be exhausting and that is why you should lay out a routine – looking at your competition on a monthly basis or maybe more specifically when a new product is released. This is very individual to every business so choose the strategy that works best for you.
As John Mackey, CEO of Whole Foods Market once said, "It's competition that forces companies to get out of their complacency". This could not be truer today in an ever globalized, hyper competitive economy and eCommerce market. At present, intimately knowing your competition is no longer optional but a necessity of life and of doing business.
Please comment below with insights you have had when looking into your competition and how you were able to learn and grow with the help of competitive market analyses.