From September 2017, eBay started enforcing the new eBay links policy.
In this post I'll cover everything you need to know and do as a seller, to make sure your sales are not negatively affected by the update.
1) What exactly is the eBay links policy update?
From September 2017 linking to sites outside of eBay was disallowed, except for specific permitted domains.
For the allowed links, there are two technical requirements that sellers will have to meet – I'll explain these requirements in detail further in this post.
2) Why is eBay updating it's links policy?
– eBay.com
There are three main reasons for the update:
#1: Security of the marketplace
By disallowing links to off-eBay sites, eBay effectively limits the ability of sellers to manipulate shoppers to complete a purchase outside of eBay.
This way eBay shoppers are guaranteed to be protected by eBay's money back guarantee program.
By enforcing HTTPS links (explained in detail further in this post), eBay is aligning with the new industry security standards.
#2: Increasing conversion of visitors to customers
A well known practice in conversion optimization is to never destruct the shopper from completing his purchase.
By linking to off-eBay sites, shoppers are taken away from the buying journey and may not complete the purchase for numerous reasons, from connectivity issues to being drawn to the other sites.
* For some categories of products an additional information is required to help shoppers complete the purchase.
For example a video showing an expensive item, additional shipping freight information or legal documents related to the product. This is why eBay will still allow links to specific sites off-ebay.
#3: Make sure sellers pay eBay's final value fees
Sellers pay eBay for relevant traffic to their products. eBay wants to make sure that once they connect a shopper with the optimal item for him, the transaction will take place on eBay and they will get their deserved fee. Thus, any links created by sellers cannot direct customers to sites and pages that encourage shoppers to view, search, or purchase items off-eBay.

3) What is the extent of the new eBay links policy?
Simply put, eBay disallows any attempt (in any way) to take a shopper off a page to a non-eBay page.
It includes text links, image links, non-clickable links and any form of calls that encourage sellers to go to another site.
It covers any seller created content; Product listings, store pages, store headers, sellers profiles, newsletters images etc.
Example of a clickable link: New Nike Air Force Shoe
Example of a non-clickable link: https://store.nike.com/us/en_us/pw/air-force-1-shoes/816Zoi3
Both forms of links are disallowed with the new eBay links policy has taken effect from September 2017.
4) What links are allowed?
Below is a list of the sites that eBay does allow to link to:
Videos
A direct link (not an embedded video) to videos stored on one of the following video services:
YouTube
Vimeo
Brightcove
Ustream
Screencast.com
Kizoa
DailyMotion
Here's a quick tutorial on how to add a video to your eBay listing using CrazyLister.
Here's how CrazyLister makes the video link compliant with eBay's new links policy:
When you add a YouTube video to your CrazyLister template, it automatically creates a snapshot of the video with a play button. When a shopper clicks this button – a new tab will open with the YouTube video.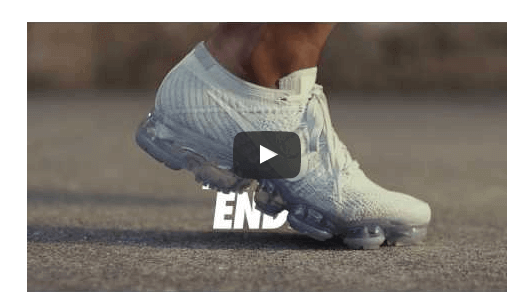 * Note that the new links policy extends to the content of the video as well. Sellers are not allowed to invite shoppers to off-eBay pages within the videos in any way.
Shipping services
You may want to link to your shipping services page to provide a customer with additional shipping related info.
Click here for the complete list of white-labeled shipping services (under "Freight shipping services")
Links to other eBay pages
Links that direct shoppers to other eBay pages are allowed.
This includes:
Links to Messages
Other eBay listings
eBay Store pages
Follow a Seller or Add to my Favorite Sellers features.
Links to other legally required information
For specific items eBay may allow to add a link to an off-eBay site should it be legally required to complete the purchase.
Should you have such an info required for your item – reach out to ebay's customer support to white-list your link.
5) How to use allowed links on eBay? (Technical requirements)
If your links are leading to one of the allowed sites mentioned above, you need to make sure the links comply with two technical requirements:
Requirement #1: Links must include a target attribute
Should you wish to add a link that's allowed according to eBay's policy, you need to make sure the link includes a target attribute in the link definition.
Here's a quick explanation of the codes above –
Using the below link format, will make the link open in a new tab, without taking the shopper away from eBay –
✔ <a href="www.yourlinkhere.com" target="_blank">eBay</a>
Using this link format will make the link open in the same tab, taking the shopper away from eBay and destructing him from completing the purchase –
✘ <a href="www.yourlinkhere.com">eBay</a>
Requirement #2: Links must lead to an HTTPS address (not HTTP)
This policy relates to URLs in tags pulling content onto your listing or store – images, videos, audio, CSS URLs etc.
As of December 2017, Chrome browser users will see the message "Not secure" in the address bar when they visit HTTP addresses and HTTPS web-pages that include HTTP content. Other web browsers will very likely follow this practice and show similar messages in the near future.
Here's what eBay says about https:
Google Chrome-the browser used by almost half of all eBay buyers-is making changes to its security standards and how it communicates web privacy to users.

…
eBay is doing its part so buyers do not see the new "Not secure" message when they visit the site and to protect data. In October 2017, eBay will begin using the HTTPS communications protocol for all listings, as we announced in our 2017 Summer Update. In the future, eBay will move all store pages to HTTPS as well.
eBay stronger browser security 
What will happen if you leave HTTP links in your item description?
eBay believe that shoppers who will see a "not secured" message are less likely to complete a purchase on the marketplace.
As a result, eBay will "hide" listing descriptions for sellers with HTTP content in their listings behind a "See full item description" button.
Shoppers (using all browsers) will only be able to see the full item description when they click on the "See full item description" button.
6) How to check if you have non-compliant links?
A quick way to check if your links include a target attribute:
Click on a link in your listing:
If the link opened in the same browser tab  – it's non compliant with the eBay links policy update
If it opened in a new tab – it's compliant with the eBay links policy update
A quick way to check if your images are hosted on an HTTPS address:
Go to your eBay listing
Paste the address in your browser address bar and check if the copied address starts with HTTPS:
A tool to identify your listings that have non compliant HTTP links:
Here's a link to a 3rd party checking tool to identify listings with HTTP links
7) How to fix your existing links if they don't comply?
There are two possible cases for your existing links not being compliant:
Your existing links lead to sites / pages that are disallowed by the new eBay links policy. Not much you can do here, you must remove these links.
Your existing links lead to allowed sites: Videos, shipping services etc. But the links format is wrong, i.e. your links don't open in a new tab or lead to an HTTP address.
In this case you have two options:

Option #1: Manually correct your links for all listings:
Step 1: Edit your links to add this piece of code – target="_blank", this will make the link open in a new tab, which is compliant with eBay's new link policy.
Step 2: Change any HTTP links to HTTPS – make sure the domain you link to is HTTPS compliant, otherwise your content may show as broken images / video.

Option #2: Automatically correct your links for all listings, using CrazyLister
When you apply a template to your listings, CrazyLister automatically does the following:

Detects allowed links that don't contain target="_blank" and adds this code to make sure your links are compliant.
Updates allowed links from HTTP to HTTPS
Removes any non-allowed links
Here's a tutorial on how to bulk apply a template to all of your listings and make your links compliant.
Need help?
Need help with making your links compliant with the new eBay link policy? Contact CrazyLister's support at CrazyLister.com