What is the Magento eCommerce platform?
Magento is an eCommerce platform that is 'open-source' as well as a CMS or Content Management System. In a nutshell, Magento is a software for building and managing internet-based stores. When it comes to eCommerce store hosting there are two main categories:
Downloadable

as is the case with Magento. In this instance I am only referring to the open source which can be downloaded. 

SaaS

or Software as a Service as is the case with Shopify.ie the provider hosts your eCommerce store
In the downloadable category, Magento is pretty unique since:
It is

highly customizable

to specific stores' needs.

It is mostly geared towards

larger businesses

.

It requires eCommerce businesses invest in hosting and developers.
Magento by Numbers
I personally find it much easier to grasp the magnitude and scope of a business or platform like Magento when I am given numbers and statistics. This helps put things in perspective. Thanks to hostingtribunal, I am able to share a few interesting figures with you guys:
Out of the 1.5 billion sites currently on the internet, 1% are powered by Magento. 

Magento is used by companies across the globe with close to 14% of their userbase in the U.S.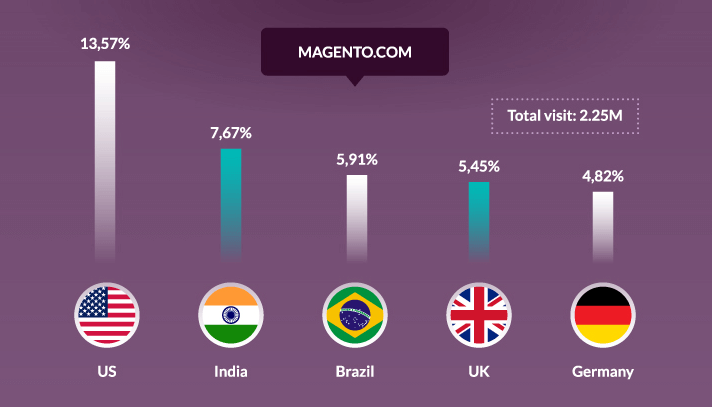 3. Magento provides services to 1.9% of the CMS market while Shopify outstrips Magento with 2.4% of the CMS market share.
4. As far as eCommerce platforms go:
WooCommerce is the most popular globally with 18% of market share.

Magento is in second place, with 12% of global market share.

Shopify comes out in third place with 8% of global market share.
5. 250,000 merchants currently use Magento to power their eCommerce business.
6. Recently, Magento has experienced extreme growth with the number of stores nearly doubling from 2017-2018.
7. In terms of the internet retailer's top 1,000 list, Magento has held the number 1 spot for four years straight.
8. Magento boasts some big names as its top customers such as:
Bulgari

Land Rover 

Omega Watches 
Which proves it can handle eCommerce businesses with large amounts of traffic. 
9. Magento stores generate $155 billion in annual GMV or Gross Merchandise Volume transactions. 
10. By 2020 sales on Magento are on track to hit $224 billion while shoppers will increase by 200% over the same period.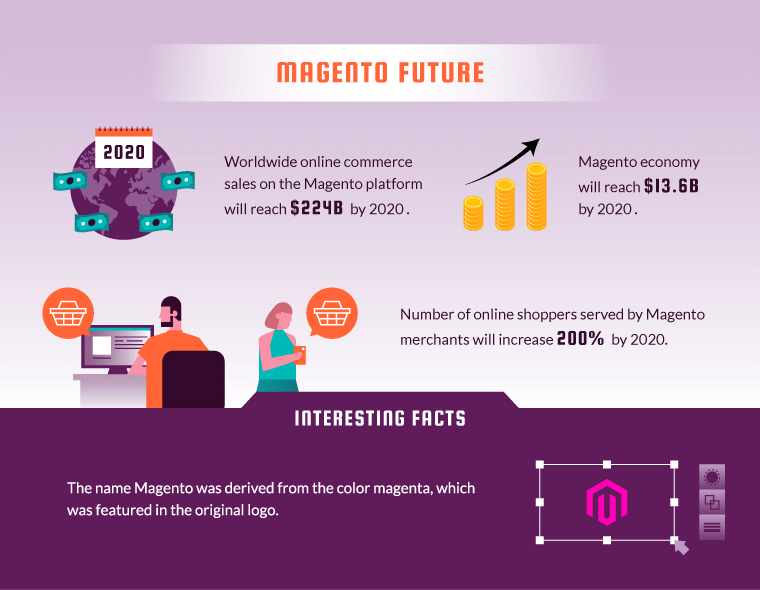 Who is Magento eCommerce for?
Since Magento requires investment on the part of an eCommerce business both in terms of hosting and using developers, Magento as a platform is ideal for larger businesses with capital to invest in such an endeavor. 
Magento Advantages
Some clear advantages Magento offers include:
Being extremely

'feature-rich'

so that even people and companies who have been using it for years have most likely not yet used even a fraction of its features.

The Magento community version is

free to use

(though the enterprise, as well as other versions, are paid – more on pricing in a bit). 

That it is

built exclusively for eCommerce

endeavors. Though many sellers use WordPress, many of the functionalities which serve eCom businesses such as being able to properly manage loyalty programs as well as optimized payment and checkout capabilities work better with Magento.

It has an

SEO extension

which helps businesses by decreasing the amount of time and effort they need to invest in product reach and promotion campaigns. This feature contributes to elements such as snippets and meta templates which are dynamic.

A

variety of editions are

on offer and can be chosen based on the size of your business. The different options include:

Magento Open Source

Magento Commerce

Magento Commerce Cloud
Which is great since you can select whichever option is best positioned to serve you in your niche of choice.
Scalability

meaning since Magento uses PHP it is very easy for the developers you work with to adjust your eCommerce store based on your business's ever-changing needs such as adding or deleting pages and optimizing site navigation.

The ability to

manage multiple stores

which share data. For example, if you sell both men's and women's shoes and want a dedicated website for each yet you want fulfillment, inventory and other metrics controlled centrally then Magento is ideal for you. 
Magento Disadvantages 
Despite its clear advantages, Magento also has its disadvantages:
It is very '

resource-intensive

' – Magento requires heavy servers in order to operate properly as well as intensive data input which both require a lot of time and money. 

It is

harder to maintain

when compared with other downloadable eCommerce platform options. Maintenance may entail hiring part-time or potentially even full-time developers in order to maintain and integrate desired features and changes

It can be hard at times for the platform to handle

heavy loads

due to its PHP and Java application attributes

It can be a

very costly

endeavor, especially for smaller or even medium-sized businesses. Things such as updates, plug-in integration, and core code preservation can really add to your overhead.

The original installation and regular upkeep can prove challenging for 'non- developers' who are not 'code-savvy'. Sometimes even the smallest of administrative tasks will require a developer and you may need to take a course in order to fully and independently perform basic upkeep tasks.
Who is Magento eCommerce for?
As I mentioned earlier, Magento offers a number of platform installations or editions:
Which is the most basic, free version of the software geared toward smaller businesses and developers. But just because you have downloaded and installed the software does not mean the process and expenses end there. You will still need to finance expenditures pertaining to configurations, hosting and coding. 
A Magento Open Source store including:
Standard features.

A free theme.

Zero integrations and external systems.
Will cost you: $15,000 per year which includes all the costs I mentioned above beyond the payment to Magento (mostly paying coders, developers, hosting fees etc) 
Magento Commerce

– I will go into detail below, both Magento Commerce and Magento Commerce Cloud use dynamic pricing based on company earnings.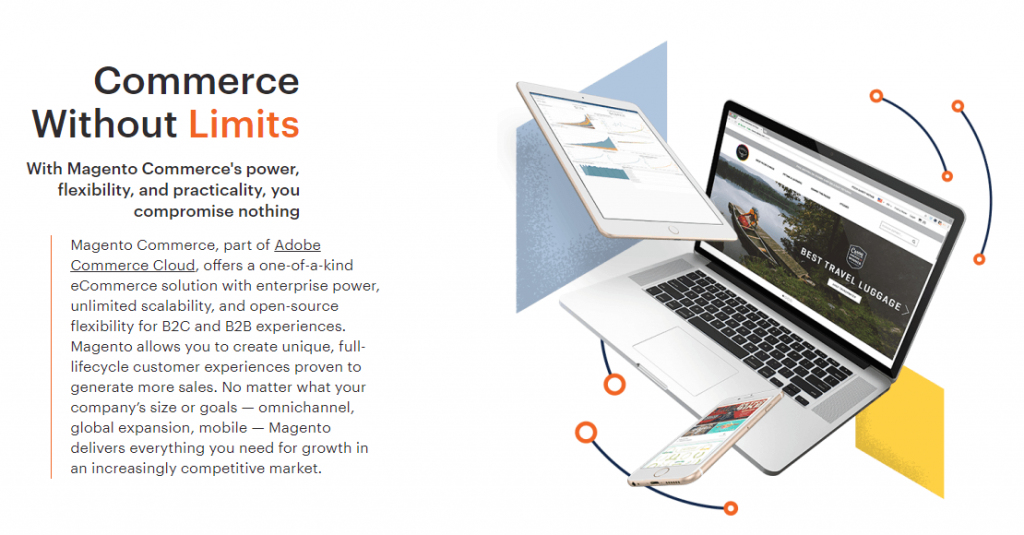 Magento Commerce along with Magento Commerce Cloud both offer more functions than Magento Open Source and are strategically poised to serve larger businesses. Since they are geared towards big businesses with larger revenues, their pricing is determined as a function of a given business's GSR or Gross Sales Revenue as detailed in the following chart:

Generally speaking, these are the major costs associated with the set-up and maintenance of a Magento store are:
The cost of building an average Commerce level store: $100k-$250k

Annual average hosting fees for a Magento store: $24k-$48k 

Average annual maintenance retainer: $24-$72k

Average annual licensing cost (cloud edition) – $80k

Business as Usual or BAU development costs: $36-$120k  

First-year Magento commerce cloud cost – $264k-$570k

Three year Magento cost of ownership – $592k – $1.21m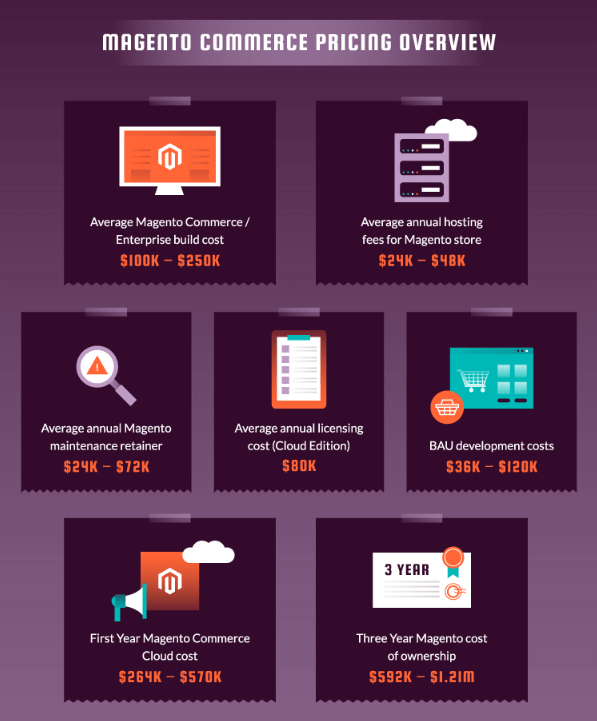 Additionally, you will need to pay Magento hosting prices which can be divided into two groups:
Unmanaged hosting

– $10-250 per month.

Managed hosting

– Starts at $30 per month.
Please note: In the event that your website was developed vis-a-vis Magento Commerce the cost monthly of managed hosting will be significantly higher coming in at $500 a month for dedicated servers.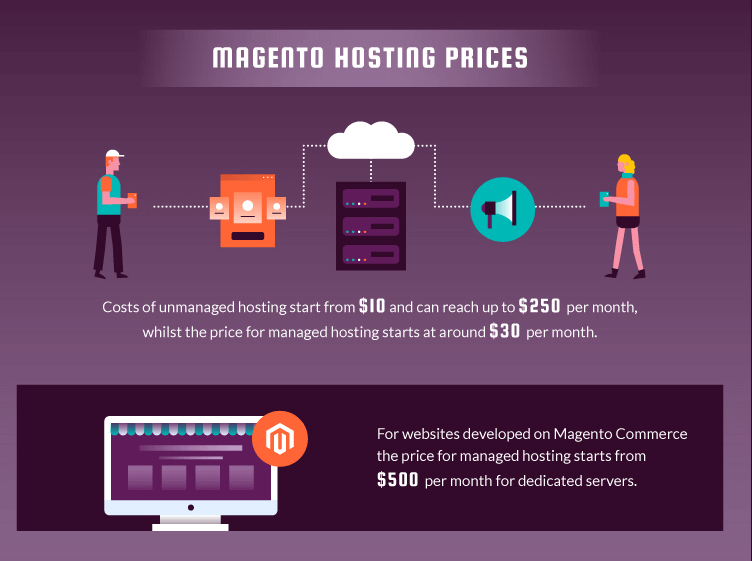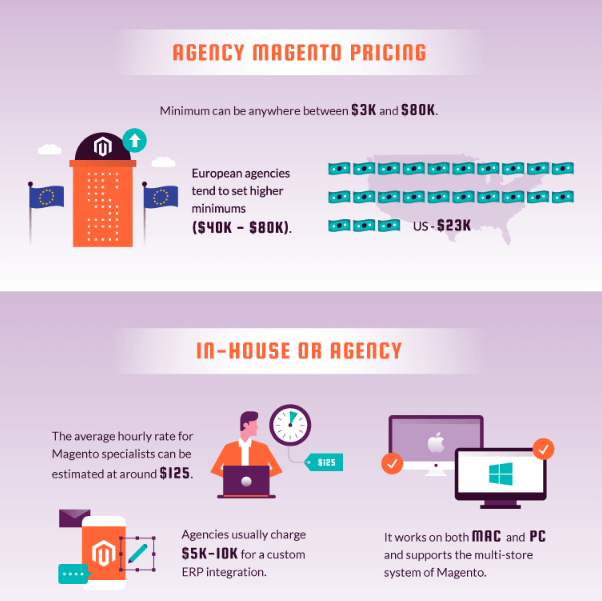 Shopify 
Shopify is great for smaller eCommerce businesses that don't want the hassle of having to deal with hosting and technical maintenance of their eCommerce platform. Additionally, the costs of a Shopify based store are significantly lower when compared with Magento. Shopify is very user-friendly and won't require you to invest hundreds or even thousands of dollars in the initial set-up and routine upkeep. The building of a Shopify store relies on drag and drop technology and maintenance is carried out from a user-friendly dashboard. 
Shopify Advantages
Shopify advantages include:
Easy to set-up.

Friendly for people just starting out as well as people with zero coding knowledge.

It is a very quick platform both on the client-end as well as the business-end.

They offer customer support at reasonable prices.

Additional platforms can be integrated for sellers who are multi-channel.
Shopify Disadvantages 
Shopify disadvantages include:
Its SEO suite is relatively poor when compared with other options (Magento).

The options you have for customization are limited. 

The fees you are charged are on a transaction based basis. 
Magento
Magento, on the other hand, is a self-hosted, 'open-source' platform which makes it highly customizable and allows you to create unique retail experiences which few others will have. As I mentioned above, it is more suitable for larger companies that can deal with independent hosting, maintenance, and upkeep. Magento has a powerful SEO suite which is a big plus for many businesses though it is not as 'immediate' as Shopify and will require quite a bit of education in order to learn the ropes so to speak. 
Magento Advantages
Has a plethora of features.

Offers a rich SEO suite.

Design restrictions are almost nonexistent. 
Magento Disadvantages 
Hard to learn.

The costs are meaningfully higher including costly themes, hosing, and extensions.

It can be slower than hosting platforms like Shopify.

Magento itself does not really offer customer support meaning you will need to hire in-house technical support.  
Magento vs Shopify Costs
Magento Commerce and Magento Commerce Cloud will run you $22k (and above based on revenue) just for licensing as well as additional costs for setup and maintenance as detailed above. With Magento, you will need to hire developers which can run you $100 an hour. When it comes to things like extensions, you will also be shelling out a lot of cash for example if you use the Subscriptions and Recurring Payments which will run you $299.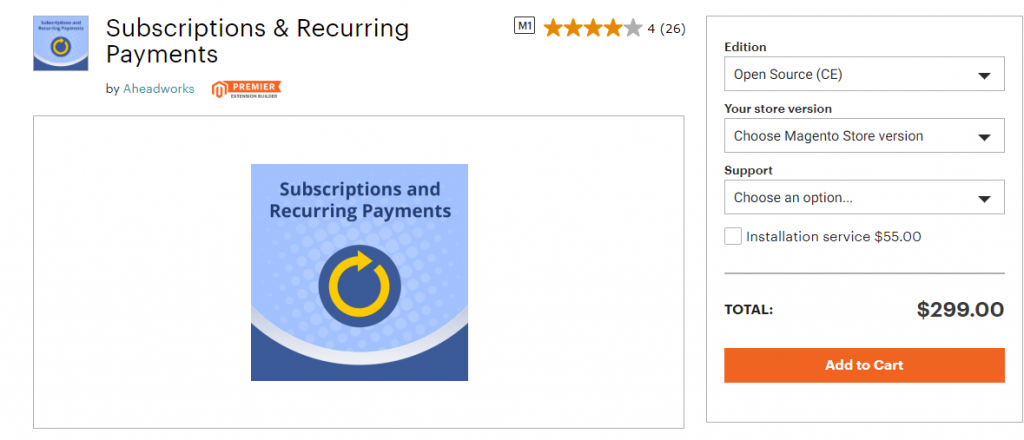 Shopify, on the other hand, will run you a fraction of the cost with packages starting as low as $2k though prices increase in relation to a company's earnings. Shopify pricing is different from Magento pricing, you have three main options:

You will need to buy your own domain name (roughly $11) but it is self-hosted so there are no additional hosting fees. Yet the biggest difference and consideration when comparing Magento pricing with Shopify pricing has to do with the fact that Shopify charges transaction fees. Depending on the plan and mode of payment (credit card for example) you get, you will pay between 1%-2% of transactions generated,  Lastly, don't forget that Shopify also offers paid apps that can add to operating cost. One such app, for example, is Subscriptions by Recharge which will run you $39.99 per month.

Conclusion: Choose Shopify if you are a small to medium-sized business with limited resources. If you are a larger company, choose Magento which will be more expensive but may end up being more profitable in the long term. 
Let's look at a few other parameters which you should take under advisement when comparing Magento Vs Shopify:
Loading time

– Shopify loads very quickly with an average load speed of 1.3 seconds The average load speed on the other hand for a Magento shop is 4.8 seconds.

SEO

– On Shopify, SEO is more limited yet more user-friendly so that really anyone can edit titles, met descriptions and canonical tags straight from your dashboard. With Magento, you have a more developed SEO suite but you will need a professional to handle this for you.  

Blogging

– On Shopify, blogging is second nature. It is very easy to set-up your blog and start attracting clients through content marketing and the like. With Magento, its much more complex to set-up a blog and you will need to get a special dedicated extension.  

Page Speed

– Shopify page speeds are very quick just like with loading times. Magento, on the other hand, scored a 39 out of 100 in terms of Google page speed. 

Integrations

– 

Most Magento integrations will require manual installation by your technical team. Facebook and Google product data and analytics sync for free but that is the extent of it. eBay and Amazon store owners will need to pay in order to sync their shops. Also, I think it is important to note that the dropshipping integration for Magento is not free.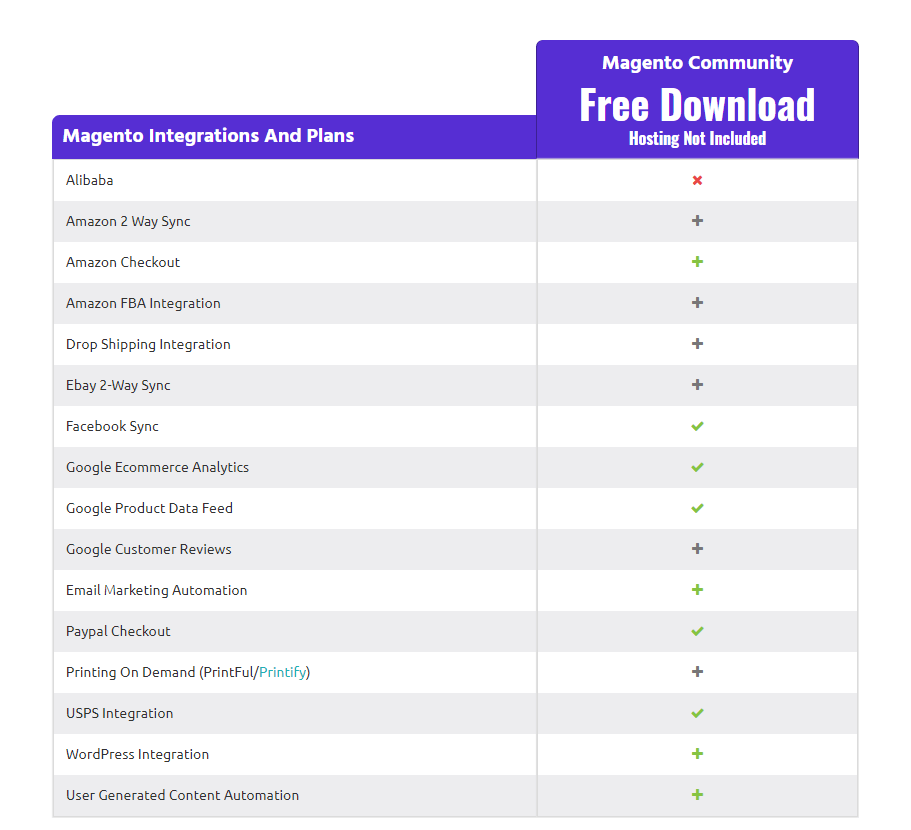 Shopify actually has a built-in integration in order to sync both your eBay and Amazon stores as well as social media and Google. Additionally, Shopify offers sync which is also built-in to their system making multi-channel selling much easier via Shopify. Shopify also offers free marketing automation free of charge.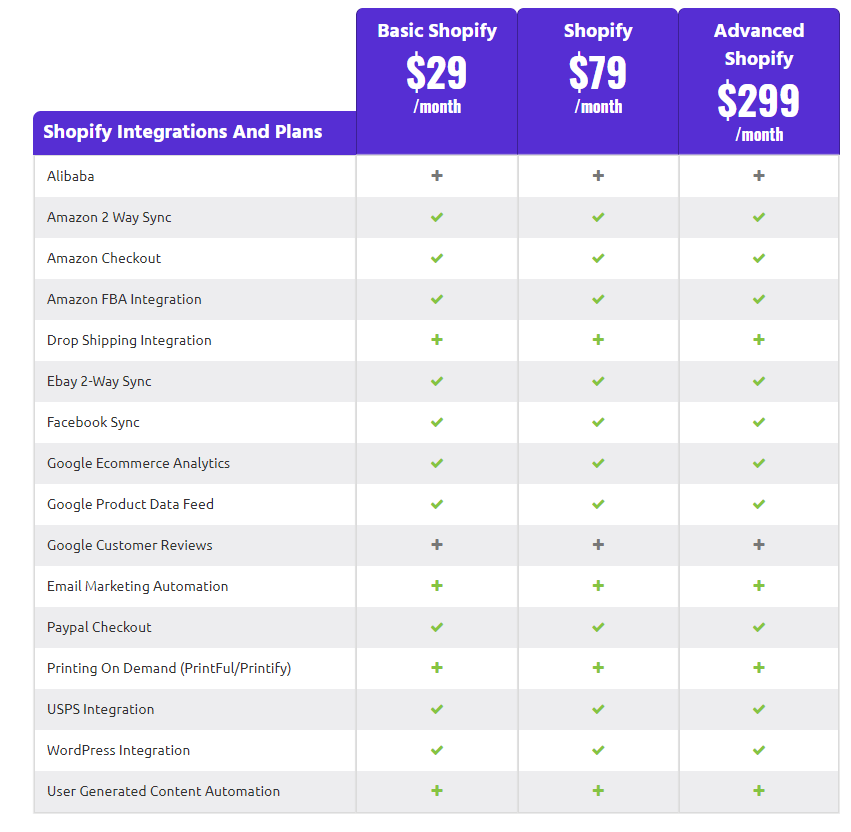 6. Design – Shopify has a lot more options in terms of themes you can choose from though keep in mind that they only have 10 free options and the rest are paid. Also, the essence of a template is that it is predefined and preconfigured so not too much customization. Premium themes on Shopify will run you anywhere from $140 – $180.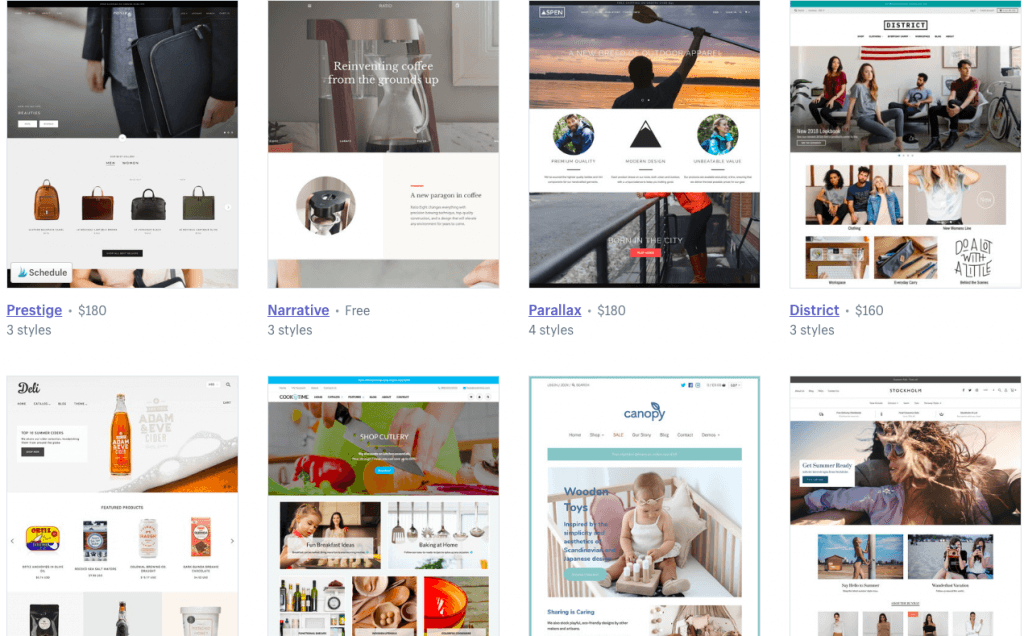 Magento themes can cost you anywhere north of $200 though this will be for something very basic. If you really want to get into customized design, you could be looking at hundreds and easily thousands of dollars. 
Over to You
As opposed to previous comparisons and platform reviews where it is really difficult to guide you in terms of which option to choose. In this case, it happens to be extremely simple. Here are my bottom line conclusions which I hope you will take under consideration when making your own personal decision:
Choose Magento if:
You are running a large eCommerce business with enough revenue to cover the costs associated with a Magento based store.

You are trying to create a truly unique retail experience and user experience customization is key to your business's success.

You have technical coding and programming knowledge or if you don't mind hiring others to handle this for you and not being independent' in the daily runnings of your eCommerce business.
Choose Shopify if: 
You are running a small to medium-sized eCommerce business. 

You have budget constraints. 

You engage in dropshipping. 

You sell on multiple channels and inventory synchronization is important to you. 

You want to be able to handle the set-up and running of your store independently. 

You are new to eCommerce and/or web development. 
Please let me know in the comments section your personal experiences with both Shopify and Magento and which one you feel is best and why?