When it comes to writing an Amazon product description, most do-it-yourselfers stumble over the same two hurdles. The first is not knowing the people who will ultimately use the product (your target audience). Second is not understanding how to use words to create a hands-on environment via the Web.
Pros who have been trained in expressing the features and benefits of physical products have a few tactics tucked away. They are capable of taking ho-hum language, watering it with a few unexpected adjectives, and causing it to bloom.
But, because copy within Amazon product descriptions has to pull dual duty, the ability to seamlessly weave search terms throughout the text without ruining the flow is also a must.
The first step in this process is getting to know the people you are communicating with.
Understand Your Shoppers' Needs
For almost 20 years, I've been preaching the same sermon about writing copy (any type of copy). The first commandment — the thing you always do immediately before you ever write a single word of your Amazon product description copy — is to understand your shoppers.
All too often, e-tailers (on Amazon or on independent websites) want to focus first on the product. Before you take that approach, consider this:
When you walk into a local store, you can interact directly with employees. If you're at Best Buy and have a question about a set of headphones, just ask. There's a live person standing by to discuss your needs, compare options, and assist with your decision-making process.
Online, your copy is your salesperson. It has to fill the place of a human being.
Because you can't interact live with Amazon shoppers, you have to anticipate their needs, wants, pain points, frustrations, concerns, and expectations of the product. Then, take those details and incorporate them into your copy in order to boost conversion rates.
How do you get to know who your customers are and what they want? A few simple ways to research this include:
Facebook insights (if you've run Facebook ads or run a Facebook group).

Data from the manufacturer (if you're a wholesaler or private-label seller).

Looking through competitor reviews and Q&As on Amazon and other websites.

Searching for reviews of similar products on Google or YouTube.
Pay particular attention to any mentions of specific uses, problems shoppers are trying to solve, age, life stage (new mom, getting ready to retire, etc.), and other particulars.
Take the Infomercial Approach
Call me an advertising geek, but I love to analyze various marketing methods. One of the best, when it comes to engaging customers, is the infomercial. It's a $250 billion business and it does one thing very well — it shows shoppers why they can't live without a product.
The primary way this is done is by putting the product (virtually) in the customer's life. Demonstrations of cooking meals, watching real people work out with smiles on their faces and seeing those nasty crow's feet fade away bring people closer to the point of using the item themselves. As close as you can get on TV anyway.
When shoppers see (or read) about how a product can solve their problems, a connection is made. When you make a connection, a desire is born. Filling that desire means people buy your stuff!
How can you incorporate infomercial-style tactics into written copy?
Relate to how your audience will use the product.

Offer usage suggestions (it might be that the shopper hasn't thought of that yet).

Talk about real-life issues such as being easy to clean, having an odor, or whether children can easily break it.

Discuss the end results; tell shoppers what happens after they buy and use the product.
Amazon Titles: A World of Contradictions
Pop quiz! According to Amazon, how long can product description titles be?
Generally 50 characters

No more than 200 characters

No more than 250 characters

All of the above
The answer? It's D, all of the above… yes, really!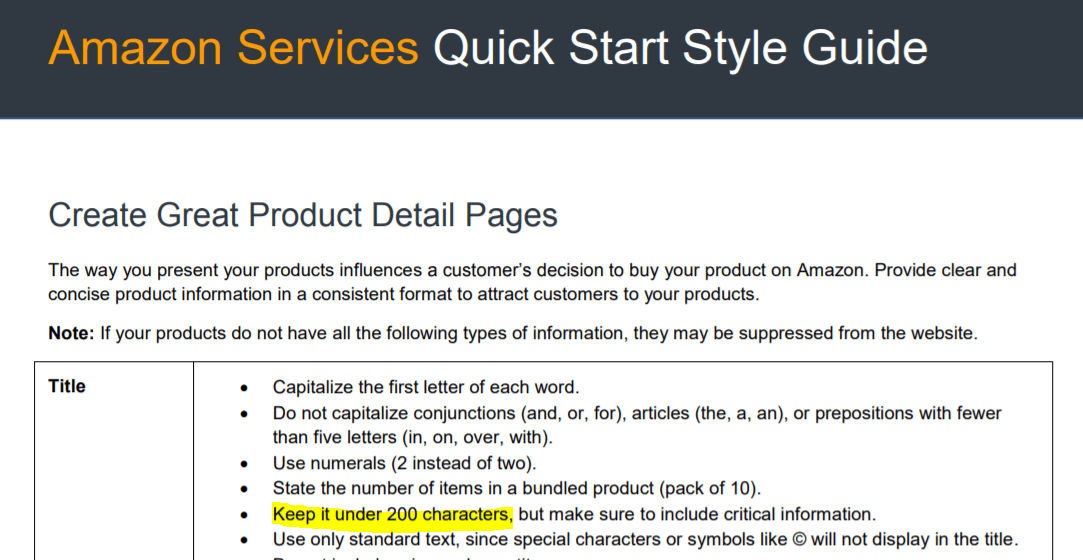 (C) No more than 250 characters according to Add-A-Product (which will get your listing suppressed, by the way… see (B)). Not all categories show 250 characters in Add-A-Product, but the majority do.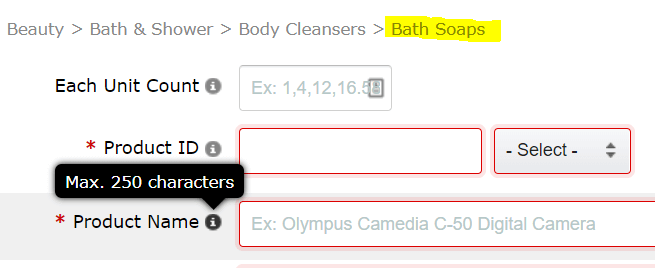 And sometimes, Amazon tells you that you can have 250 characters, then gives you an error if you try to fill all the space.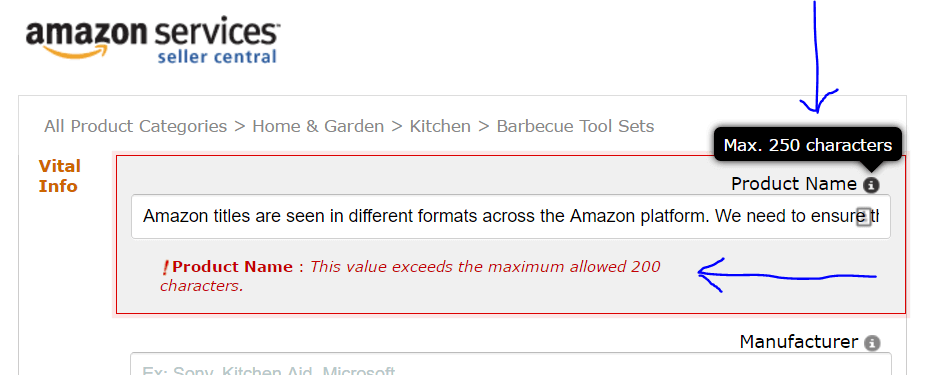 That's not the end of the confusion. If you check the flat file, it is likely to say that titles can have 500 characters. And the specific category Style Guides will say something different still. Add to that the fact that Amazon changes the title requirements at a dizzying rate and it's difficult to keep up!
What's a seller to do?
Best practices for Amazon title description
Use 190 characters unless Add-A-Product specifically states that there is a lower limit — or — Add-A-Product has a hard stop (physically gives you an error after 80 characters or whatnot). The 190-character mark gives you a little leeway to make certain you do not exceed 200 and end up with a suppressed listing.

Put your most important, #1 keyphrase (the entire phrase) in the first 80 characters of the title. If you have room, include your second most important phrase or a few individual words from that phrase.

Include a description that mentions vital details that shoppers need to know. Remember, when they see your title on the search results page, that's the only information they have when choosing whether to click to your Amazon product description page or not. You should include sizes, exclusive or special features, gender, materials (plastic vs. stainless), and any other must-know specifications.

Entice the shopper, if you have room. Sometimes including all the important specs and the keyphrase takes up all the space. If you have a few characters left over, add a bit of pop to draw the customer in. Here's a good example: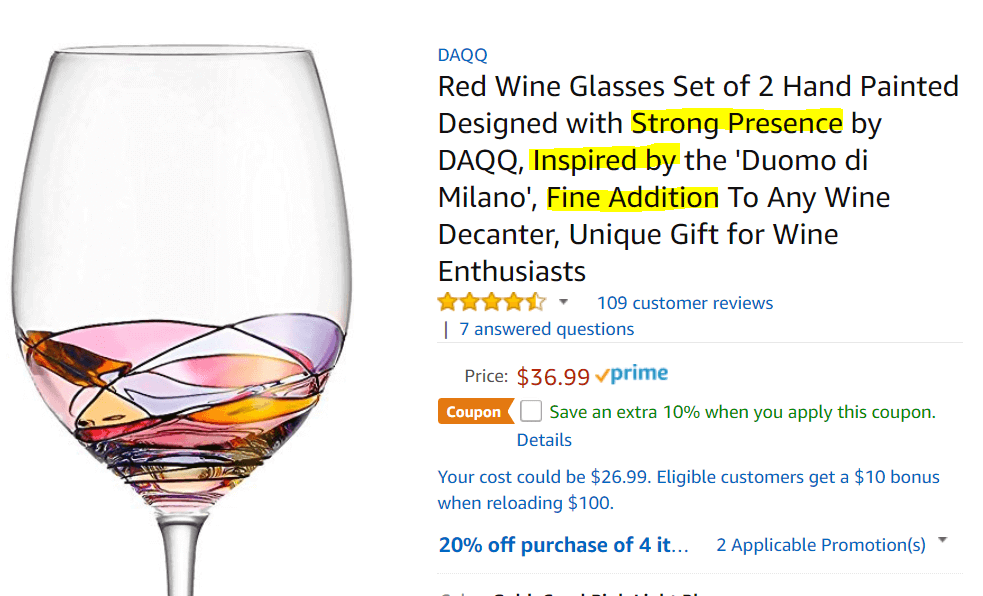 Crafting Captivating Key Feature Bullets
Once you've captured the attention of shoppers who are madly scrolling through the Amazon search results pages, the next hurdle is to entice them with descriptive and engaging key feature bullets.
Ordinary words just won't do. Just as shoppers in brick-and-mortar stores have an advantage because they can speak with sales associates, they also have full use of all five senses. This means they can see, hear, touch, smell, and taste products.
Online, your words have to make up for the loss of that sensory input. Let's continue to use the wine glasses above as our example. You can see how they worked appropriate sensory words into the bullet copy.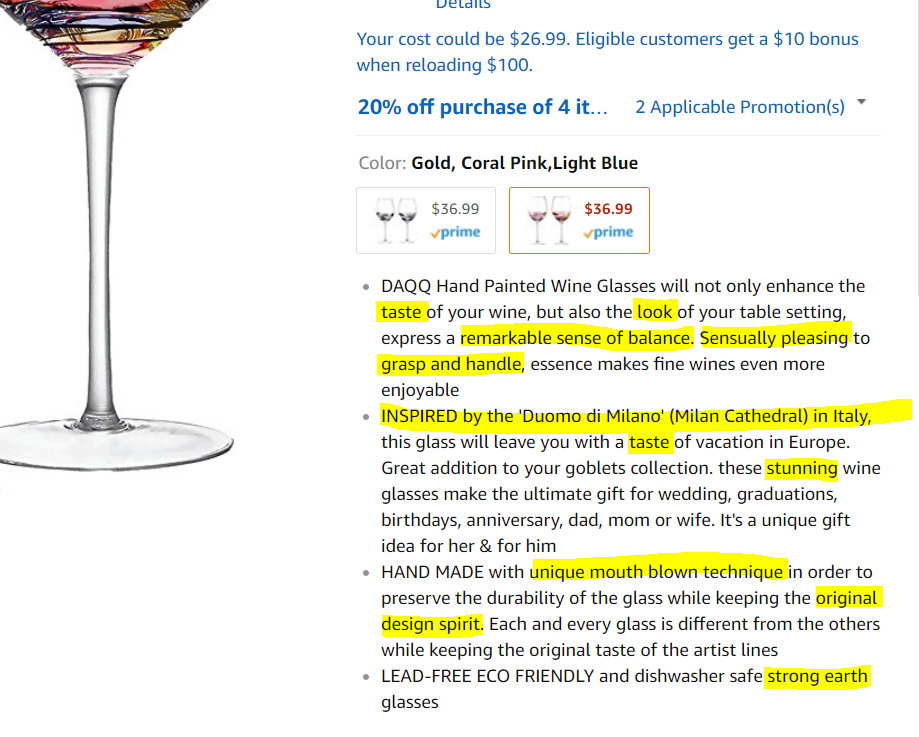 In addition, they incorporated creative adjectives (what I call super adjectives) and verbs instead of lazy, overused words and phrases that customers have already read hundreds of times.
You'll also find some keywords and keyphrases included here. "Hand painted wine glasses," "goblets collection," "wine glasses," "gift for [wedding, graduations, birthdays, etc.]," "unique gift for him/her," and others.
The above is just one format of Amazon product page. Another style positions the bullets underneath the images and only displays up to three bullets. To see the rest, the shopper must click "More."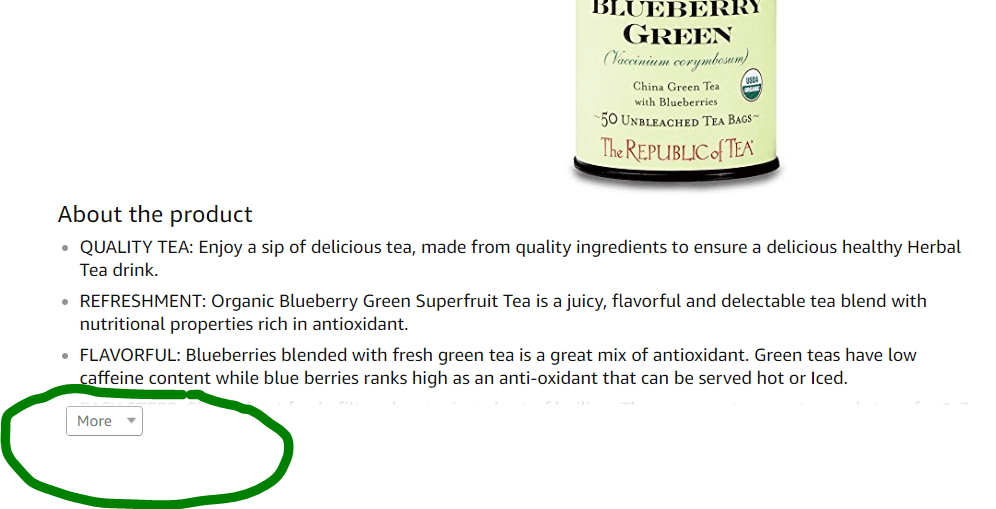 For this page layout, you'll want to take great care to refine those first three bullets, making certain they include the three most important features/benefits. The same applies when shopping with the Amazon app on a smartphone.
What was wrong with the wine glass copy? It only included four out of the possible five bullets. That's a lot of wasted space! Also, there are many grammatical and punctuation errors in the listing that can sometimes make the copy hard to follow.
Several questions that shoppers might ask have gone unanswered, such as what kinds of wine are these glasses for? And what size are they?
Here are some recommendations for writing enticing, optimized bullet points:
Expand your vocabulary. Professional writers know that using the same old words over and over is boring.
Incorporate as many sensory words as are applicable. You won't use all five senses for every product you write Amazon product descriptions for. If you're selling ink pens, for instance, you won't talk about taste, smell, or hearing.
Include keywords and/or keyphrases. The rule of thumb for the Marketing Words' team is "Use as many keywords as you can without making the copy sound stupid!" Your aim should be to insert at least 1 keyphrase (or the individual words from the phrase) into each bullet point. If you can safely include more without ruining the readability of the bullet, do so.
Describe, describe, describe. Just filling the bullets of your Amazon product description full of fluff won't help your visitors make a decision. They need actual, helpful details about your product.
Connect with your visitors. Make references to real-life uses of your product that will help them see themselves using and enjoying the item.
Use all five bullets. If you can't think of five important features/benefits to write about, you should spend more time exploring your product and your target customers.
Take care with the first three bullets. You want to include your three most important features/benefits here.
Engaging Shoppers With Exceptional Details in the Product Description
The title of your Amazon product description is an introduction.
The key feature bullets are a welcome and get-to-know-you session.
The description section is where the majority of your communication will take place, so it should be filled with details that will help the customer respond, "Yes! I need that!"
"Does the description even matter? It's way down at the bottom of the listing." Well, sometimes it is, but sometimes it is positioned above the bullets.
On mobile phones, for standard listings, the description is positioned above the bullets. However, you only get around 200 characters before the text is cut off, so that copy needs to truly be attention-worthy.
Don't duplicate your bullet points in the description… expand on them. Our wine glass copy example makes this mistake. What a waste of space!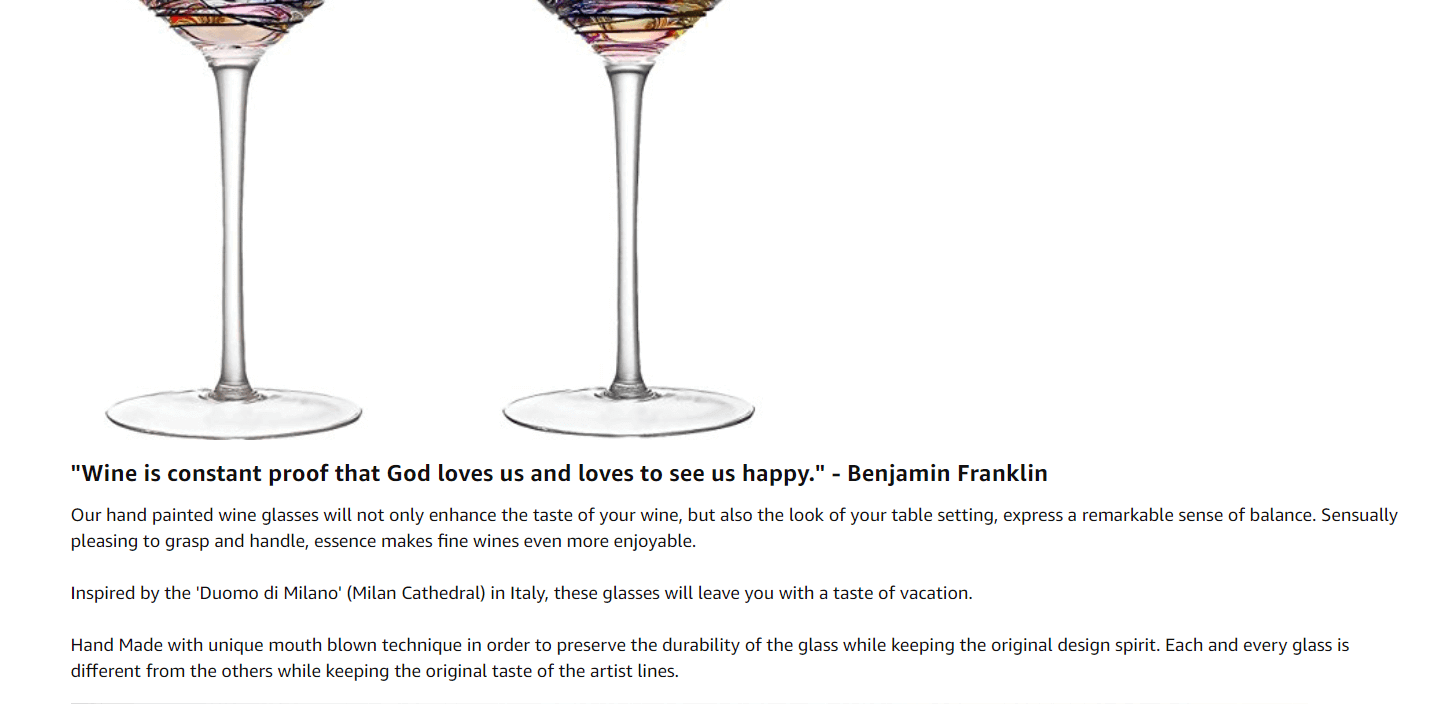 What should this listing have done? Continue the conversation with the customer. One technique for deciding what to say next is to ask yourself the questions "Why?" "How?" or "So what?"
Our hand painted wine glasses will not only enhance the taste of your wine. How?
Express a remarkable sense of balance. How?
Sensually pleasing to grasp and handle, essence makes fine wines even more enjoyable. How?
Each and every glass is different from the others while keeping the original taste of the artist lines. So what?
You get the idea?
Scroll back up to the questions I mentioned — the ones I (as a shopper) would have needed information about before I could make a buying decision. Include those in your description copy as well.
If you don't personally have any questions, check competitor listings to see if there are Q&As on their product pages and work a few of the most commonly asked questions/answers into your copy.
The entire point of the description is to engage the people who need more information and make them comfortable — no… confident! — about buying the item you're selling.
Keywords? Yes, you should incorporate keywords into the description copy as well. Just as with the bullets, don't bombard the description with so many keywords that it overpowers the message of the copy.
Here are a few pro tips:
Expand on the content of the bullets; don't duplicate it.
Continue the conversation with your audience, helping them see the benefits of your product.
Incorporate product specifics and other information that is necessary for customers to make a buying decision.
Include real-life uses, the obvious ones and the not-so-obvious.
Use the first 200 characters to provide an intriguing summary of your product that will entice your shoppers.
Balance Your Keywords With Equal Parts Relevance and Search Volume
When choosing keywords/phrases to incorporate into your Amazon product description, the spontaneous reaction of most sellers is to aim for the terms with the highest search volume. Most of the time, those will be fine. However, I encourage you to temper your enthusiasm for big numbers with a hefty spoonful of relevance.
For years, I've watch sellers ruin their keyword lists by adding every possible term that is even slightly related to the product they are selling. This strategy may seem smart to start with, but it catches up to you eventually.
Because Amazon tracks everything, they are spying on your backend data. With a few keystrokes, Amazon can determine that you have traffic landing on your product page that leaves without spending money. When that happens too often, you'll begin to slip in the search results.
What's the best approach?
Research highly relevant keywords and phrases that are directly related to your product.

Choose terms that have high search volumes only if they are also highly relevant.

Don't risk including extremely broad terms, even if other sellers are using them. It won't likely pay off in the end.
When you're done, you should have an Amazon product listing that:
Communicates and connects well with your target customer.

Ranks high in the Amazon search results.

Is descriptive with text that engages shoppers and walks them through the features/benefits of your item.

Delivers much-needed details to boost confidence and knowledge so customers are eager to purchase!
Higher rankings and more conversions? That's something to get excited about!