Top selling items on eBay 2016
(7 minute read)
Have you ever wondered what the top selling items on eBay are?
In this post, I'm going to share facts and numbers to help you understand exactly which categories and products sell best on eBay.
Top selling items on eBay 2016
For those of you who are after a quick list of the top selling items on eBay (by category), here it is, courtesy of eBay, but the really interesting part is right after this list…
We used these types of lists to help us find hot selling items on eBay, and then find dropship suppliers who were offering these items at low prices.
** Price ranges are based on similar items in similar condition that recently sold or completed. Sale and actual selling price of item are not guaranteed.

eBay TOP SELLING ELECTRONICS
| | | |
| --- | --- | --- |
| | New** | Used** |
| Dell Laptop | $692 | $645 |
| PS4 Console | $497 | $428 |
| Samsung Smart TV | $510 | $358 |
| iPhone 5 | $458 | $355 |
| GoPro Camera | $335 | $306 |
| Amplifier | $217 | $106 |
| iPod Nano 1st gen. | $195 | $63 |
| Garmin GPS | $132 | $82 |
| Canon Camera | $323 | $301 |
eBay TOP SELLING IN COLLECTIBLES
New**
Warhammer 40k Ork
$213
Real Flight R/C Simulator G5.5
$120
American Girl Today Dolls
$168
Wallace Sterling Silver Grand

Baroque Cockatil Forks – 6

$210
Coins: US Mint Quarters Silver

Proof Sets — 2010, 2011, 2012

$88
1995 New Orleans Jazz Fest

Poster — Blue Dog, Rodriguez

$775
Clint Eastwood Music Pocket Watch
$153
eBay TOP SELLING IN FASHION
| | | |
| --- | --- | --- |
| | New** | Used** |
| Breitling Watch | $4,682 | $3,014 |
| Michael Kors Handbag | $159 | $146 |
| TAG Heuer Watch | $793 | $588 |
| Nike Men's Sneakers | $99 | $97 |
| Christian Louboutin Heels | $550 | $409 |
| CHANEL Perfume | $64 | $68 |
| Christian Louboutin Handbag | $270 | $212 |
| Lilly Pulitzer Dress | $85 | $75 |
| Coach Handbag | $48 | $37 |
eBay TOP SELLING IN HOME & GARDEN
New**
Used**
KitchenAid Professional 5™ Plus

Series 5 Quart Bowl-Lift Stand Mixer

$250
$173
Dyson DC41 Multi Floor Upright

Bagless Vacuum

$330
$218
Patio Umbrella Offset 10′ Hanging

Umbrella Outdoor Market Umbrella

$78
$50
Zero Gravity Chairs Case Of (2) Black

Lounge Patio Chairs Outdoor Yard Beach

$93
$80
Polaris 280 In Ground Pressure Side Automatic

Pool Cleaner Sweep — F5 Scrubber

$418
$195
DuroMax XP4400 Portable Gas Powered

Recoil Start Generator — RV Home Backup

$416
$215
Dyson DC34 Cordless Handheld

Vacuum Cleaner

$80
$162
A simple list with the top selling items on eBay isn't really worth a post on CrazyLister's blog 🙂
So here's something interesting, VERY interesting about the top selling items on eBay…
A friend and a colleague of ours – Elad Darmon, Co-Founder of Title-Builder, analyzed more than 232 million products on eBay to answer some profound questions like:
– What are the highest converting categories on eBay?
– Which item condition sells more on eBay: New or Used?
– How many items were sold in the last 30 days on eBay?
– On which eBay Marketplace should you sell your item?

The insights from Elad's research are amazing! And have a deep impact on what, where and how you should sell on eBay.
You can find the full infographic here.
Let's dive into it –
What eBay site has the best sell through rate?
US, UK, Germany or Australia?
Where do you think listings have the best sell through rate?
*The sell through rate indicates how many of the listings actually generated at least 1 sale.
Here is what the numbers say –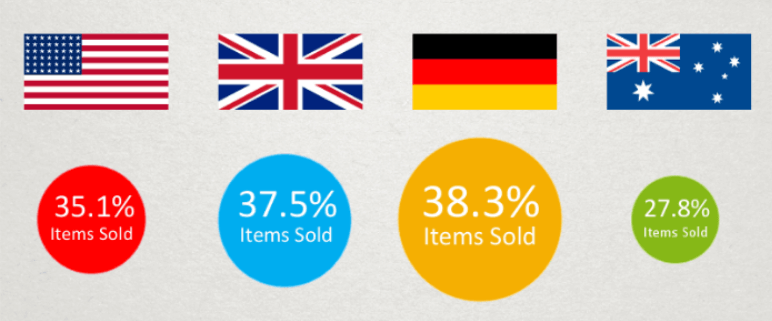 What can you learn from this?
It may be a surprise from the first glance, but eBay US is by far the most crowded of all, it has the largest amount of active listings and the largest competition – thus the lower overall sell through rate! (only Australia is lower).
eBay Germany has a higher entry barrier, most listings there are in German, but as you can see – it's well worth the effort, with an average sell through rate of 38.3%.
Germany has strict customs regulations, and you need some translations done – but we were selling car GPS devices to Germany like crazy. It's a great, big market – definitely worth checking.
I have to admit that Australia's low sell through rate knocked me off my feet – I absolutely love this market! Great customers, great attitude, a lot of free income – it was always one of the best performing markets for us.
I don't really have an explanation to the overall low rate, anybody has an idea? (leave a comment below)
Let's dive deeper –
What categories have the highest sell through rates?
You would never ever guess which category is the highest converting!
It's Diabetic test Strips!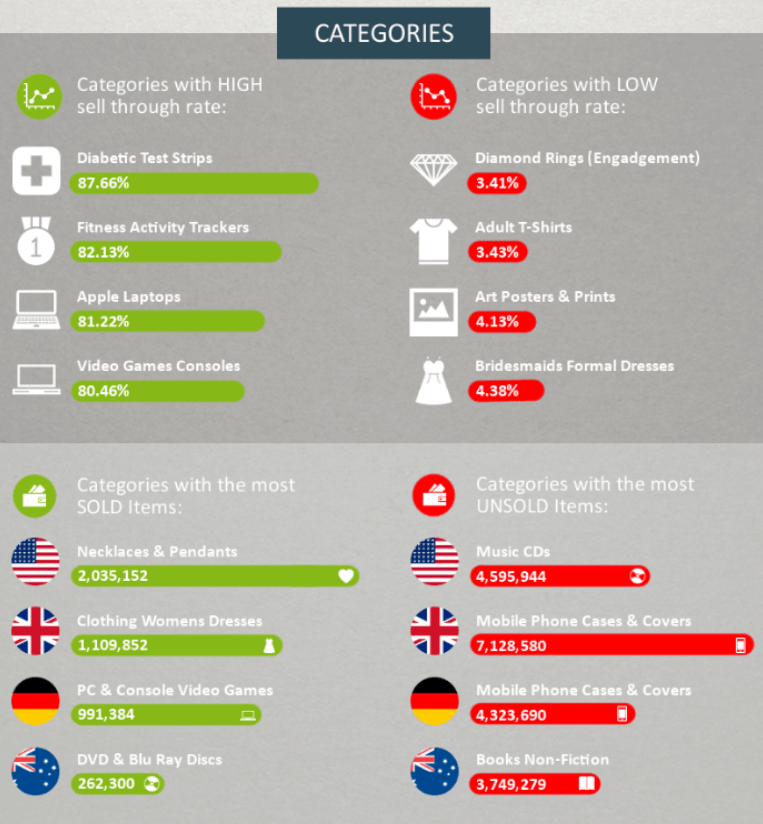 Note that these are not the top selling items on eBay, rather these are the products that have the best conversion, the highest % of listings that generate at least 1 transaction.
What can you learn from this?
Come to think of it, it makes a lot of sense. The demand for life saving drugs and appliances is firm and people will naturally pay any price to stay alive!
The Fitness Activity Trackers' extremely high sell through rate comes as no surprise as health and fitness are hot now!
It's unbelievable how good Apple's marketing machine is – 81.22% of all listed Apple laptops were sold.
Diamonds are one of Israel's main export categories, it's a tough overcrowded category – unless you are a 7th generation of a diamond family or have direct access to the mines in South Africa, you'd better stay away from this cruel category (it also has an extremely high return rate of nearly 20%!).
Do you see how OVERCROWDED the Mobile Phone Cases & Covers category in the UK is?! More than 7 million unsold items – it's crazy! It's probably a good idea so stay away…
Generally speaking, the fact that a category has a combination of a high SELL THROUGH RATE and a lot of SOLD items means there is still room for new businesses to join this category.
What categories have the highest average price (for sold items)?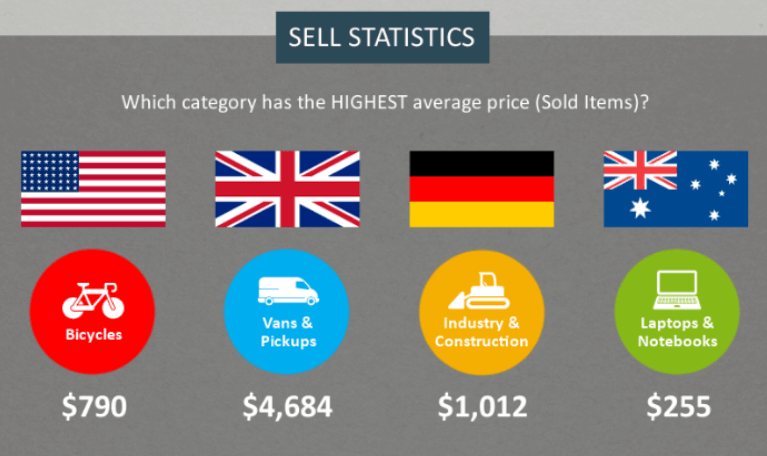 What can you learn from this?
In our own eBay business, we were always after the "low volume, high prices" business.
It's almost the same work for me to process an order for a $3 iPhone case, as it is for a $150 GPS device.
Naturally, there is much more room for profit margins where the prices are higher.
With that said, in last week's post – What Elements Do The World's Top eBay Sellers Add To Their Listings To Increase Sales?, you'll see that many of eBay's top sellers are "high volume, low prices" businesses – which is perfectly fine as long as you have smooth, scalable logistics capabilities.
If you are like me (lazy 🙂 ) and want to go after the high price categories that actually generate sales, consider the above!
How many items sold on eBay (30 days)?
Here are the various eBay sites, and how many sales were generated on each of them during a 30 days period.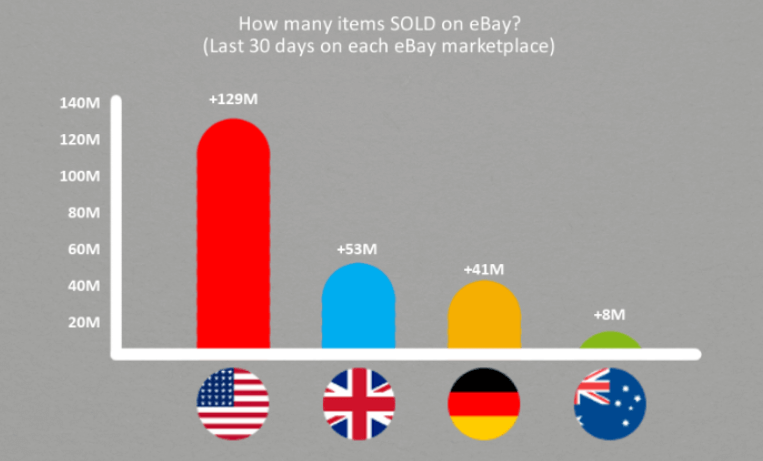 What can you learn from this?
The fact that eBay Australia "only" generated 8 million sales doesn't mean that it's not an interesting market.
In fact – like I've mentioned before, Australia has always been among the best selling channels for us.
And hey, why not sell on all of eBay's sites? As you can see, there are 10's of millions of sales every month – if you can ship internationally, join the part and increase your eBay sales!
What is the average price for a sold item per eBay site?
Now this is very insightful!
What can you learn from this?
eBay UK has an off the charts higher average price for sold items:
$121.4 per sold item is almost 50% higher than the average price on eBay US!
This probably means that there are a lot of categories on eBay UK that have high demand with low supply. Check this out if this is the case for your niche / category – you can probably get much more for your items on eBay UK than on US for example.
What sells better – New or Used items?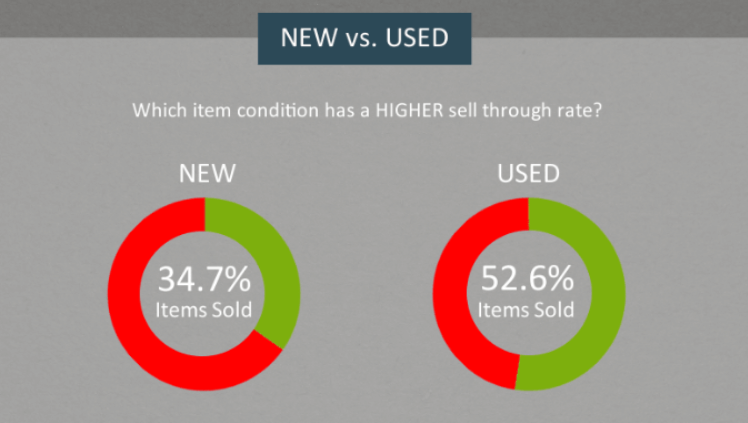 What can you learn from this?
Did you know that the first ever item to sell on eBay was a used, broken laser pointer: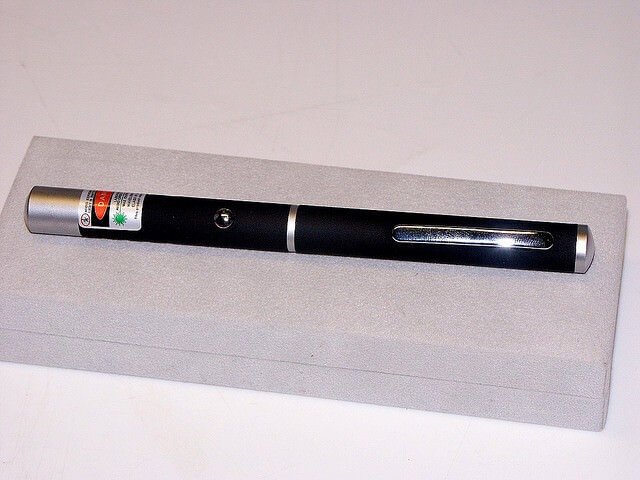 "On Labor Day weekend in 1995, computer programmer Omidyar wrote the code for what he called 
an "experiment." He wanted to know what would happen if everyone in the world had access to a single global marketplace. To test his idea, he came up with an auction website, where he listed a broken laser pointer that he was going to throw away. In the end, a collector bought it for $14.83.
Among the other items sold just a week after Omidyar launched eBay were autographed Marky Mark underwear for $400, a Superman metal lunchbox for $22, and a Toyota Tercel for $3,200."
As opposed to Amazon – eBay is a marketplace that purely connects sellers with buyers, so there is a lot of room for used items on eBay!
eBay Germany actually generates more sales for USED items than for NEW! And it's a close call on eBay UK – definitely check these markets if you sell used stuff!
With all of the above said – The top selling items on eBay are, are not necessarily the best path to go when building your eBay business. Next week I will discuss finding the best items (for you) to sell on eBay.
Big kudos to Elad Darmon for the awesome research!
Let me Challenge you
Agree with the research results?
Didn't find hot selling products you aware of?
Share your experience and learn from fallow eBay sellers what are the hot selling items in more niches.