We are constantly looking to get an edge on our competition on eBay, here are the tools we use to stay ahead.
The eBay tools I mention below are only as good as the way you use them.
Every tool we use addresses a "pain" we had, here are the pains and the way we cure them using technology –
1. The Fastest Customer Support on eBay
In this post I describe the importance of choosing one competitive advantage, and make sure you are laser focused on it.
Our focus is – "Best customer support". We work out of our skin to make sure that customers get a "wow" experience when communicating with us. And we make sure to brag about this in our eBay listings.
We work under the assumption that the "first to respond wins the customer", meaning that if you get an inquiry from a customer, you're not the only seller getting it. The first eBay seller to return a good answer is the one to win the sale.
With that in mind we were looking for a way to ensure we respond fastest on eBay.
The solution we came up with was to include a "Live chat" feature on our eBay listings.


We did some research and decided to go with comm100.com, (at the time they were still in a free beta version). comm100 also offer a mobile app – so when a customer is contacting us after office hours, we are able to chat with him from our mobile devices.
The assumption proved to be right this time – conversion rates for customers who contacted our live chat were sky high – nearly 80%.
Naturally most customers still continued using eBay's internal (lame) messaging interface. But those who did contact via our chat service were getting an exceptional "real-time" service and buying like crazy.
Note that we also include a phone number and social media links – this is mainly to build trust and authenticity. Just the fact that you have a phone number up there conveys trust.
Takeaway
eBay customers are not used to "real time" support. But those early adopters that do click the "Live Chat" button are extremely likely to end up being your (happy) customers. Add a live chat feature to your eBay listings and see if it helps you close more sales in real time.
Important Note (added 23.10.2015)
Readers reported to me that Comm100 no longer offer the non-Javascript code required for eBay.
I have contacted Comm100 as well, here's their reply –
"Yeah, we've just stopped offering non-JS code, as we find that many illegitimate users take advantage of this for phishing and spamming activities."
We have a copy of the code that works on eBay – you can contact CrazyLister support and ask for it, I've instructed the team to share it with the users.
2. Identifying High Demanding eBay Sites
Google Trends is a powerful tool, it boasts an abundance of data relevant for eCommerce.
In this post I describe how we use it to optimize our eBay titles, but we also use it to define which eBay sites we should list at –
after inputting a search term, Google returns a "regional interest" table, essentially telling us what countries search for this item the most.
Here's what Google returns for a "GPS for car" search –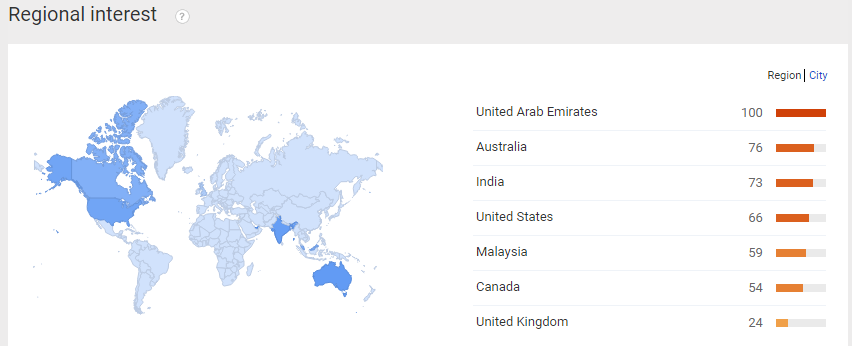 eBay don't yet have a site in the United Arab Emirates, but Australia is definitely a profitable market for us, discovered with Google trends…
I should probably devote a whole post to the Australian eBay, it's a heaven for eBay sellers!
Takeaway
Use Google trends to identify high demanding markets for your products.
3. Growing Sales with Professional eBay Templates
We understood early on that our online presence is critical to get an edge over the competition.
We needed our eBay listings to stand out from the crowd.
Unfortunately Max and and I have absolutely zero design and coding skills.
Failing to find a good solution for our pain, we decided to build one –
CrazyLister allows us to easily create professional eBay listings that boost our sales.
CrazyLister was born out of our own "pain and despair," we thought that there must be an easy way to allow any seller to create high converting, professional eBay listings.
Takeaway
Create high converting, professional eBay listings with CrazyLister.
Here in this post I describe the eBay hacks we use (with CrazyLister) to boost our sales.
4. Bonus – Automating eBay Sales For "Slow Movers"
This one is for sellers with lot's of "dead weight". If you have a large inventory, the chances are that you have a lot of "slow movers" – listings that sell very seldom or don't sell at all.
CampaignGo helps monetize these listings with automated eBay sales based on a pretty advanced filtering system.

CampaignGO's Markdown Guru allows eBay Store Owners to create a sale in minutes, filtering your listings by clear parameters, locating just the right items for sale and monitoring their performance and results via a Sales Report feature. By using CampaignGO's Markdown Guru you can: Put old listings on sale; Promote new arrivals; Place unsold listings on sale;
CampaignGO CEO, Lahav Gan
At the time of writing this post – CampaignGO is a new solution on the market –
I'm always in favor of trying new eBay tools before our competition!
Takeaway
Have a large inventory? You must have tons of slow movers –
Try CampaignGO's Markdown Guru to automate sales creation for these listings.
It's not about the tools – It's about how you use them
Using eBay tools to help boost your sales is great, but the tools are just as good as the sellers who use them –
Live chat is just a means to an end – it's a vessel that allows you to convey your awesome customer support quicker. But your customer support has to be awesome to begin with.
Google Trends will help you discover new markets – but you have to proactively react to these insights and start listing on these eBay sites.
CrazyLister is a ridiculously easy tool for creating professional eBay listings,
But there will always be room for your personal touch to give you that extra edge over the competition.